Finding available trucking capacity is often a challenge, especially when demand is high. The sad truth, however, is that a lot of capacity gets wasted too. We see this, for example, in the number of empty backhauls that happen every day. There is another form of wasted capacity, however, that many shippers overlook — that is, wasted capacity due to sub-optimized load plans. Simply put, trailers are leaving facilities not fully loaded to their maximum legal capacity.
In June 2023, we surveyed members of our Indago supply chain research community — who are all supply chain and logistics executives from manufacturing, retail, and distribution companies — and asked them, "How certain are you that the trucks leaving your warehouses are loaded to their maximum legal capacity?"
Of the member respondents who ship via truckload, almost a third (32%) said they are only "Slightly Certain" (11%) or "Not Certain At All" (21%) that the trucks leaving their warehouses are loaded to their maximum legal capacity – that is, that they have fully optimized the amount of product that can go into a trailer, accounting for space, weight, state regulations, and other constraints. A little over a third (37%) said that they are "Very Certain" (16%) or "Certain" (21%).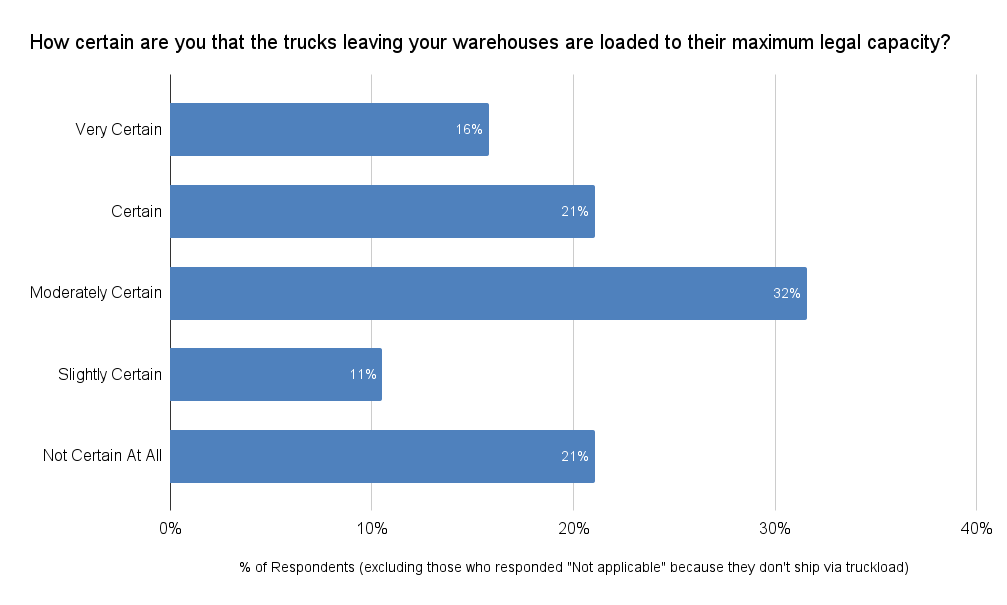 Why is this happening? There are various reasons, including this one highlighted by an Indago executive:
"It's the classic load vs. time trade-off. If the load can wait, such as with shelf-stable consumer goods, it's easier to fill the entire trailer. If the load must move now, the trailer is likely not full."
Another reason is that many companies aren't using software to build/optimize their loads. Only about a quarter of our Indago member respondents (26%) are using software to build/optimize their loads; 43% use Excel or do it manually.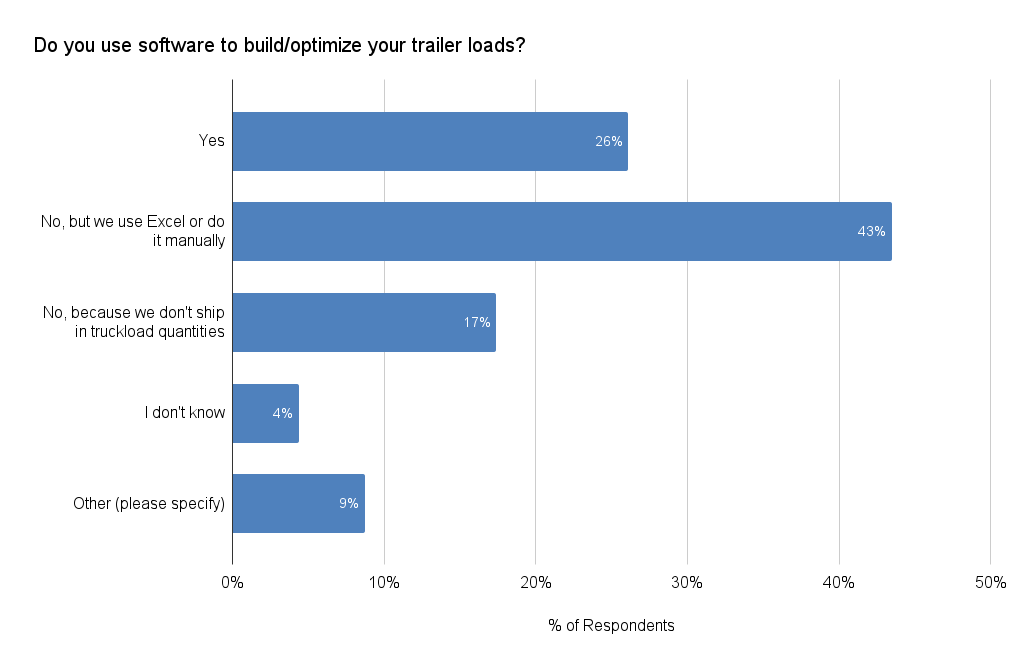 What benefits can companies achieve by addressing this problem? How is technology helping?
Those are the key questions we discussed in a recent Talking Logistics episode with Jennifer Phillips, Director of Transportation at Riviana Foods; Zachary Dale, Supply Chain Continuous Improvement Manager at Riviana Foods; and Tom Moore, Partner at Transportation | Warehouse Optimization (T|WO).
Riviana Foods Case Study
Riviana Foods, a wholly-owned subsidiary of Ebro Foods (headquartered in Madrid, Spain), is "America's leading rice company and the most extensive marketer of wild rice in the world." The company had over $1 billion in sales in 2022, with a large plant in Memphis, TN that processed over 10,500 shipments last year, mostly via truckload, intermodal, and boxcar.
As Jennifer highlighted in her opening comments, the complexity in their logistics and transportation operations is that "you get everything from rice cups that are very lightweight and airy to cases of three 20-lb bags of rice in them. So, we have a broad range of pallet weights, products that you have to be careful on how they're stacked, and other considerations."
With regards to load building, what was the business challenge or improvement opportunity Riviana was looking to address? Jennifer shares some of the challenges they faced in the short clip below, which included damaged goods, a lot of rework at the distribution center, and trailers returned for being over axle weight limits:
Another driving force was sustainability. "We are tracking sustainability with Ebro in Spain," said Jennier. "So the goal was not only to reduce the number of loads and achieve savings in freight costs and cost per hundredweight, but also to reduce emissions and achieve benefits on the sustainability side too."
I asked Zach about the key metrics they were looking to improve. In addition to sustainability, there were several other important metrics and objectives they focused on, including freight spend, load quality, loader turnover and training, and damage reduction.
"Our load weights were all over the place and lower than industry standard," explained Zach, "but the load building tool we were using at the time was not robust enough for what we needed." Watch the short clip below to learn more about the tool limitations they faced:
"One of the problems is that this is a very complex issue," added Tom. He explains further in the short clip below:
"It's one thing to maximize a load, it's another to maximize a load, show how it can be done, and make sure it's legal and damage free because there is no value in shipping something that's going to get damaged," says Tom.
As Riviana started looking for technology solutions, what factors ultimately led them to partner with T|WO? How did they go about implementing the solution? What words of advice or recommendations would they give to other companies that are just getting started on the journey?
Jennifer, Zach, and Tom shared some great insights and advice on those questions and more, so I encourage you to watch the full episode for more details. Spoiler alert: "The go-live went very well," said Zach. "We saw a 4% increase in weight per load almost instantly. The return on investment was very quick — it was months, not years. Overall, we saw our metrics improve very rapidly."