Transportation professionals should be trained to "find the money." That is, when conducting a strategic assessment or solution design within a transportation operation, transportation professionals should look for ways to create cost reductions while improving (or without negatively impacting) service levels. Easier said than done, but the Spend Diagram is where you start.
A strategic assessment or solution design is an exercise that helps define the current state of a transportation operation. The assessment should define the current state, design the future state, and estimate the potential return on investment (ROI) resulting from process redesign, IT infrastructure changes, and management and organizational modifications. But, before getting lost in the weeds by documenting every word said during an interview, mapping every process in Visio, and designing systems integrations and data flows, there is a simple one-page diagram that you should develop at the beginning of this exercise that will focus your subsequent steps – the Spend Diagram.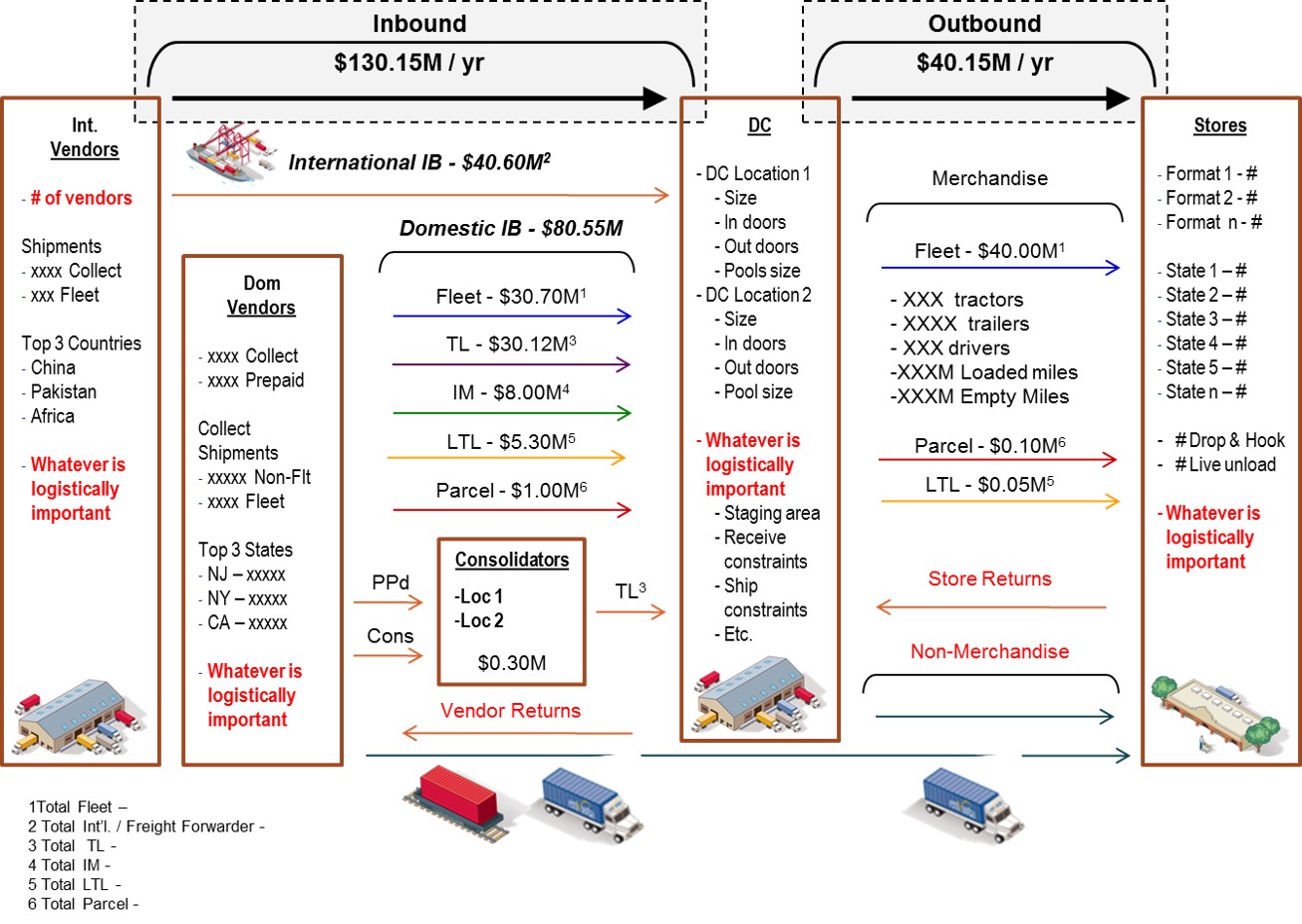 People, process, and technology: those are three elements that leaders focus on when looking to make impactful changes in their organizations. But in a transportation operation, the Spend Diagram is a better starting point; it's an easy-to-read, one-page visual that forces you to "find the money." But what does that mean? And how do you build one?
The assessment needs to be data-driven, so start by collecting freight data. Gathering the freight spend data and summarizing it at 30,000 feet helps uncover the modes or flows where the most achievable savings will be captured. Typical sources of this data are the accounts payable department, which could or should be capturing comprehensive information from the carrier invoices. If you have a freight auditor in place, request spreadsheets with every data element from the audited invoices. If you do not have an auditor in place and your accounts payable department has only summary level information, your carriers can be a good resource; typically carriers understand data better than even the shipper. Why? Because they are analyzing the profitability of your business, and more often than not, they are compiling lots of information on your freight beyond what is shown in the invoice. If you have a transportation management system (TMS), you can find useful spend information there, depending on how you use the tool. In most cases, you will build the Spend Diagram using data from all of the sources above. No shipper has a perfect single data warehouse, but it is possible to compile all the data needed in the matter of a few days. Note – if there are data integrity issues (there always are), possible delays could result from data cleansing; just make sure you document the steps and assumptions made during the cleaning process.
The Spend Diagram captures, from left to right, spend across upstream activities (such as vendor inbound, raw material flow), through downstream customer deliveries (such as e-commerce, store, or distribution center); each shipper's diagram lays out differently based on their business model and unique operations. You should summarize other logistically relevant information as well, such as mode, types of carriers, core carrier names, amount of facilities and equipment, and constraints, such as number of loading docks or delivery hours. This Spend Diagram should be easily read by the C-level team so they understand priorities for the additional components of the assessment. Building an effective Spend Diagram starts this assessment process as data driven, in perception and reality.
After the Spend Diagram is built and accepted as accurate by the business, the assessment team knows where to focus its efforts—who to interview, what processes impact the greatest spend areas, and what tools are used to manage them. Sometimes there are areas that are painfully difficult to manage; simply prioritize these below other areas where there is greater ROI. For example, a shipper might have a higher than desired cost per pound on inbound small parcel, but the spend diagram will show that you should investigate truckload to intermodal conversion as you might achieve higher dollar savings with lower risk to implement. Or, if outbound less-than-truckload costs are high, and sales can modify their customer expectations, you might be able to implement different routing rules. The Spend Diagram helps direct you to these opportunities.
Documenting freight flows and costs on a single page may sound elementary, but it is the best way for the transportation team to collect data and focus their assessment efforts. In a complicated environment, this will help to keep it simple, communicate the operation and costs to the executives, and prioritize the efforts.
Geoff Milsom is a Director in the Freight Management practice at enVista, a leading supply chain consulting and IT services firm. He has more than 10 years of experience in various roles within the supply chain. Geoff earned his Bachelor's degree from George Washington University and his MBA, with a focus on Supply Chain Management, from the Robert H. Smith School of Business at the University of Maryland.