We've all heard about the big elephant in the room. But how about the big bear?
During his presentation at Kenco's Customer Summit a few weeks ago, Fab Brasca from JDA Software referenced the giant 7 ft. 9 in. stuffed teddy bear that Costo sells, and although it was just a passing comment, the bear came to symbolize for me so much about supply chain management today: its large scale and scope, its growing complexity, and how sometimes it leaves you confused, in awe, or in disbelief.
Like last year, the summit brought together executives from different companies and industries to discuss important supply chain and logistics trends, with a focus on what's happening in the worlds of software, warehouse automation, emerging technologies, and freight transportation.
I kicked things off with a discussion about visibility, collaboration, and new rules for success in 2017 and beyond. I was followed by several other session leaders:
As always, it's impossible to capture in a short blog post all of the great insights shared and discussed during the event, but here are a few takeaways from the sessions for you to think about as you wrestle with the big bears in your supply chain.
Rules for Success in 2017 and Beyond
I was tempted to wrap up my presentation with this brilliant photo….
… but instead, I challenged myself and pondered this question: If I had to choose just two rules for success in supply chain management moving forward, what would they be?
Out of all the possible options, I boiled them down to these two rules:
Rule #1: End-Customers Must Become the Center of Your Supply Chain Universe. This is not only true for retailers and consumer-centric companies, but also for manufacturers and other business-to-business (B2B) companies. What if instead of having manufacturing at the center of your supply chain universe, you align your supply chain around the end customer? How must you transform your supply chain processes, technology, resources, and relationships in response? The answer will be different for every company and industry, but you have to start by asking the question.
Rule #2: Logistics Must Become a Competitive Weapon. As I wrote in a recent post, cost management is a given — it's what every supply chain executive is expected to do. Therefore, in order to truly differentiate yourself and make a larger impact on the organization, you have to think and act beyond cost management and find ways to leverage supply chain and logistics as a competitive weapon — that is, look for ways to leverage supply chain management to drive top-line growth, increase market share, and enhance customer loyalty.
I also shared two trends and threats to watch in 2017, which I have written about in previous posts: the convergence of Logistics, Commerce, and Technology and the increased threat of a cyber attack bringing supply chains to a halt.
Driving Supply Chain Execution Excellence
Fab Brasca covered a lot of ground in his presentation, including key tenets of global TMS and WMS strategy, but this one piece of advice resonated with me the most: "Use technology as an enablement for change, not just to automate what you currently do."
In other words, start by challenging the status quo: Is there a better, more efficient way to execute this process? How do other companies do it? What are the needs and expectations of our customers, suppliers, and other trading partners? How are those needs and expectations changing? What capabilities will we need to achieve our long term strategic, operational, and financial objectives?
As Brasca put it, "the true measure of success is whether you're still getting sustained value from deployed technology five years from now."
He also highlighted the push toward making supply chain execution solutions easier and more intuitive to use, aided by augmented and virtual reality technology, as well as predictive resolution flows. "It used to be that executing a task with 1 click was better than 5 clicks," Brasca said, "but moving forward, no clicks will be better than 1 click."
When Do You Consider Warehouse Automation?
The short answer: When it's justified!
And that to me was the main takeaway from Brian Hudock's presentation. Yes, there's a coolness factor to automation, especially with new systems employing robots, but at the end of the day, you need to justify the investment, and there are many ways to justify it — including labor savings, space utilization improvements (capital avoidance), improved throughput and service, and enhanced product safety and control.
What are some trigger points to consider automation? The side below from Hudock's presentation outlines a few.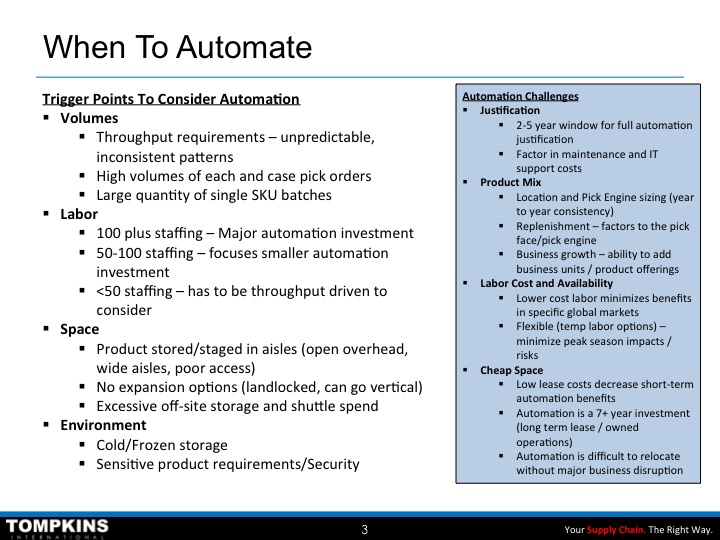 Hudock echoed the same advice that Brasca gave in terms of broadening your perspective: "If you look at the bigger picture when it comes to making automation investments, you'll make better choices."
Current Innovation Updates: What's Up with All the Buzzwords?
As head of Kenco Innovation Labs, Kristi Montgomery has a pulse on a broad range of technology trends, everything from drones and Internet of Things to way-out-in-the-future stuff like e-textiles and cybernics.
Montgomery pointed out, using Gartner's Hype Cycle for reference, that most of these technologies are either approaching the "Peak of Inflated Expectations" or starting the long journey down into the "Trough of Disillusionment" — but they're progressing through the cycle nonetheless (some at a relatively quick pace), so don't ignore what's happening; stay informed and don't be afraid to explore the possibilities.
My main takeaway from the session was the point Montgomery made at the end, which she also shared earlier this year on Talking Logistics in an episode focused on the Internet of Things:
"As with any project, start with defining your problem. What pain point do you have? What challenge are you trying to overcome? Where are you sub-optimized that you think [an emerging technology] can potentially help you? Define the gaps in your process today relative to where you need to go and look to see if [an emerging technology] is the right solution…Make sure your problem is something [the technology] will solve."
Observe, Orient, Decide, Act: Insights on Freight Transportation Market
Matthew Harding presented some great data from Chainalytics' Freight Market Intelligence Consortium (FMIC), which gathers and analyzes data and info from 170 member companies that account for $34 billion in freight spend. I won't go into the numbers here, but the charts and graphs he presented underscored an ongoing reality about the freight transportation market: rates and capacity continuously ebb and flow over time in response to many external (as well as internal) factors.
Which brings me to my favorite part of Harding's presentation, the very beginning, where he talked about Colonel John Richard Boyd and his OODA decision cycle, which Wikipedia describes as follows:
Observation: the collection of data by means of the senses

Orientation: the analysis and synthesis of data to form one's current mental perspective

Decision: the determination of a course of action based on one's current mental perspective

Action: the physical playing-out of decisions
Of course, while this is taking place, the situation may be changing. It is sometimes necessary to cancel a planned action in order to meet the changes. This decision cycle is thus known as the OODA loop. Boyd emphasized that this decision cycle is the central mechanism enabling adaptation (apart from natural selection) and is therefore critical to survival.
Simply put, what's critical for survival in air-to-air combat is the same as what's critical for success in transportation management: Observe, Orient, Decide, and Act — over and over again.