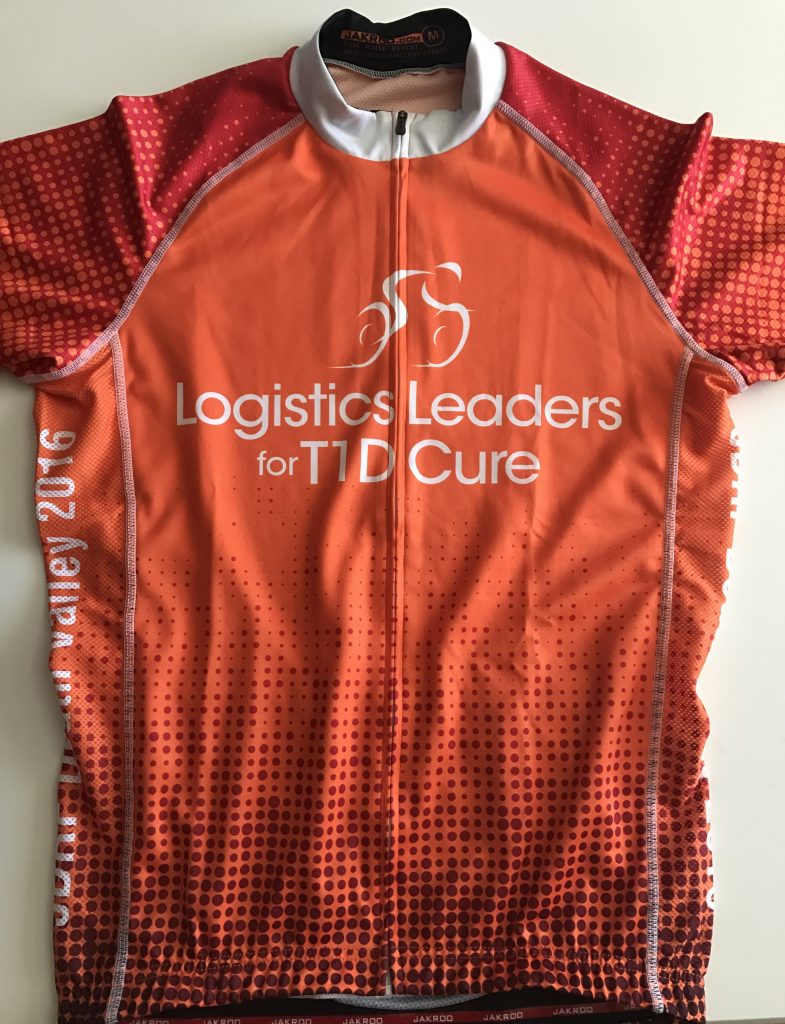 Who will wear the jersey this year?
Last year I organized our first Logistics Leaders for Type 1 Diabetes Cure cycling team (LL4T1DCure) to raise money for JDRF, the leading non-profit organization focused on T1D research.
Thanks to the generous support of sponsors and many individual contributors, we raised over $43,000 for the cause! Check out the team website for photos and a recap of last year's ride (we'll be updating the site soon with this year's team information).
We're back at it again this year, and I am happy to report that BluJay Solutions, C.H. Robinson, Descartes Systems Group, and Elemica are sponsoring this year's team and employees to participate in the ride, which will be September 14-16 in Saratoga Springs, NY.
We only have a few more open slots on the roster, so if you're a supply chain or logistics company interested in sponsoring the team and an employee to participate in the ride, or if you're a supply chain or logistics professional with a direct or indirect connection with T1D, or you're an avid cyclist or someone looking to take on a challenge for a great cause, please contact me for more details on how to join the team.
Stay tuned for more details in the weeks ahead. In the meantime, here's this week's supply chain and logistics news:
Back in January, the Wall Street Journal reported that Amazon had begun "handling shipment of goods by ocean to its U.S. warehouses from Chinese merchants selling on its site—taking on a role it previously left to global freight-transportation companies." According to an article in the paper this week, "[Amazon] is planning to offer its sellers in China the ability to fly their goods internationally as air cargo, according to an Amazon Logistics site." Here are some more details from the article:
In China, it is unclear whether Amazon would be booking airspace via other carriers or flying its own planes.

The Amazon Logistics site focuses on Chinese customers, who are sellers on its site as well as other businesses. The site says it offers end-to-end one-stop ocean freight services. As for airfreight, "we currently are developing this service and plan to quickly introduce it to a large number of our sellers," the site says.

Amazon can do pickups, warehousing, line-haul transportation, delivery, as well as handle import and export needs, the site says. Primary delivery destinations include the U.S., Europe and Japan.
I'll just repeat what I said back in January: Is this further proof that Amazon wants to compete directly with third-party logistics providers? Or is it further proof that Amazon's logistics strategy is a customer focused one — that is, Amazon is not making these moves to compete directly with entrenched players like UPS, FedEx, and other 3PLs, but rather it's aiming to deliver the best overall customer experience possible? You decide. For related commentary, see Amazon: Disruptor or Distraction?
Whether it's cars or trucks, the race is on in the tech world to dominate the autonomous vehicle market. Intel put $15.3 billion on the betting table this week by acquiring Mobileye, an Israeli company that makes sensors and cameras for driverless vehicles. As reported by the New York Times:
Faced with an existential threat to its legacy computer business, Intel — alongside competitors like Qualcomm — has focused on autonomous cars as a new and potentially lucrative market. Many of these driverless vehicles, experts say, will require immense computing power, including the latest microchips able to crunch reams of data in seconds to keep the cars safe, and on the road.

Mobileye, founded in Jerusalem in 1999, has signed deals with several automakers, including Audi, for the use of its vision and camera technology, which uses machine learning and complex neuroscience to help drivers — and increasingly cars themselves — avoid obstacles on the road.

Much of Intel's success will depend on Amnon Shashua, Mobileye's co-founder and chief technology officer, who has a doctorate in brain and cognitive sciences from the Massachusetts Institute of Technology. Part of Mr. Shashua's plan is to have cars with Mobileye's advanced driver assist systems collect imaging and location data that can be used to create what the company calls RoadBook — a vast digital map of roadways in the United States and Europe.
While advancements in autonomous vehicle technology continue to progress forward quickly, things on the regulatory front are moving much slower — and that will ultimately be the gating item on if, when, and how quickly we'll see fully autonomous cars and trucks on the road. For related commentary, see Driverless Trucks: Heading Somewhere or Nowhere Quickly?
And with that, it's time to get on my indoor trainer and ride a few miles as I start ramping up my training for the JDRF ride!
Have a happy weekend!
Song of the Week: "Trip Switch" by Nothing But Thieves