What is the #1 technology topic Descartes CEO Ed Ryan gets asked about?
Drones and its future in supply chain and logistics processes.
Which is why a drone took flight from the stage during Ryan's keynote address at the Descartes Evolution 2017 Conference a couple of weeks ago and broadcast real-time video of the audience as it flew across the front of the hall.
Logistics Excellence: Now & in the eFuture. Will this include drone deliveries? #DescartesEvolution keynote by Ed Ryan, complete with drone! pic.twitter.com/rDXqt2Q7rV

— Descartes (@DescartesSG) March 28, 2017
But as Ryan pointed out, despite the coolness factor and hype, the impact of drones on supply chain and logistics processes will be further out than other technologies, and there are plenty of other innovations — you can call them more evolutionary in nature — that are already having a positive impact on the industry, such as what's happening with mobile solutions (more on that below).
Before diving into some takeaways from the sessions I attended and participated in, here are some high-level stats about Descartes (a Talking Logistics sponsor):
Descartes is now

a $200M+ company and continues to grow

. In five years, the company's revenues have grown from $114.0 million in FY 2012 to $203.8 million in FY 2017 (net income has grown from $12.0 million to $23.8 million over the same time period). Much of that growth has been fueled by acquisitions, including four acquisitions in 2016, with more certainly to come this year.

Descartes invests about 17 percent of revenues in R&D, with over 400 team members in 13 country development centers. The R&D team delivered about 350 product releases in 2016.

The Descartes Global Logistics Network has 16,500+ customers on it, with more than 13 billion messages processed per year and more than 66 million routes/resources managed per year.

Descartes' solution footprint (depicted below) is much broader today than a decade ago. The two largest segments by revenue — Global Trade Content and Routing, Mobile, & Telematics — are also the two fastest-growing parts of its business.  

In short, Descartes is among the largest supply chain and logistics software companies in the market today (behind SAP, Oracle, Manhattan Associates, and JDA Software), and one of the first to embrace the network/software-as-a-service model (services revenues represented 97 percent of total revenues in FY 2017). Over the past decade, Descartes has acquired 35 companies and has evolved into a technology platform company, with its Global Logistics Network as the foundation. As I wrote last June, investments are rising in Supply Chain Operating Networks and Descartes is a prime example of this trend in action — a trend that I predict will continue to gain momentum in the months and years ahead.
Okay, moving on to the conference sessions…
At this year's conference, Descartes introduced a new, invite-only Executive Forum to "help senior leaders within Descartes' customer and partner base gain deeper insights into the macroeconomic, political, investment, and technological change that will be shaping logistics and supply chains for the coming years." I moderated one of the sessions: a conversation with Ken Wood (EVP of Product Marketing at Descartes) and Raimond Diederik (EVP of Information Services at Descartes) on various technology trends and market drivers. Here are some of the topics we discussed and a brief summary of their answers:
Blockchain: It's too soon to know whether blockchain will play a significant role in the industry, but the most promising potential applications are in supply chains where chain-of-custody is important, such as food and pharmaceuticals. Descartes is keeping a pulse on how this continues to develop and it is open to working with clients and other technology partners interested in exploring opportunities.
Mobile: This was an emerging technology a decade ago, but today it's a critical component of what customers expect, especially in final mile and home delivery operations. As more and more drivers and logistics service providers use Android smartphones (and, to a lesser extent, iPhones), mobile solutions are becoming more accessible and affordable for companies. The capabilities of mobile solutions are also expanding beyond scanning and proof-of-delivery, especially as companies integrate telematics, IoT, and commerce systems with them. The use of mobile solutions will only continue to grow, which is why developing additional smartphone solutions is a priority for Descartes.
(As a side note, I attended a breakout session titled "Best Practices in Mobile Delivery Management" that featured executives from several Descartes customers, including US Foods, The Home Depot, and Iron Mountain. Eliminating paper from their delivery operations was a common objective for these companies, along with improving productivity, customer service, and data quality. These companies have all achieved significant benefits from using Descartes' mobile applications, but getting there required some change management (i.e., getting buy-in from drivers and other stakeholders) and implementing appropriate metrics to measure and drive performance.)
Cyber Security: As a network-based company, security and protecting customer data is a top priority for Descartes and the leadership team, which is why the company invests a significant amount of time, money, and resources on network security. This includes making sure all of its hardware and software systems are updated as soon as new patches are released and going through certification processes for its data centers. In short, while Descartes' software products are the most visible aspect of what the company does, a lot of work and activity takes place behind the scenes to make sure the network and solutions are secure, available, and performing to expectations.
Business Intelligence, Analytics, Artificial Intelligence: We're in the middle of an evolution here. There's been a lot of innovation and improvements in how we collect, analyze, and view data, but there's also a long way to go before we get to true predictive analytics. The limiting factor is still getting timely and accurate data. Internet of Things (IoT), telematics, and mobile solutions — on the one hand they're automating and improving the data-collection process, but on the other hand they're complicating the analysis process because of the large volume of data being generated. Another dimension of business intelligence is mashing together different data sources, such as weather, traffic, and trade data to generate new insights, which is part of the reason why Descartes acquired Datamyne this past December.
(As a side note, this was the topic that generated the most questions and discussion from the audience, underscoring for me the strong demand logistics executives have for BI and analytics capabilities.)
Dr. Walter Kemmsies, Managing Director, Economist, and Chief Strategist for JLL's U.S. Ports, Airports and Global Infrastructure Group, also presented at the Executive Forum. His presentation, titled "The Three Miles," focused on the various factors that are impacting domestic production and imports (First Mile), international and regional distribution centers (Second Mile), and stores and fulfillment centers (Third Mile). "Every link is changing and creating feedback loops," said Kemmsies. It's impossible for me to summarize all of the great content he presented in just a few words, but here's my key takeaway: structural changes are occurring in the industry — driven by e-commerce, population migration, larger ocean vessels, trade policies, and many other factors — and if we don't recognize these changes and respond to them intelligently (including making smart investments in infrastructure), future growth and success will be limited.
In another Executive Forum session, Ed Ryan and David Beatson, Principal and Founder of Ascent Partners LLC, shared their perspectives on how "venture capital, private equity, and strategic investors are helping to shape the future of supply chain by funding innovation that creates new business models and capabilities." Ryan and Beatson covered a lot of ground, but I'll just share this slide which shows some of the "mature vs. speculative" technologies investors are putting their money into today.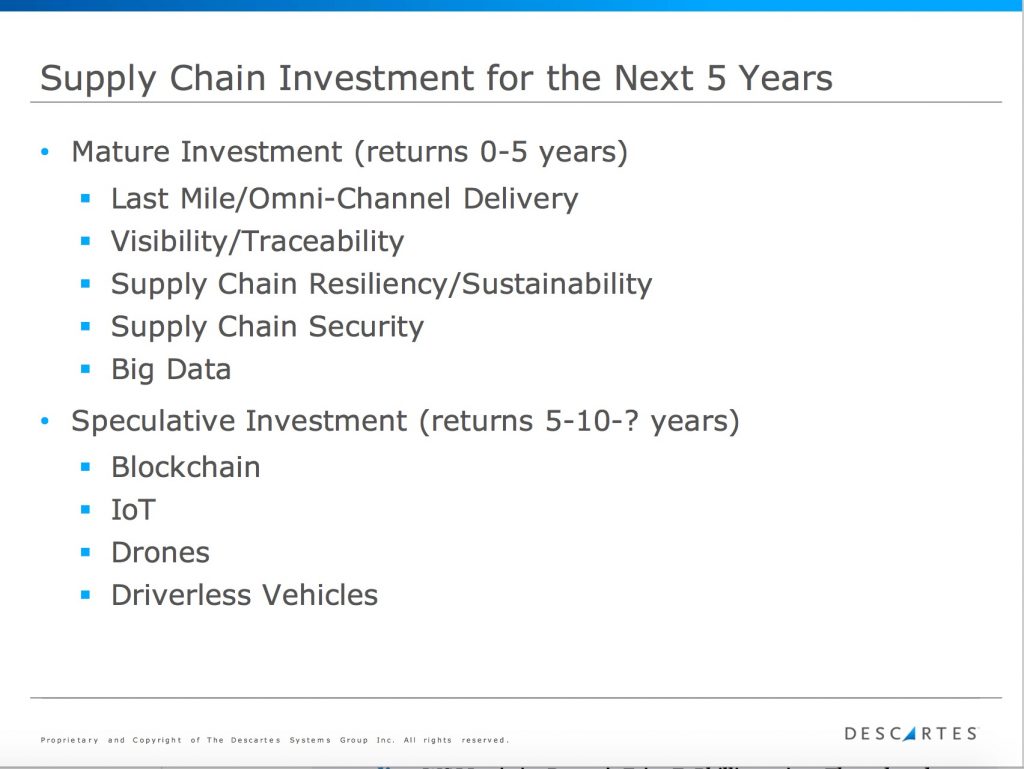 I'll wrap up with some takeaways from a couple of the breakout sessions I attended. First, there was an informative panel discussion with several of Descartes' Transportation Management customers, including Hallmark Cards, American Hotel Register, Cabela's, and Buckle. I won't go into the details of each client implementation, but here are a few takeaways: it took a while, but shippers are finally focused on inbound transportation management, with drop shipping, dock scheduling, and vendor/carrier portal capabilities becoming more important; it's possible, with the right planning, effort, and support to go from evaluating TMS vendors to being fully deployed in six months; and the trend (although not widespread) of bringing your transportation operations back in-house after outsourcing to a 3PL continues (for related commentary, see Keeping Control: What 3PLs Must Convince Their Customers).
I also attended the session on Datamyne. I didn't know much about this company and solution before Descartes acquired them a few months ago, but the company claims it's the largest database on global buying and selling available, with over 500 million records added annually, sourced from customs agencies and trade ministries from 50+ countries around the world (covering 76 percent of the world's trade by value). What can you do if you have the ability to mine the who, what, when and where of each shipment? There are so many possibilities. If you're a 3PL, for example, you can monitor markets for opportunities to sell and gain insights on the competitive landscape. If you're a manufacturer or retailer, you can track market supply and demand and leverage the data to build supply chain resilience with diversified sources. Simply put, Datamyne is the best example I've seen to date of what I believe is one of the biggest value propositions Supply Chain Operating Networks have to offer: the creation of a commerce graph. For related commentary and more info on commerce graphs, see The Most Overlooked Cloud Opportunity.