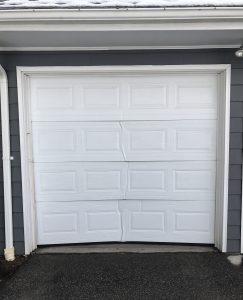 My garage door is crumpled. How did it happen?
Rapid temperature cycling due to crazy Boston weather

Mini-earthquake right underneath garage door

Rammed by car driven by my teenage daughter (who is taking her driving test tomorrow)

Aliens
You can probably guess the answer, but if you need a little hint, check out the Song of the Week below.
*sigh*
In this week's supply chain and logistics news…
It didn't take long for the recently rebranded BluJay Solutions to make its first acquisition: Blackbay, "a leading provider of mobility-enabled solutions for the transport and logistics industry." Here are some more details from the press release and Blackbay's website:
Blackbay's flagship product, Delivery Connect, provides an end-to-end delivery solution for today's delivery company. Delivery Connect is designed to manage the movement of freight from the shipper to the end receiver, including scanning, proof of delivery (PoD), exception management, cross dock and in-depot activities through to job dispatch, customer service and reporting.

Delivery Connect is built on Blackbay's logistics application framework. The framework Mobile Workforce Management Software makes it easy for customers to hit the ground running with the deployment of pre-configured applications. However, Blackbay understands that one size does not always fit all. The new Mobile Workforce Management platform allows Blackbay's customers quickly, within hours rather than days, to configure changes to Delivery Connect's T&L applications ensuring that they meet specific business processes.

Blackbay, headquartered in the UK with offices in Australia and New Zealand, will fully integrate with the global BluJay team. The two companies have partnered for nearly a year with a significant customer in Asia using the world-class mobility platform.
Mobile technologies in transportation and logistics have come a long way over the past decade — that is, since the iPhone was first introduced, followed by Android devices. And when it comes to last-mile and home delivery operations, mobile technology has become indispensable.
Last week at the Descartes Evolution 2017 conference, for example, executives from Home Depot, US Foods, and Iron Mountain shared best practices in Mobile Delivery Management and the benefits their companies have received using Descartes' mobile solutions, and last year I wrote about how Dreams, Britain's leading bed retailer, is using Paragon Software Systems' electronic proof of delivery and configurable data capture system to enhance its home delivery operations and customer experience. See also news from Onfleet linked above.
I haven't seen a demo of Blackbay, so I can't comment on its functionality, but one of the things the BluJay team is most excited about is Blackbay's logistics application framework, which the company plans to use as its mobile development platform moving forward across its entire TMS solution footprint.
In short, compared to other emerging technologies, mobile is well past the hype stage and delivering (no pun intended) real value to companies today, especially retailers and logistics service providers with last-mile and home delivery operations — and I believe the best is yet to come.
In other transportation management news, MercuryGate announced the launch of MercuryMart, "a dynamic information exchange providing TMS users with access to a broad range of sources of available capacity." According to the press release:
With MercuryMart, suppliers can self-integrate into the exchange using a new set of secure application programming interfaces (APIs). In most systems, third-party providers can only leverage providers established within their TMS instance. MercuryMart enables a global search capability across MercuryMart's many integrated providers. Users also benefit from a new quote search tool that can be customized based on defined pools of acceptable providers, constraints, and carrier and contract preferences.

"Having adequate capacity is critical to supply chain execution, and MercuryMart provides shippers with access to a larger set of suppliers faster than ever before, all from their TMS platform," said Monica Wooden, CEO and Co-Founder of MercuryGate International, Inc.
MercuryGate also announced a partnership with Banyan Technology that "aims to streamline rapid deployment of increased [less-than-truckload] LTL functionality in MercuryGate's TMS platform. The integration between MercuryGate's TMS platform and Banyan's live carrier connectivity leverages Banyan's existing connections to a large and diverse group of carriers and 3PLs."
Both announcements point to the growing use of APIs in transportation management, as shippers, carriers, and third-party logistics providers seek better and faster ways to connect, communicate, and execute processes.
Finally, more news this week related to self-driving trucks and vehicles. Peloton Technology, which is working on software to enable truck platooning, raised $60 million in a second round funding. Here are some details from the Wall Street Journal:
Peloton initially envisioned platoons of three or four trucks with a driver in each truck. That proved more complicated than planned and regulatory approval could take years. Peloton is focused instead on a two-truck system for highway travel in which each truck would be staffed by a driver who steers at all times.

Peloton, based in Mountain View, Calif., wants to introduce the system by 2018. Omnitracs LLC, a provider of remote monitoring systems for truck fleets, led the new funding round.
Meanwhile, Cleveland.com reports that Peloton will roll out platooning on the Ohio Turnpike this year. According to the article:
The plan is for Peloton to establish hauling agreements with freight companies in the state, but the specifics can't yet be released, officials say.

"We look forward to continuing our discussions with Randy Cole and other Ohio officials in order to identify suitable highways for platooning in the state," Geoff Johnson, external affairs strategist for Peloton, said in an emailed response.

The turnpike is ideally positioned because it is "relatively straight and relatively flat," Cole said. And the turnpike already has been used as an autonomous vehicle testing ground.
I've commented a lot about driverless trucks over the past year, so just check out my previous post for my thoughts on this topic: Driverless Trucks: Heading Somewhere or Nowhere Quickly?
And with that, have a happy weekend!
Song of the Week:  "Crash" by The Primitives