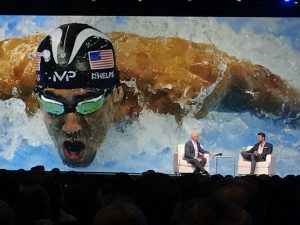 As you read this I'll be flying back from the JDA FOCUS 2017 conference in Las Vegas. There was a lot of great learning and networking at the event, including a keynote session with Michael Phelps, where I learned that he has swum the equivalent of two laps around the Earth if you add up all of the meters he has traversed in practices and competitions during his career.
I'm still letting that sink in.
I'll share my takeaways from the JDA conference in a future post, but with little time to spare this morning as I head to the airport, here's the supply chain and logistics news that caught my attention this week, much of it dominated by flying cars:
And with that, have a happy weekend!
Song of the Week: "Sometimes" by Michael Franti & Spearhead