Nothing in life is free — and this includes free shipping, which has become an albatross around the necks of most retailers and parcel carriers.
Parcel shipping is the fastest-growing logistics sector. According to CSCMP's Annual State of Logistics Report published this week, "while overall transportation costs fell 0.7 percent last year, spending on package delivery services jumped 10 percent [to $86.3 billion]. Parcel and express delivery has surpassed railroads as the second-largest logistics sector behind motor freight [emphasis mine]."
The report goes on to state:
E-commerce has turned parcel delivery into the hottest logistics sector. Parcel volumes rose 6 percent last year as online retailers flooded delivery networks with small packages destined for individual consumers in their houses, apartments, offices, and dorm rooms. The surge shows no sign of abating as volumes rose 3 percent in early 2017, and forecasters predict parcel shipping revenues will climb to $93 billion by 2019 from $78 billion in 2015.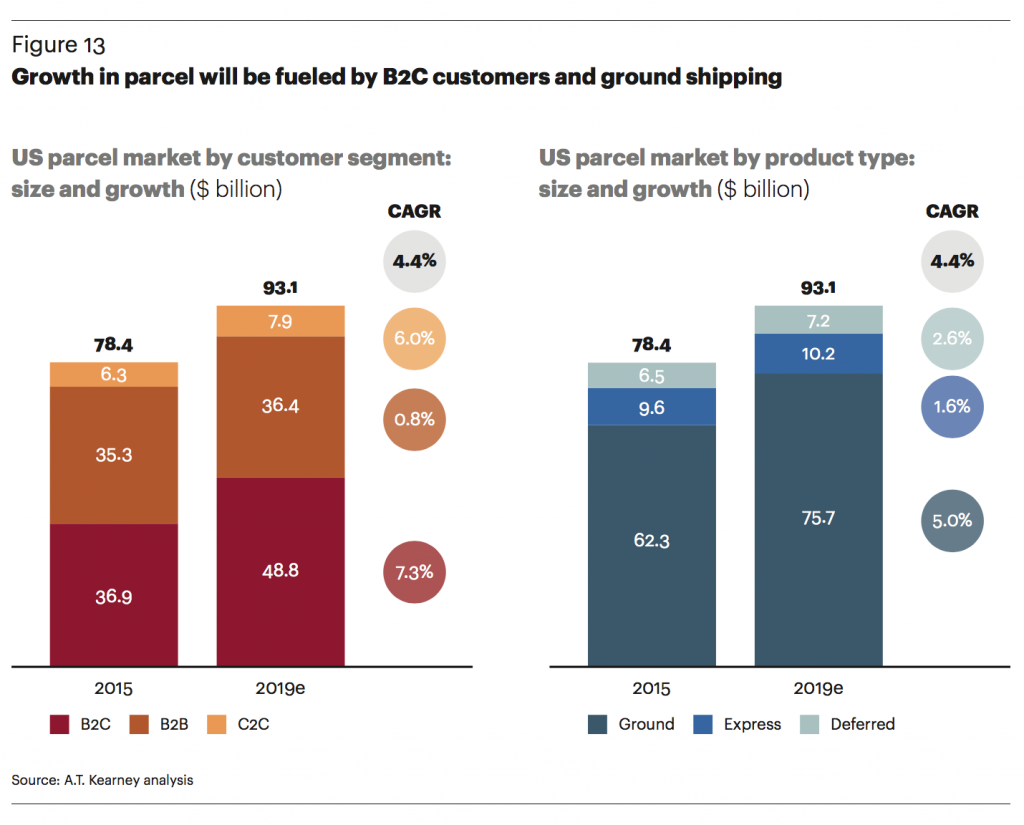 Kudos to the authors for choosing the verb "flooded" to describe how small packages have overwhelmed delivery networks in recent years, especially those of UPS and FedEx. And if the forecasters are correct, the floods will continue…
…which is why UPS on Monday announced "a new peak charge applicable during selected weeks in November and December 2017 for U.S. Residential, Large Packages and packages Over Maximum Limits. The new charge is designed to enable UPS to continue to provide best-in-class value to customers while offsetting some of the additional expenses incurred during significant volume surges."
How much additional expenses is UPS incurring? About $4 billion this year to automate more package-sorting hubs and open new warehouses, as reported in the Wall Street Journal.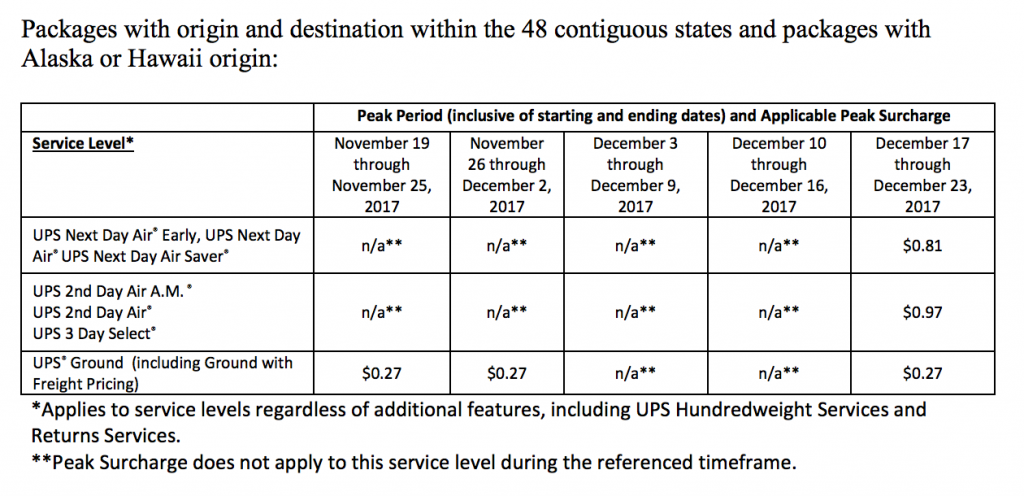 According to the press release, "from November 19 through December 23, UPS will also apply peak surcharges to Large Packages [$24 surcharge] and packages that exceed maximum size limits [$249 surcharge]. These charges are in addition to normal surcharges applicable to such packages. When shipping packages that exceed UPS's published maximum size limits, customers are encouraged to consider using UPS Freight."
What will be the impact of all these new charges? "The fees will force retailers to decide over the next few months whether to raise shipping prices—something that is difficult to do when online shoppers are reluctant to pay shipping fees—increase the prices of goods or eat the extra costs themselves," writes Paul Ziobro from the Wall Street Journal. "Some may seek to avoid the surcharges by spreading holiday deals to other weeks during the season."
We could also see more consumers opting for (or more retailers pushing consumers toward) click-and-collect. As Ziobro writes, "the charges apply only to residential deliveries, so retailers and shoppers may be able to avoid the charges by getting orders shipped to stores, an option retailers have been pushing for the past few years with varying success."
What will FedEx do? Probably thank UPS for taking the lead and implement its own surcharges too.
What will Amazon do? It will continue to lose money on shipping ($7.2 billion in 2016) and not care as long as the profits from its Amazon Web Services division continue to pay for it. Check out these charts from GeekWire: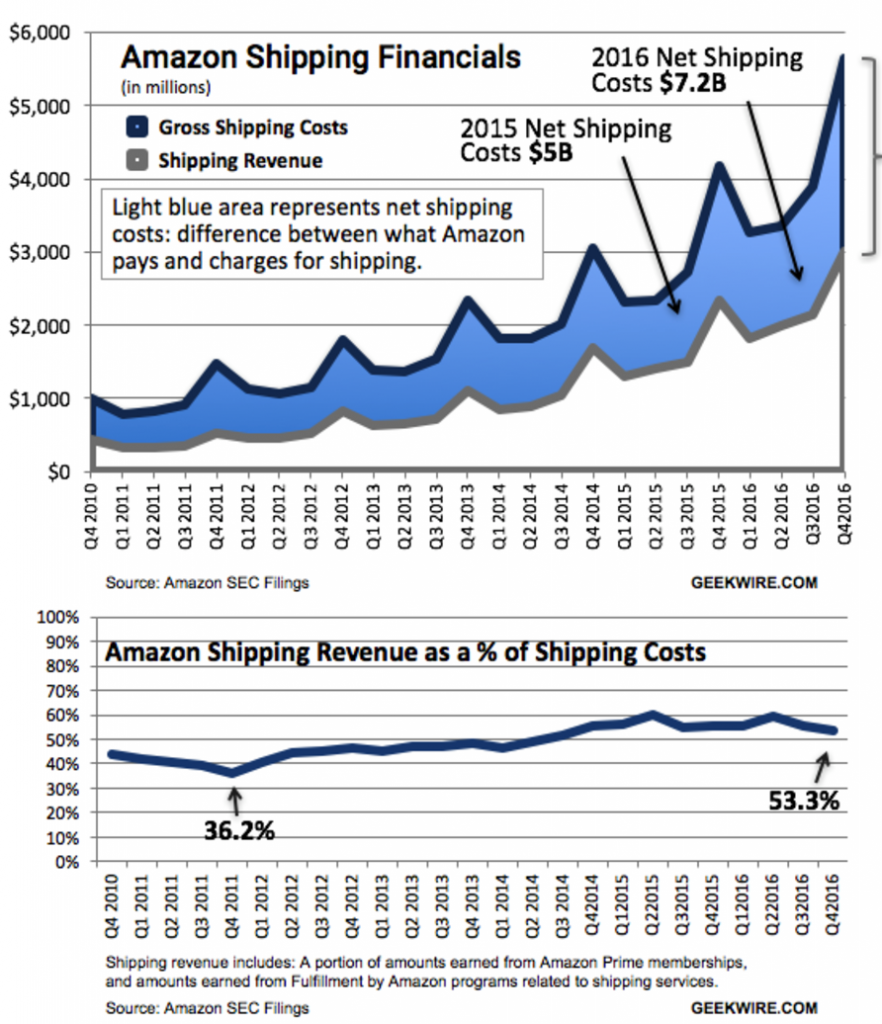 What will you do? Now that's the hardest question.
Will we as consumers be willing to pay more for shipping? Probably not, that ship has sailed a long time ago. Amazon Prime, which has about 80 million members in the United States, has conditioned many of us to expect free 2-day shipping.
The options Ziobro highlights in his article are all valid options: try to shift demand to non-peak weeks and/or entice more customers to choose click-and-collect as a delivery option.
You can try to offset the increased shipping costs by becoming more efficient in other parts of your logistics operations — e.g., are you missing opportunities to consolidate orders into a single shipment? Are you still shipping lots of air? Can you simplify and automate your pick and pack operations?
The bottom line is that free shipping is costing more, and as parcel shipping continues to grow and small packages continue to flood delivery networks, somebody has to pay the bill. UPS is basically saying, "I'm done holding this bill, it's time for all of you to chip in."
The free lunch is over.