When it comes to supply chain design, we're at another inflection point in the industry.
The first one arrived a few years ago when a growing number of companies started treating supply chain design as a continuous business process instead of a standalone project or a once-a-year exercise. As I wrote two years ago in my supply chain and logistics predictions for 2015:
Historically, Supply Chain Design was an exercise companies undertook at most once a year, or when a significant change occurred in their supply chain, such as an acquisition. It was a strategic/tactical analysis, disconnected from day-to-day operations, and the software tools were difficult to learn and use.

Today, Supply Chain Design is becoming more operational and real-time, as companies have to respond more quickly and intelligently to fast-changing forces impacting their business (e.g., competitive threats, new regulations, more stringent customer expectations). Best-in-class companies are either developing Supply Chain Design competency in-house or expecting it from their logistics service providers, and they are using the technology (which is more user-friendly and affordable than in the past) on a more frequent and consistent basis for Product Flowpath Analysis, Cost-to-Serve Optimization, Safety Stock Optimization, Tax/Duties Optimization, and Risk Management (among other things).
The leaders in supply chain design have now reached (or are now creating) a new inflection point: they're starting to blur the lines between Supply Chain Design and Supply Chain Planning. Simply put, as time horizons continue to shrink and the frequency of supply chain design exercises increase, the distinction between supply chain design and supply chain planning starts to blur.
Did LLamasoft (a Talking Logistics sponsor) help to create these inflection points or did it simply see these trends coming before others and caught the wave early?
A bit of both, perhaps, along with some luck and the backing of investors, including a $50 million investment from Goldman Sachs in 2015 and an investment from TPG Capital this past May (the investment amount was not disclosed in the press release, but LLamasoft CEO Don Hicks said it was "hundreds of millions" in his keynote address at the SummerCon 2017 conference).
LLamasoft entered the supply chain planning realm in November 2015 when it acquired Barloworld's Supply Chain Software (SCS) Division, a provider of supply chain design ("CAST") and supply chain planning ("OPTIMIZA") solutions. At the time, LLamasoft stated the following:
The OPTIMIZA business unit will be set up as a new LLamasoft "supply chain planning" business unit. They will support their existing customers in much the same fashion in which they currently operate, however this team will also be supplemented with some additional new resources to focus on the next generation solution that will be a combined entry branded under the LLamasoft logo.
What would this "next generation solution" be? Would LLamasoft start competing more directly with other best-of-breed supply chain planning vendors?
The answers were revealed at the SummerCon 2017 conference a couple of weeks ago where LLamasoft introduced "Planning by Design" and SupplyChainPlanning.com, which the company describes as "building blocks to improve your current planning capabilities through design technology."
Simply put, LLamasoft is providing customers with a relatively easy way to create, configure, and deploy apps that address the "white spaces" of their existing supply chain planning applications. Many customers are already addressing these white spaces on their own — in areas such as manufacturing and distribution capacity planning, demand and supply balancing, and S&OP support — by stitching together a variety of technologies and tools, such as Excel, Visual Basic, Access, and Sharepoint.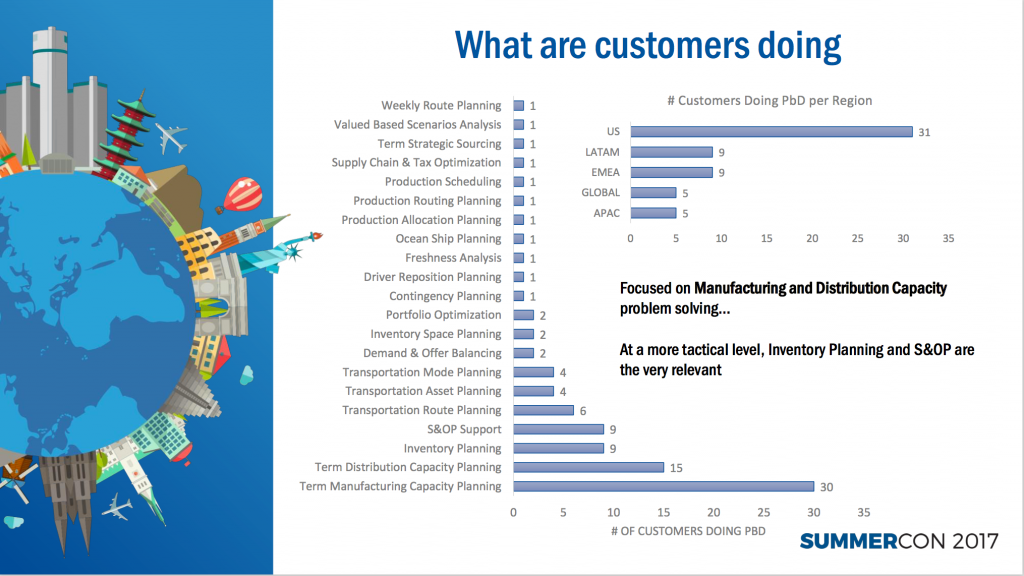 The current approach, however, is not very scalable and makes collaboration between different stakeholders, both within the enterprise and across trading partners, very difficult. SupplyChainPlanning.com addresses these limitations by providing users with a platform that not only facilitates the creation of apps, but also the ability to share and update them.
The slide below provides an overview of SupplyChainPlanning.com: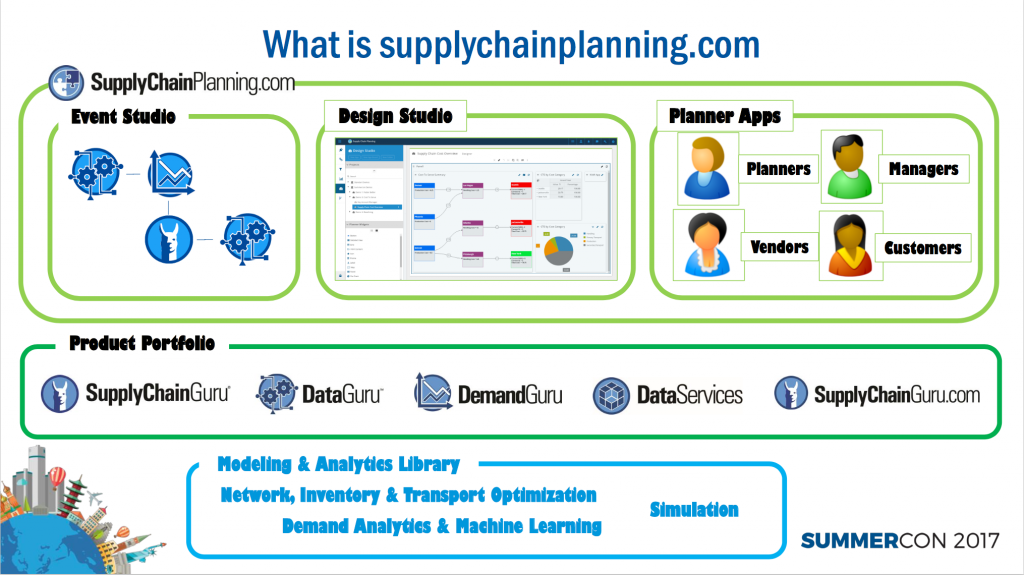 Event Studio enables users to define workflows (using widgets and drag-and-drop components) that leverage LLamasoft's library of modeling and analytics algorithms/engines, while Design Studio — which has a similar look and feel to today's website creation tools — enables users to quickly and easily create the app's user interface, with several pre-defined layouts and functions available to choose from.
As an example, a heavy equipment manufacturer used SupplyChainPlanning.com to create a collaborative planning app with its dealers. In short, the manufacturer realized some time ago that it was setting inventory policies based on outdated lead time and forecast data. So it launched a pilot program with six dealers to obtain regular updates on lead time and forecast data using Excel spreadsheets and email. By receiving more real-time data from the dealers, the manufacturer was able to better optimize its inventory levels across its network and reduce costs. But the Excel/email approach was obviously not an efficient or scalable approach, so it used SupplyChainPlanning.com to create an app to capture this information from the dealers. After a successful pilot test, the plan is to ultimately deploy this app to all dealers, and down the road, to have the app automatically push the updated lead times and forecast data to LLamasoft's Inventory Optimization solution.
So, where does supply chain design end and planning begin? The question implies that design has to end before planning begins, but in practice, both processes are continuously happening, so it's not the right question to ask. The reality is that many of the modeling and analytics engines historically used by designers are becoming more relevant and important to planners today, particularly to address the white spaces in their existing supply chain planning apps. But how can planners (along with other internal and external stakeholders) easily access, use, and integrate these tools within their ever-more-collaborative planning process? That is the question LLamasoft is investing in answering, with SupplyChainPlanning.com the first step in the journey.
As for the rest of the conference, the company's largest to date with nearly 500 customer registrants and 150+ LLamas, it was once again filled with many customer-led sessions, including case studies by Schneider Electric, Cabela's, General Motors, Dow ArgoSciences, Starbucks, Cardinal Health, CHEP, and Jack Cooper Transport. Overall, the sessions were all very insightful and informative.
I also moderated a panel discussion on transportation optimization with representatives from Ryder, Publix Super Markets, and Peak 5 Supply Chain. I'm out of time and space today, so I will share my takeaways from the session in a future post. I'll just say that the room was nearly filled to capacity and the attendees asked many great questions, so there's obviously a lot of interest and demand for transportation optimization in the market today.