Editor's Note: Our "Research in Focus" series highlights research conducted by select partners on timely and important trends impacting supply chain and logistics professionals today. Below is an excerpt from a report published recently by Amber Road and the American Association of Exporters and Importers (AAEI) titled "The Trade Trends Report: 2017 Report on Sourcing, Trade, and e-commerce." The findings were derived from an online survey of 250 executives at leading U.S. companies during July and August 2017, with a balanced mix of respondents representing the various types of importers and exporters today.
Sourcing is the heart of today's global supply chains, and decisions made on sourcing impact everything from transportation and shipping costs, to both social and regulatory compliance concerns. Many factors can affect sourcing decisions, from raw material availability to labor costs to Free Trade Agreement (FTA) benefits or trade preference programs. When armed with all of the relevant data on current and potential sourcing locations in a digital format, supply chain professionals will enjoy a simplified decision-making process.
For 2017, the top business challenge for sourcing executives shifted from market competition due to e-commerce/brick and mortar stores to the protectionist trade policy agenda in the U.S. The U.S. Fashion Industry Association (USFIA) benchmarking study saw the latter concern jump from 10th place in 2016 to first in 2017, a reflection of the change in Administrations and the President's often harsh words for global trade.
These concerns over protectionist policies, which include not just scrapping existing FTAs but also punitive tariffs against major trading partners like China, complicate sourcing decisions immensely. However, consumers will continue to shop and global commerce will continue to operate, so supply chain professionals must utilize technology to gather and analyze all available data, and use that to make the best choice possible.
While it dropped from first to second place in 2017, almost 30% of companies ranked e-commerce competition as their top or second-highest concern. The best way to beat out the competition is to run a tighter ship, which means gaining complete control and visibility over your supply chain. When taken together with the other business challenges, it's clear why companies are racing to implement or improve their online sales channels.
Product quality was biggest concern for respondents to the survey, which had supply chain executives rank their most important consideration when choosing a sourcing location. Transportation costs ranked second, and labor costs ranked third.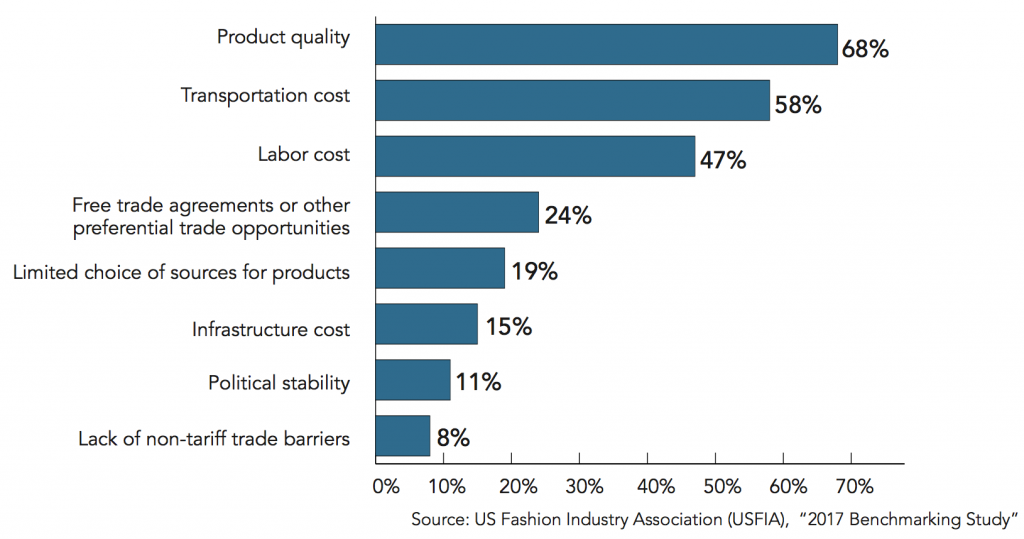 Managing the transition to a hybrid online-physical presence, or even dropping physical locations to go completely online, is not a simple step. As stores close or are consolidated, the importance of warehousing and managing the logistics of the supply chain become entangled with growing the brand and meeting consumer demand. This bring concerns for transportation costs as we see as the #2 area of importance for sourcing.
Sourcing decisions can complicate or simplify this process. Of the companies we surveyed, 55% have between 1 and 50 tier 1 suppliers. Slightly over a quarter have more than 100, with 12% having 500 or more suppliers. And these are just tier 1, with many companies having up to four or five tiers of suppliers throughout their supply chains.
This complexity introduces additional risk into the supply chain. Managing multiple tiers of suppliers, which for the largest companies can number in the thousands, requires a sophisticated, cloud-based global trade management platform, with a fully digitized supply chain. Only this type of single system, rather than a disjointed mishmash performing siloed tasks, can effectuate close collaboration between companies and suppliers.
Collaboration is critical to improving the supplier selection and management process and effectively communicating the details of the product's design, materials and other specifications with all parties. This open communication will in turn positively affect the rest of the supply chain's performance, which is critical in the fast cycle times required by e-commerce.
By utilizing global trade management software, companies can streamline their supplier onboarding and management processes, jumpstarting the sourcing phase and optimizing their supplier selection decisions, including taking advantage of FTAs. Companies must have complete access to costing and sampling information, ensuring the product quality and cost are in scope before issuing orders. Companies who have consistent and timely access to supplier and product information can exceed consumer expectations with swift and interrupted speed-to-market.
Taking the complexity of sourcing decisions into account, a technology-driven global sourcing solution should provide the ability to:
ƒStreamline supplier on-boarding and management processes;

ƒOptimize supplier selection decisions, including taking advantage of preferential trade agreements, with contingencies in place;

ƒShare the bill of materials and product speci cations online for real-time communication;

ƒCompare sample and product cost to evaluate a range of product, duty and shipment costs.
For additional insights on this topic and the rest of the survey results, please download the full report.