From May 2016 through the end of August 2017, "17 CEOs of public Big Food manufacturers and retailers had departed, or announced their intention to," according to an article published last September in Fortune.
"There's never been a time that's more challenging for a CEO in the industry," explains David Garfield of consultancy AlixPartners in the article. "They're facing unprecedented change." For Garfield, the old rules for success, based primarily on economies of scale in manufacturing and advertising, are no longer effective.
This unprecedented change, and the challenges and opportunities it creates for CPG companies and suppliers, was a hot topic of conversation at the Nulogy xChange 2018 conference a few weeks ago where I delivered a keynote presentation and moderated a panel discussion with industry executives (more on that later).  
Nulogy xChange 2018: Why Courage is So Important Today
The theme of the conference was "Go Boldly Together." Nulogy's CEO, Jason Tham, kicked off the event by talking about courage and why it's so important today for consumer packaged goods companies ("brands") and their contract manufacturing partners ("suppliers"). According to Tham, both brands and suppliers need to build up the courage to move away from the status quo and go boldly together toward new ways of working, enabled by enhanced trust, collaboration, and innovation.
"Courage has never been more important in this market that we face," said Tham. "There are seismic shifts in the fast-moving consumer goods (FMCG) and outsourced manufacturing world."
Tham highlighted industry consolidation, changing demographics and consumer preferences, technology innovations such as artificial intelligence and robotics, and e-commerce and direct-to-consumer fulfillment as examples of the seismic shifts taking place in the industry.
Tham also focused on the problem with complacency: "Those changes require difficult decisions. But inaction is probably the most dangerous decision of all because it's predicated on the mistaken belief that what you've been doing in the past will allow you to be successful in the future."
Nulogy's COO, Kevin Wong, followed Jason Tham and spoke about the importance of agile customization. "In the context of volatility, SKU proliferation, and new brands with uncertain demand, we believe that agile customization is going to be the key differentiator. It's going to be key to the success of both brands and suppliers," said Wong.
"The partnerships that will soar above the rest with agile customization are those with suppliers that can provide service with the highest flexibility and reliability," he added. "The suppliers that will be successful will deliver the right products, in the right quantities, at the right time, and be able to do so with the shortest lead times and the ability to accommodate last-minute changes." However, Wong also cautioned that, "in the pursuit of ultimate flexibility and reliability—rushing to hit that on-time shipping metric or accommodating that last-minute order change—there is the risk of compromising quality, leading to a recall or negative brand experience, or letting costs get out of control."
The objective, therefore, is to balance the two: improving your flexibility and reliability while maintaining or improving your quality and cost.
From a technology standpoint, Wong outlined how Nulogy enables agile customization via its platform, as the graphic below illustrates.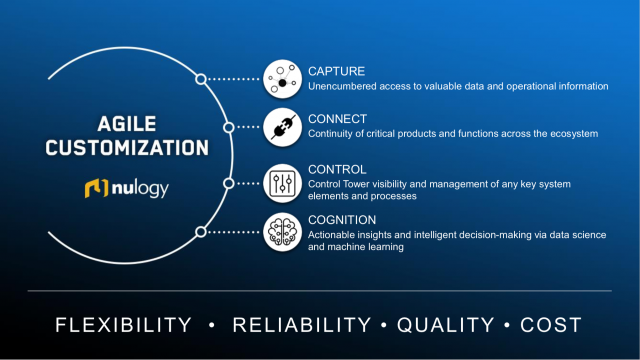 I don't have the time or space to go into all the details, but to summarize: Nulogy is a Supply Chain Operating Network (SCON) that connects CPG brand companies and their outsourced manufacturing partners via a common platform, facilitating communication and collaboration between all the parties. Layered on this cloud-based network are various software applications, including Control Tower visibility (production performance, order tracking, demand and material visibility, etc.) and the foundation for AI/machine learning capabilities.
Earlier this month, following the conference, Nulogy announced new platform capabilities, including deeper insights on performance and profitability, improved security and control, and an enhanced user experience (read press release for more details).
In short, over the past few years, Nulogy has evolved into a leading SCON for the CPG-Supplier ecosystem, with a growing focus on helping this community of trading partners to communicate, collaborate, and execute business processes (that go beyond the packaging plant) in more efficient, scalable, and innovative ways.
How to Build Trust with CPGs and Suppliers
As mentioned earlier, I had the opportunity to moderate a panel discussion on "How to Build Trust with CPGs and Suppliers" with the following industry executives:
We covered a lot of ground during the session, too much to detail here, but here are some of my key takeaways from the conversation:
One of the biggest reasons why trust and collaboration are more important than ever is the accelerating pace of innovation. "Brands are created faster than ever," said

Vèronique

Gravel, "so innovation needs to happen at the speed of light and you need to bring new products to market faster." Growing costs and price pressures are additional factors, along with new regulatory compliance requirements, such as the Food Safety Modernization Act (FSMA).

Communication (clear, honest, and frequent) and transparency (into data and operations) are critical for building trust and enabling greater collaboration between CPG brands and suppliers.

Among the expected benefits of increased trust and collaboration: growth in revenue, margin, and market share; faster new product introduction cycles; and enhanced customer loyalty and retention.
Simply put, all of the panelists agreed that CPG companies and contract manufacturers need to build more trust and work more collaboratively together in order to succeed in this new and ever-changing market. Getting there, however, to echo Jason Tham's comments and my own, requires courage and unlearning the way we've always done things, especially the way we approach and structure business relationships.
Video Interviews with Industry Executives
While at the conference, I conducted several video interviews with several industry executives:
You can find all of the interviews at this website and I encourage you to watch them all for some great insights and advice about what's happening in the industry and how to succeed moving forward (they're all 12 minutes or less in length).
I'll leave you with a couple of quotes from the interviews to whet your appetite:
Mike Copeland (DHL) on why agile customization more important today than ever before:
CPG brands have to be able to compete in a marketplace where there's no longer a customer experience exclusively on a [store] shelf. Now they have to compete with everybody, and to do that, they have to be nimble and be able to react quickly to instantly-changing market demands. That's the new world: the Amazon Effect, the Walmart Effect, whatever you want to call it. Again, it's consumers driving [their demands] up the supply chain, which is forcing manufacturers and service providers to react more quickly and that's what agile customization is about. […] PackManager enables that because it allows us to postpone and modify units at a later time in the supply chain so we can deliver a more tailored solution based on what the retailer or customer wants.
Tim Koers (Visual Pak) on redefining Brand-Supplier relationships:
Transparency is paramount now. […] We need to shift and change the traditional customer-supplier relationship into something that is more of a partnership [with shared risks and rewards] and you can't just play it lip service. If I [as a contract manufacturing partner] am going to react to your needs as a CPG company, I need to be right there walking in lockstep with you—I can't walk in your shadow. So you have to fill me in on what your business strategy is and I'll align my business objectives around that and together we win. We really must challenge the old-school thinking of customer-supplier relationships.