Note: The following is an excerpt from "Omni-Channel Logistics Leaders: Top 5 Inventory Insights," based on research conducted by Adelante SCM and LEGACY Supply Chain Services with input from nearly 100 supply chain professionals from retail, manufacturing, and logistics service providers companies in the United States and Canada. The research focused on the inventory visibility and optimization challenges that companies face today related to omni-channel fulfillment and the actions they should take to elevate their omni-channel performance. You can read and download the full report at https://legacyscs.com/services/omni-channel-logistics-inventory-study/
Whether ensuring a product is in stock when a customer walks into a store, or having the ability to profitably fulfill an online order within the time frame customers expect, companies need to have accurate and real-time visibility to inventory across all segments of their supply chain. Unfortunately, despite the effort and resources invested to date, many companies are still not performing to their full potential when it comes to omnichannel fulfillment, and they continue to experience challenges related to inventory visibility and optimization. In fact, two-thirds of the companies surveyed characterized their omni-channel fulfillment performance (relative to peers in their industry) as average or below, with 30 percent characterizing it as below average.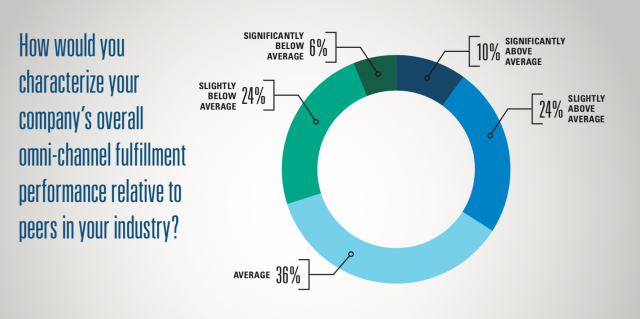 These results suggest that many companies believe they still have significant opportunities to improve their omni-channel fulfillment operations, especially when it comes to inventory visibility and optimization.
What are some of the biggest challenges that remain? What are the biggest opportunities for improvement?
We'll explore those questions in more detail in future reports, but you can get a sneak peak of these challenges and opportunities by looking at what separates companies that characterized their omni-channel performance as Above Average from those that characterized it as Average or Below.
Performance Leaders Have Greater Real-Time Inventory Visibility Across Supply Chain Nodes
It's impossible to manage and optimize your inventory across your supply chain if you don't have visibility to it. While real-time inventory visibility might not be necessary at every node (in some cases, hourly or daily updates might be sufficient), the more real-time visibility you have, the more effective you'll be at making smarter decisions faster — assuming the data is accurate, of course (more on inventory accuracy later in the report).
Across virtually every supply chain node, a greater percentage of Above Average Performers reported having real-time visibility of inventory compared to Average or Below Performers. For example, 47 percent of Above Average Performers reported having real-time visibility to inventory at stores while only 21 percent of Average or Below Performers reported having the same.

However, even Above Average Performers have significant room for improvement when it comes to inventory visibility. For example, only 24 percent of Above Average Performers reported having real-time visibility to Inventory in Transit — and 35 percent reported not having any visibility to it, as shown in the chart below.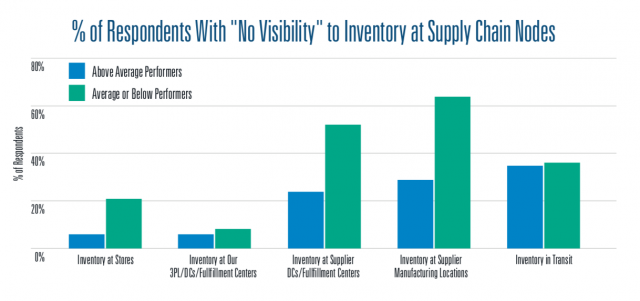 For additional insights from the research study and recommendations, please download the report.