"There's a way to do it better — find it." — Thomas Edison

I love that quote by Thomas Edison. There is always room for improvement in whatever you do. Finding a better way, doing it better, is what drives entrepreneurs, athletes, scientists, and so many others. The journey to better is rarely quick or easy, but finding it is always fulfilling. Then the sun rises on a new day, and the quest to find an even better way begins again.

I've been on a journey to find a better way to conduct supply chain market research for several years now. Simply put, the traditional approach has many shortcomings: too many unsolicited emails to unverified recipients; surveys that are too long and take too much time to complete; concerns about confidentiality or solicitation; limited value or incentives to participate, and so on.

There's a way to do it better.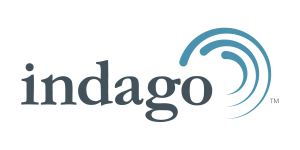 In March, we launched Indago, a research community of supply chain and logistics practitioners from manufacturing, retail, and distribution companies who are committed to sharing practical knowledge and advice with each other in a trusted and confidential manner — while giving back to charitable causes like JDRF, American Logistics Aid Network, American Cancer Society, Feeding America, and Make-A-Wish.

It's an uncommon approach to market research. It's research with purpose.

Since launching in pilot mode, we have conducted seven weekly surveys and have donated almost $700 to charity.

Here are the questions we have asked:

What is the primary focus of your company's supply chain innovation efforts today?
What factor would be the overriding reason you would bring an outsourced logistics operation back in-house?
What are the main factors that make obtaining end-to-end supply chain visibility a challenge at your company?
What skills and attributes will be the most important for supply chain young professionals to succeed moving forward?
Which sources of knowledge do you use the most to stay informed of supply chain industry trends?
When evaluating potential third-party logistics providers, how important are each of the following factors in the selection process? [See excerpt of results below]
Which risks do you believe supply chain professionals need to plan for more effectively moving forward?
We are now ready to grow our community.

If you are a supply chain and logistics practitioner from a manufacturing, retail, or distribution company, I invite you to learn more about Indago and join us. There is no cost to join and the time commitment is minimal.

"The old ways of learning are unable to keep up with our rapidly changing world," state Douglas Thomas and John Seely Brown in their book "A New Culture of Learning."

This is particularly true in supply chain management, where new technologies, business models, competitors, legislation, economic issues, and so on are constantly emerging, which requires companies to continuously evolve their supply chain processes, thinking and networks.

The best source of practical knowledge and advice are your peers, other supply chain and logistics practitioners just like you who have already met and overcome the same challenges and opportunities you face today.

There's a way to do it better. Find it. Be uncommon. Research with purpose.

—-
When evaluating potential third-party logistics providers, how important are each of the following factors in the selection process?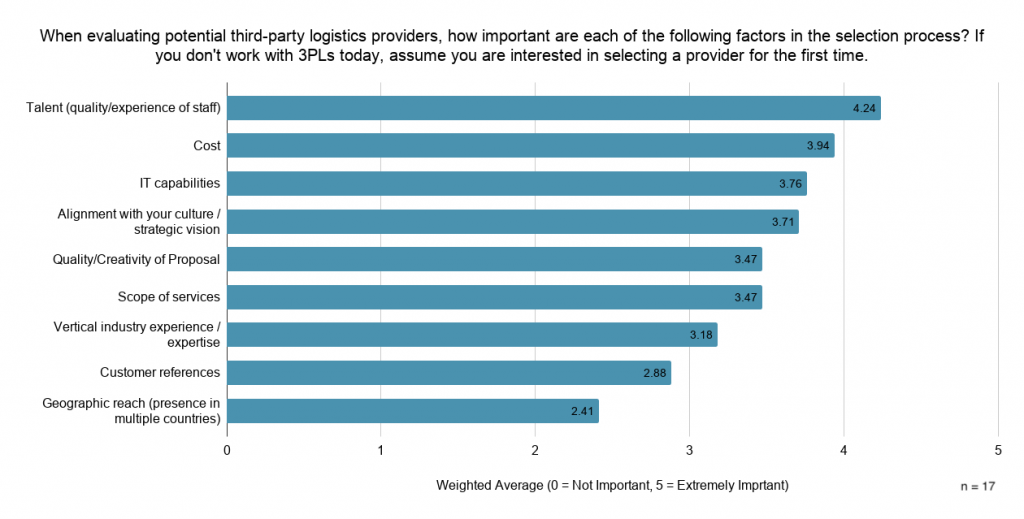 Sample comments submitted by respondents:

"Technology is a key factor and needed [for] success, but in my mind [it's] a given to begin the relationship. I look at the staffing and development opportunities for the 3PL's team. They are an extension of our business and should value their employees in a similar way that we do, treating people right, holding [them] accountable for results and developing a strong bench for the future [are] main factors when evaluating a potential 3PL."


"The thing that separates out 3PLs is the operations talent and leadership. You can have all the technology and processes under the sun, but without leadership, it's not worth anything."


"Reliability, scalability, relevant experience and the ability to adapt and continue to support our organization as it evolves are critical in evaluating 3PLs. Trust is also key, as a 3PL becomes an extension of the organization."


"Ultimately, it's the quality of people and the continuous improvement mindset that will move the customer-3PL relationship to the highest levels…"
For more information about Indago, please email us at contact@joinindago.com .