Note from Adrian: Today's post is part of our "Editor's Pick" series where we highlight recent posts published by our sponsors. We typically choose posts that provide practical knowledge and advice on timely and important supply chain and logistics topics. Today, however, we feature a post from BluJay Solutions' blog that highlights the five employees who are part of our Logistics Leaders for T1D Cure cycling team. James Coon was one of the original team members back in 2016 when we rode together in Death Valley, and over the past three years, he has recruited several of his BluJay colleagues to join the team too. This year they raised the bar, not only in their fundraising goal, but by creating their own team jersey too. As the father of a daughter with T1D, I truly appreciate the time and energy that James, Kelly, Gabe, Connor, and Dewey have invested in training and fundraising for JDRF. Every mile they pedal, every dollar they raise gets us closer to creating a world without T1D. I look forward to riding with them in Saratoga Springs, NY on September 14.
For the past several years, BluJay Solutions has collaborated with Adrian Gonzalez, an industry-leading supply chain and logistics analyst and blogger for "Talking Logistics with Adrian Gonzalez."
Adrian created a cycling team, "Logistics Leaders for T1D Cure" to support the Juvenile Diabetes Research Foundation (JDRF) in their efforts to find a cure for Type One Diabetes. Adrian's daughter, Hannah, was diagnosed with the disease at age 11, and Adrian sees the team as a perfect way to "give back." Riders from BluJay Solutions have been a part of the LL4T1D Cure team since 2016.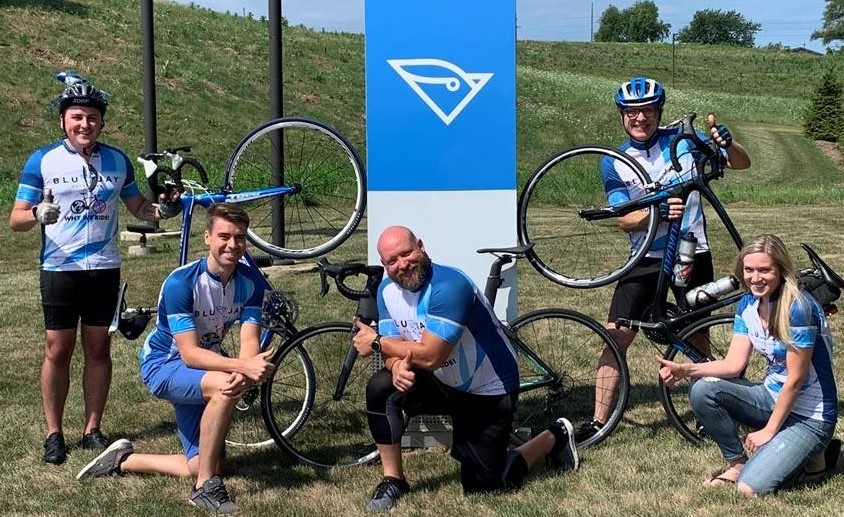 James Coon, Translation Project Manager at BluJay's Holland, Michigan office rode with Adrian and the team the past two years. "The company knew I participated in charity cycling events, so they asked if I would join Adrian in Death Valley in 2016," says James. "It was the most challenging and rewarding event I've ever participated in."