Delivery has always been part of the order fulfillment process, but it's only been in recent years that it has emerged from the shadows, from being a cost center and a back-end process to becoming a competitive differentiator and a key driver of customer experience.

Everything can go perfect on the front end of the sales process, you can succeed in meeting those moments of truth that former P&G President and CEO A.G. Lafley talked about, but a poor delivery experience can quickly negate it all.

I wrote those words almost a year ago in Delivery: A New Moment Of Truth, and last week Rent the Runway demonstrated the consequences of failed delivery. As reported by Bloomberg:

Rent the Runway's latest troubles began on September 13 after it installed a new [warehouse management system] in its New Jersey warehouse, said [Chief Executive Officer Jennifer Hyman]. The integration of the new system wreaked havoc on fulfilment, impacting the number of orders that could be shipped each day.


In an email to customers sent early Friday morning, Hyman warned customers she can't guarantee that orders scheduled to be received this weekend will arrive either. All event orders scheduled to be received the first week of October are canceled and the company is not accepting any new event rental orders or new subscribers until October 15. Regular subscription orders may also be delayed by one or two days until then, the email said.


"We know we have broken complete customer trust [emphasis mine] by not delivering their orders on time," [Hyman] said in a phone interview Thursday evening.

Rent the Runway's Chief Supply Chain Officer, Marv Cunningham, is now out of a job, and the company is giving refunds plus an additional $200 to customers who had their orders cancelled.

The Cost of Supply Chain Disruption
The cost of breaking customer trust? Hard to know for sure, but a 2005 study by Kevin Hendricks and Vinod R. Singhal on the impact of supply chain disruptions revealed there is significant damage to a company's financials and brand when a crisis or stoppage occurs. The report shows, for example, that firms suffering from supply chain disruption experience a 107% drop in operating income, 7% lower sales growth, and 11% growth in cost.

"It does not matter who caused the disruption, what was the reason for disruption, what industry a firm belongs to, or when the disruption happened – disruptions devastate corporate performance," state the authors.

Remember Hershey's and Halloween of 1999?
Based on the news reports, it appears that the bumpy rollout of a new warehouse management system (WMS) triggered this problem. We've seen the consequences of poor software deployments before. Remember Hershey's and Halloween of 1999? Hershey's failed to deliver that year. Literally. Here are some details from a Wall Street Journal article published October 29, 1999:

For the nation's largest candy maker…this could turn out to be a very scary Halloween. New technology that came online in July [from SAP, Siebel (now part of Oracle), and Manugistics (now part of JDA Software)] has gummed up its ordering-and-distribution system, leaving many stores nationwide reporting spot shortages of Kisses, Kit Kats, Twizzlers and other stalwarts of the trick-or-treating season.


In mid-July, Hershey flipped the switch on a $112 million computer system that was supposed to automate and modernize everything from taking candy orders to putting pallets on trucks. Two months later, the company announced that something was wrong. Now, an additional six weeks later — and with Halloween looming — it's still working out the kinks and says it hopes to have everything running smoothly by early December.
There are plenty more horror stories in the annals of enterprise software deployments. Although we don't know much about Rent the Runway's WMS deployment, technology is never the lone culprit when things go wrong. In fact, many IT projects fail because they are understaffed and rushed, or because companies overlook integration requirements, or because of data quality issues ("garbage in, garbage out").

Customer Experience: #1 Brand Differentiator
Earlier this year, as part of a research study conducted by Adelante SCM and the Council of Supply Chain Management Professionals (CSCMP), and presented by BluJay Solutions (a Talking Logistics sponsor), we asked supply chain and logistics professionals the following question: 

"Over the next five years, customer experience will overtake price and product as the No. 1 brand differentiator." Do you agree or disagree with this statement?

Overall, 61% of the survey respondents Agree or Strongly Agree with this assessment. Only 22% Disagree or Strongly Disagree, with the rest taking a neutral perspective. The research also showed that "To deliver an enhanced customer experience" is the top factor driving supply chain innovation at many companies today, particularly Innovator/Early Adopter and Above Average Performance companies.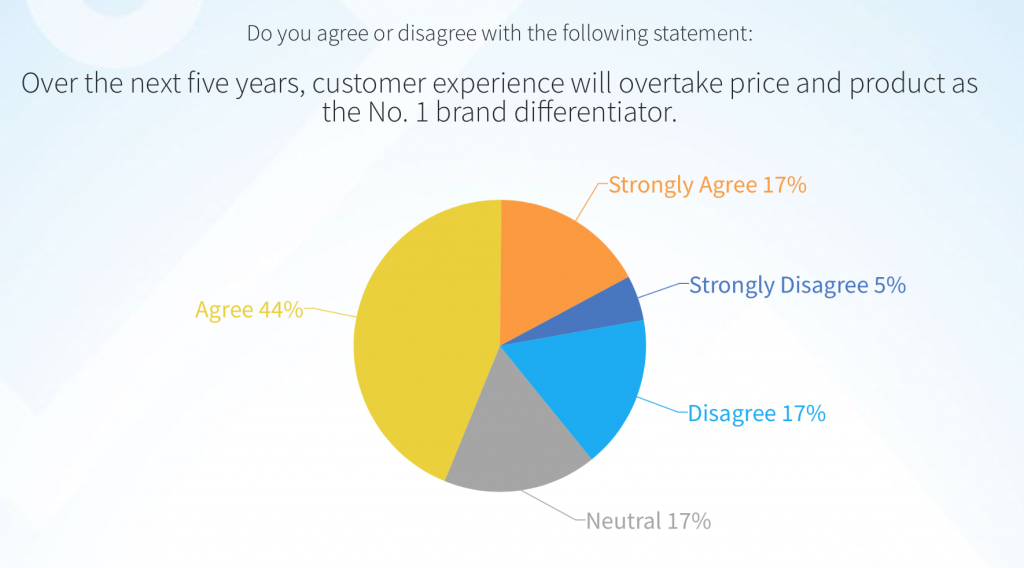 Simply put, the consequences of failed delivery are many: damage to your brand's reputation, loss of customer trust, loss of your job, slower growth and increased costs, and with customers complaining loudly on social media about their horrible experience working with you, the loss of a competitive differentiator.