Which factors are the most important to ensure a successful transportation management system (TMS) implementation?

We asked our Indago research community that question back in May. About two-thirds of the member respondents currently use a transportation management system (TMS), the majority of them a third-party solution.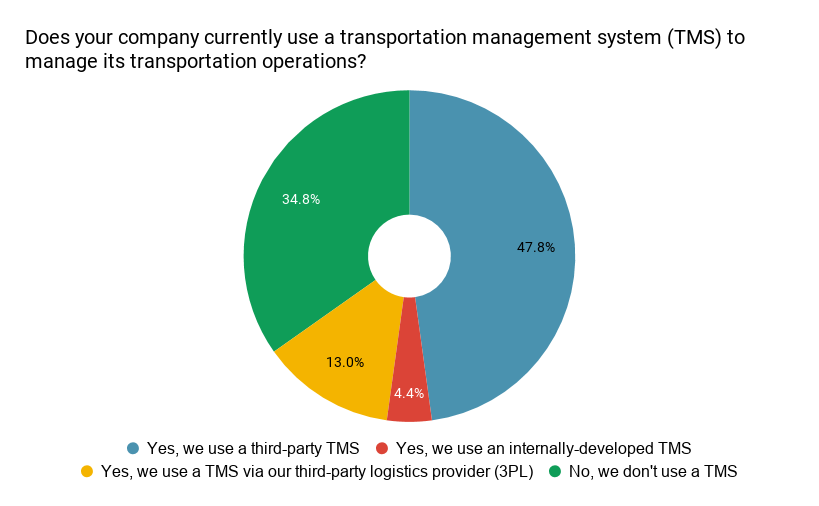 Consistent with other research, almost 35% of the respondents do not use a TMS, with "Don't need one" being the most common reason cited.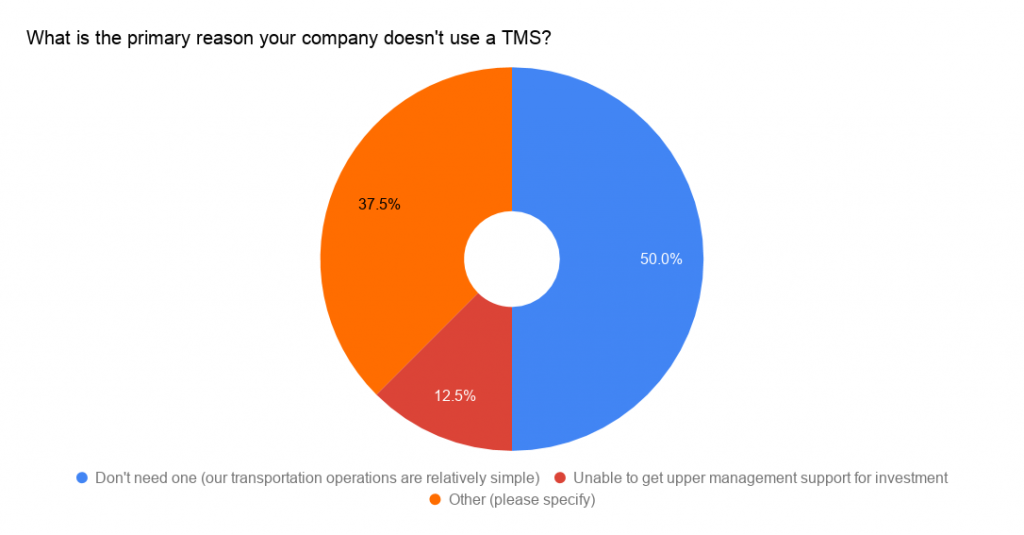 So, which factors are the most important to successfully implement a TMS? "Understand integration requirements with other apps" and "Involve cross-functional team, including IT" received the most votes.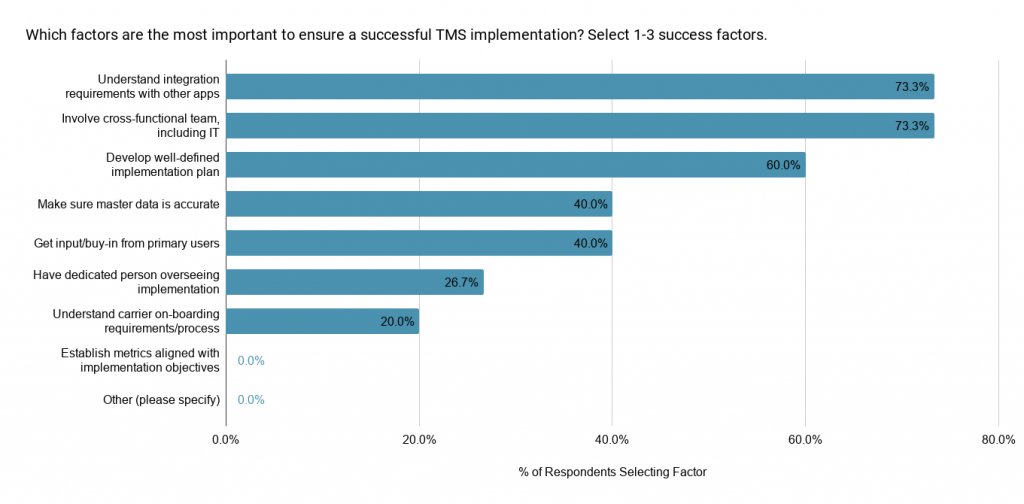 Here are some value-added comments from our Indago members, who are all supply chain and logistics professionals from manufacturing, retail, and distribution companies:

"We have implemented a number of enterprise applications the past 10 years. Our most effective learning curve was a result of the first implementation. We [came to learn] that the company selected for the implementation understated and over promised the date and ease of the process. It took 2 years longer and $4MM more than they had promised. Most important piece of advice we learned: use the strengths of your IT Director to remove the 'unnecessary noise' from the process. Make sure that your company is well aware of the downfalls of excessive customization (as it will add a significant amount of time and money when you want to upgrade to the newer version of the application). Listen to the key members of your team and get their input as to the effectiveness of the application you want to implement."


"[You need to involve] internal stakeholders/primary users during all rounds of RFQ presentations, through the selection, so undiscovered requirements are not found during the implementation planning phase. My company is experiencing this currently."


"Depending on the complexity of an organization, I have seen a TMS drive great success [in improving] both service and the bottom line. Currently our shipments are small and high value, so [we have] limited opportunity to create value through a TMS. As we expand brands, I do see a future need."


"Change management is the most difficult piece as the tendency is for users to simply mirror current (inefficient) processes using the new system."


"Clearly define the current and future state process. Make sure the exceptions in the business process are duly noted. Investigate which systems or users will be impacted by the new TMS and align with the integration requirements."

Do you agree with the feedback and advice of our Indago members? Anything you would add? Post a comment and let us know.

Also, If you're a supply chain or logistics practitioner from a manufacturing, retail, or distribution company, I encourage you to learn more about Indago and join our research community. It is confidential, there is no cost to join and the time commitment is minimal (2-5 minutes per week) — plus your participation will help support charitable causes like JDRF, American Logistics Aid Network, American Cancer Society, Feeding America, and Make-A-Wish.
You can also follow us on LinkedIn to stay informed of our latest research results and news.