Editor's Note: The following is an excerpt of a research report published today, "Gaining a Competitive Edge Through VAS: Key insights to help 3PLs leverage value-added services as a competitive differentiator." The research, conducted by Adelante SCM and commissioned by Nulogy, was conducted to explore the strategic importance and growth opportunity of value-added services (VAS) within the third-party logistics (3PL) industry. You can read and download the full report at https://see.nulogy.com/3pl-competitive-edge/

The modern consumer environment continues to reshape the way contract suppliers and brands collaborate to bring products to market. In order to stay ahead of market demands and satisfy a wide range of consumer preferences, brands are outsourcing late-stage product customization to external suppliers who bring expertise and experience in different areas of the supply chain.

Over the years, third-party logistics (3PL) providers who have traditionally built their business on providing warehousing and logistics services have been looking to position themselves as more agile and strategic suppliers by offering value-added services (VAS) under one roof. Much of the 3PL VAS landscape, however, lies uncharted: How are 3PLs leveraging value added services to win new business? Which value added services offer the greatest growth opportunities? What factors are crucial to acquiring and retaining clients?

Adelante SCM, in a study commissioned by Nulogy, surveyed supply chain executives from more than 30 leading 3PLs to answer these questions, while exploring the strategic importance of value added services within the 3PL industry.
Traditionalists or Innovators?
To start, we wanted to know if 3PL respondents viewed their companies as ahead or behind the technological curve. We asked respondents to characterize their company's culture with regard to technology adoption as one of the following:

Laggard • Late Majority • Early Majority • Early Adopter • Innovator

We categorized these respondents in order to compare the responses of self-identified Innovators (i.e., Innovators and Early Adopters) to responses submitted by the remainder of companies (i.e., Early Majority, Late Majority, and Laggard respondents).

The respondent pool split itself equally amongst the two camps: 50% of the respondents characterized themselves as Innovators or Early Adopters, with the remaining half identifying as Early Majority, Late Majority, or Laggards.

For the purposes of this report, we have termed these two groups Innovators and Traditionalists.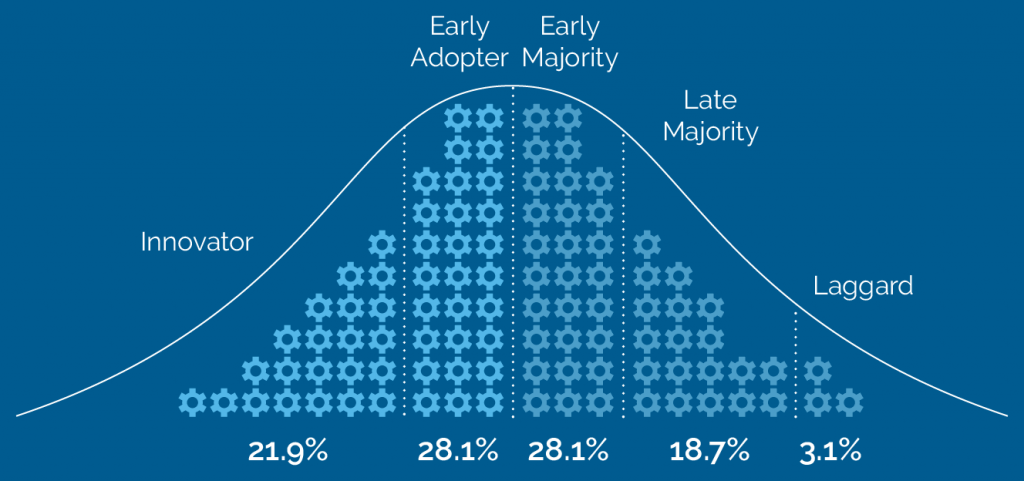 VAS: A Key Driver of Business Growth
Next, we wanted to gauge the importance of value added services for executing 3PLs' business strategies. As it turns out, VAS is quite important! Almost half of respondents (49%) described their value added services as a "very important" part of their overall growth strategy, with another 33% saying it was "important."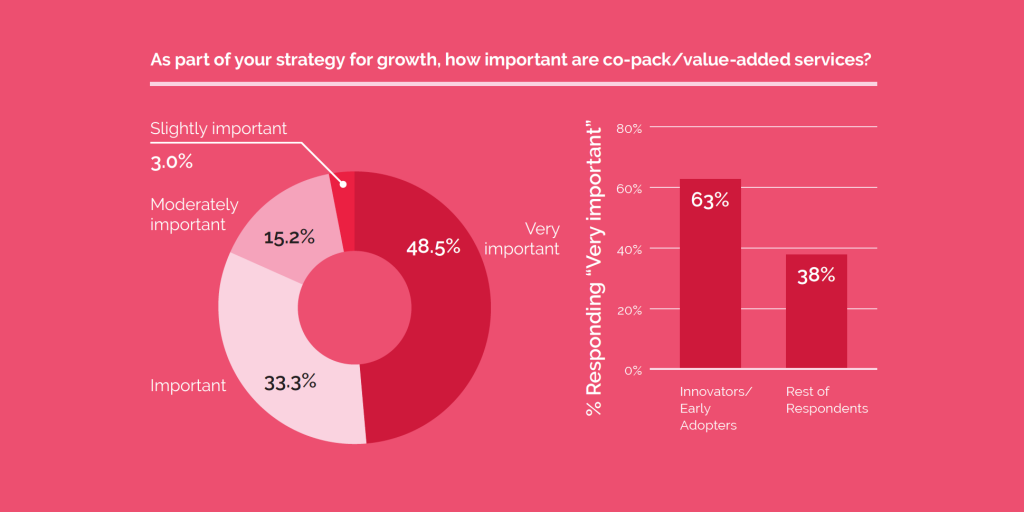 Interestingly, a much greater percentage of Innovator companies (63%) characterized VAS as "very important" compared to Traditionalists (38%).

Similarly, 75% of Innovator companies believe co-packing/VAS revenues will grow at a compound annual growth rate (CAGR) of at least 7% over the next three years, while only 54% of Traditionalist companies believe the same.

These findings suggest that Innovators are more focused and bullish on co-packing/value added services than companies lower on the technology adoption curve.

Further, the results also suggest that companies identifying as innovators for technology adoption are also innovators when it comes to responding to overall industry trends and opportunities.
For additional insights from the research, download the full report.