I was standing in the kitching scrolling through my Facebook feed on my phone when I saw the news: Kobe Bryant was killed in a helicopter crash.

I didn't know Kobe. I wasn't even a Lakers fan. So why did the news hit me (and many others) so hard?

It was a brutal reminder of our mortality. Death comes for all of us — rich or poor, old or young, famous or not — often when we least expect it.

We lost another great recently: Clay Christensen, a Harvard Business School professor and management guru, whose books include "The Innovator's Dilemma" and "How Will You Measure Your Life?" The latter is based on a 2010 HBR article by the same name, which is very thought-provoking and inspiring. A must read.
"When I pass on and have my interview with God, he is not going to say, 'Oh my gosh, Clay Christensen, you were a famous professor at H.B.S.,'" Dr. Christensen told the Wall Street Journal in a 2016 interview. "He's going to say…'Can we just talk about the individual people you helped become better people?…Can we talk about what you did to help [your children] become wonderful people?'"

Important questions to think about today.

Moving on, here's the supply chain and logistics news that caught my attention this week:

Coronavirus: A Rapidly Growing Supply Chain Risk
Coronavirus was declared a global health emergency by the World Health Organization (WHO) yesterday. "The main reason for this declaration is not what is happening in China but what is happening in other countries," said WHO chief Tedros Adhanom Ghebreyesus, as reported by the BBC.

Supply chains are already starting to get affected. "As the spread of the new coronavirus in China causes more factory shutdowns, the effect on global industrial supply chains could linger for years," writes Mike Bird in the Wall Street Journal today. Starbucks, Google, and Apple are among the many companies that have scaled back operations in China in response to the outbreak. According to the WSJ article:

"China now makes up more than twice the share of global merchandise exports it did in 2003, when the SARS virus hit. Guangdong province alone exported more in 2018 than China did as a whole 17 years ago."

Just like an earthquake, tsunami, or other type of natural disaster, the spread of an infectious virus is a risk than can impact supply chains. How effective are companies at managing supply chain risks?

Back in 2013, many companies were falling short on supply chain risk management. As I wrote at the time:

According to a survey of 600 manufacturing and retail executives conducted by Deloitte, 71 percent of the executives surveyed view supply chain risk as "an important factor in their companies' strategic decision making, including 20 percent who view it as extremely important." Yet, 42 percent of the executives from large companies said their supply chain risk management programs are only somewhat or not effective.


Simply put, many companies are still falling short on supply chain risk management, and they continue to pay the price.

Fast forward to last April: We asked our Indago members "How often is risk considered in your supply chain decision-making discussions?"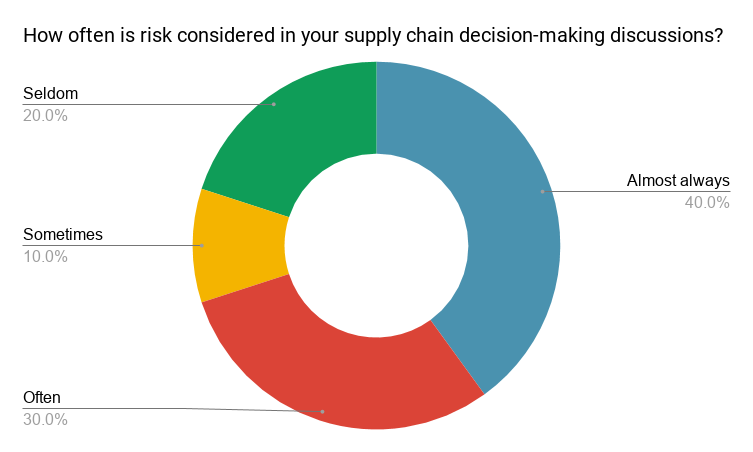 Only 40 percent of the respondents "almost always" consider risk when making supply chain decisions. Another 30 percent "often" take risk into consideration, while 20 percent "seldom" take it into consideration. Simply put, it appears that within supply chain management talking and thinking about risk is not yet as common and instinctual as talking and thinking about cost and service.

"Supply chain risk management isn't seen as a problem, until it is," said one of our Indago members, a logistics manager at a global manufacturing company. "Companies should undertake a robust portfolio analysis of vendors, as well as assessment of transportation modes to identify potential sources of concerns and then [develop a] mitigation strategy. The goal should not be to eliminate supply chain risk entirely, but rather make meaningful progress in readiness and advance planning for disruption."

Coronavirus is another wakeup call for companies that haven't incorporated risk management into their supply chain DNA. It's a topic that I have written about a lot over the years, so instead of repeating myself here, I encourage you to read some of my past posts:

Elemica Acquires Eyefreight: Another TMS Acquisition
Is there a piece missing in your supply chain solution footprint? The answer is yes for some software vendors, and it's a Transportation Management System (TMS).

Over the past couple of years we've seen several TMS acquisitions, including E2open's acquisition of Cloud Logistics in October 2018 and Trimble's acquisition of Kuebix earlier this month.

Yesterday, another TMS acquisition: Elemica (a Talking Logistics sponsor) announced the acquisition of Eyefreight, a multi-modal software-as-a-service TMS. According to the press release:

The addition of the TMS capabilities with the Elemica Digital Supply Network will provide clients a single platform for multi-national shipment optimization, freight settlement, and execution. These new capabilities will leverage an extensive and connected network of carriers and logistics service providers for enhanced multi-modal visibility and business intelligence. The integration into the Elemica Digital Supply Network will enable clients to automate, collaborate and provide the visibility needed across their end-to-end supply chain processes.

Elemica already had a suite of transportation management solutions, including appointment scheduling (see the Shell Chemicals case study that I wrote about in 2014), but the addition of Eyefrieght will broaden its capabilities and value proposition.

The bottom line is that as companies take a more strategic view of transportation management — as a competitive differentiator and key enabler in delivering an enhanced customer experience — having robust TMS capabilities is becoming more important, for both solution providers and their customers.
Acquisitions Continue in 3PL Market: C.H. Robinson and Odyssey Logistics & Technology Corp.
Speaking of acquisitions, deals are happening in the third-party logistics (3PL) market too, with C.H. Robinson (a Talking Logistics sponsor) and Odyssey Logistics & Technology announcing acquisitions this week.

C.H. Robinson: The company "has entered into a definitive agreement to acquire Prime Distribution Services, a leading provider of retail consolidation services in North America, from Roadrunner Transportation…for approximately $225 million in cash. Prime provides a comprehensive suite of retail consolidation solutions, including distribution, fulfillment and inventory management…Founded in 1990 and headquartered in Plainfield, Indiana, Prime employs approximately 270 people and has five fulfillment and distribution facilities totaling approximately 2.6 million square feet across the United States. Prime currently serves approximately 140 customers."

Odyssey Logistics & Technology: The company announced the acquisition of RPM Consolidated Services, Inc. (RPM), "a full-service logistics and warehousing provider specializing in Jones Act markets, offering door-to-door ocean, ground and air freight forwarding services to Hawaii and Puerto Rico, with extended services to Alaska, Guam and the Caribbean. RPM is a certified SmartWay Transport Partner, critical to upholding the safety and environmental standards of the transportation industry."

You can't stand still in this industry. You have to keep looking for new avenues for growth, new opportunities to enhance your value proposition to customers, and new ways to stand out from the crowd. Past performance is no guarantee of future success, and that certainly the truth in the 3PL and technology markets.

And with that, have a happy weekend!

Song of the Week: "Rocket Fuel" by DJ Shadow feat. De La Soul