The novel coronavirus (COVID-19) outbreak is forcing many supply chain and logistics professionals to work from home. How has the experience been so far? What are the main challenges?

Those are the main questions we explored in last week's Indago microsurvey.

The vast majority of our member respondents (82%) said they are currently working from home in response to the coronavirus pandemic.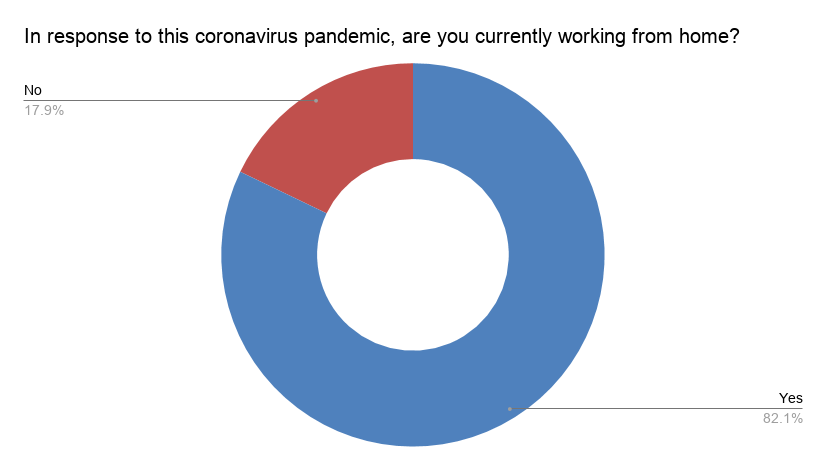 In terms of productivity, the results were equally split between those who said they are being "equally productive as working from the company office" and those who said they are being "less productive" (39% each). The balance (22%) reported being "more productive."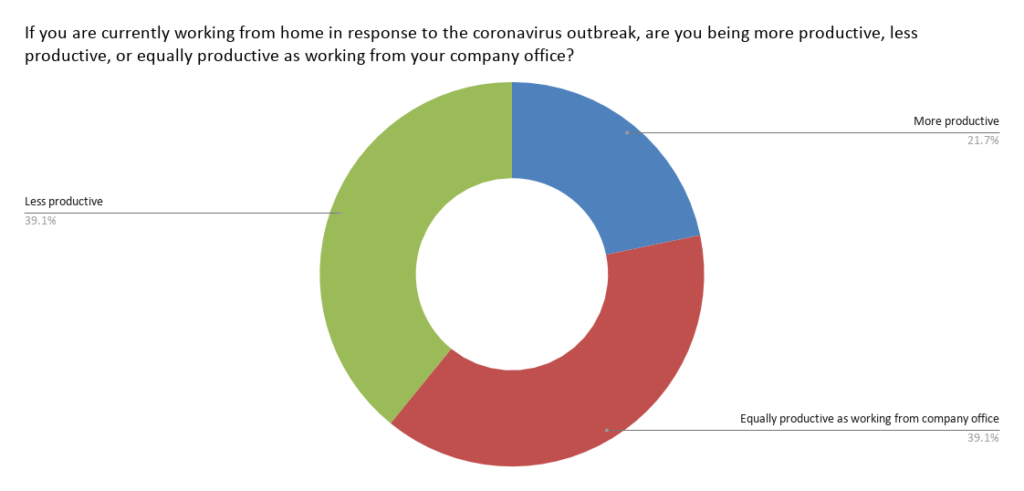 "Communicating/collaborating with colleagues" is the biggest challenge our respondents are facing working from home, with 57% of the respondents selecting that response.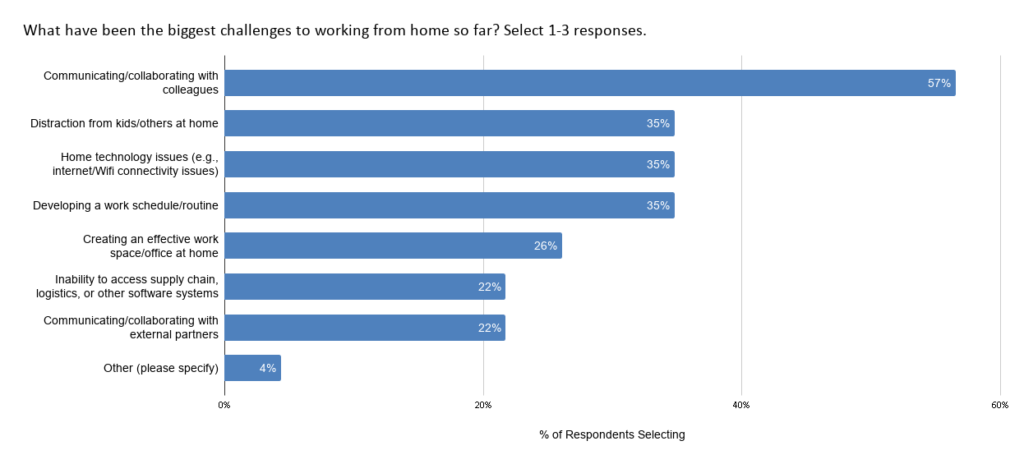 "Communication is definitely a challenge," said one respondent. "[Although] pre-COVID communication challenges existed, it is exacerbated now that you aren't able to navigate face-to-face, non-verbal reactions or expressions during a call. In addition, now that we rely on even more email, which didn't seem possible, time is wasted sending, waiting and responding."

"Working from home has led me to [type and send more] texts, IM, and emails where I used to just pick up a phone and dial an extension in the office," said another respondent. "Go-To Meetings twice a day has just added to the day as there are upwards of 20 attendees at a time."

Here are some additional value-added comments from our Indago members, who are all supply chain and logistics professionals from manufacturing, retail, and distribution companies:

"Communication feels more intentional and purposeful; however, it has brought to light voids we may have in larger communication channels and challenged us as leaders to find solutions to ensure teams feel connected. More often than not, I find myself more focused and productive as there are not as many distractions at my home workspace as there are in the office. After the pandemic is over, I may build remote/work from home days into my schedule so that I am able to fully control my time management during that time. I do miss the human interaction of the office environment and feel that if I were working from home full-time, I may become lonely and lose motivation."


"Supply chain and logistics activities above the operational level are well-suited for working remotely. Often, it is a communication business and most of the touch points are already handled by email and cell phone. What will be interesting to consider in this case is how the prolonged nature of remote working will impact the working experience going forward."


"We have the option to work from home or come to the office…If warehouse teams, production teams, and operations teams need to be here to make and ship stuff, then I will be here as well. We are social distancing in the office. People have been working 2 or more days per week from home, which is fine. We are being as flexible as required to get through these times."


"I worked from home prior to the coronavirus. Now that family and children are at home due to work and school closures it has made the WFH much more challenging as priorities are being balanced. Juggling updates from the media and government in addition to how my company is strategizing for re-opening plans, getting clear direction has been near impossible."


"I work for an organization that historically hasn't embraced remote working. Not too surprisingly, with 100% of our home office supply chain team working remotely, the business continues to run without interruption. This experience will likely lead to more flexibility for home office team members after the COVID crisis."


"Since I work in international transportation my specific location isn't all that important. But the distraction of having to watch my children, along with the increased need to be in contact with my colleagues and leadership has made this period very trying."


"One challenge has been with the hourly distribution employees. We have continued our morning huddle, but with no capacity or volume conversations it has taken a different turn, for the better in my opinion. Almost every day a different person has a child who wants to be involved; my dog made a visit to our executive team meeting. The one benefit that we are seeing is we know more about our teams' children. They make us laugh and realize what is really important."

Are you managing your supply chain from home too? Do you agree with the feedback provided by our Indago members? Post a comment and let us know.
Join Indago
If you're a supply chain or logistics practitioner from a manufacturing, retail, or distribution company, I encourage you to learn more about Indago and join our research community. It is confidential, there is no cost to join and the time commitment is minimal (2-4 minutes per week) — plus your participation will help support charitable causes like JDRF, American Logistics Aid Network, American Cancer Society, Feeding America, and Make-A-Wish.

After joining Indago and responding to your first survey, you will receive a free copy of our 88-page Indago Micro-Surveys Reports Volume I, a compilation of the 39 micro-survey reports we completed from March 2019 through March 2020.

(If you are a technology company, third-party logistics provider, or other company interested in obtaining the report, please contact us for how to purchase. In keeping with our "Research with Purpose" motto, a portion of the purchase price will be donated to our charity partners.)
Finally, please follow us on LinkedIn to stay informed of our latest research results and news.