As a child, I remember sitting on my grandmother's lap in the evenings to watch Walter Mercado. Sometimes I watched with my mother too, the two of us on our plastic-covered sofa waiting for Walter to give us our astrological prediction (I am a Leo, my mother is Aquarius).
Who was Walter Mercado?
It is a difficult question to answer, especially if you're not hispanic. If you're Cuban, Puerto Rican, or Domincan of my generation or older, you probably grew up with Walter Mercado too. There is Walter Mercado the person and Walter Mercado the cultural experience. Both defy an easy explanation.
I watched the recently-released Walter Mercado documentary on Netflix last night. Unexpectedly, I almost cried. Maybe it's because it brought me back to my childhood, back to my grandmother's lap, back to that small apartment in Brooklyn sitting next to my mom (whom I haven't seen since the pandemic started).
Walter would always end his show by drawing circles with his arms and wishing everyone "mucho, mucho amor" — lots and lots of love.
I wish you the same.
—
Now, on to this week's supply chain and logistics news:
Lowe's Continues Physical Transformation of Distribution Network
Earlier this week, I wrote about how the physical transformation of supply chains continues. Soon after publishing the post, Lowe's issued a press release announcing an update "on its supply chain transformation to improve home delivery and support growing demand from DIY and Pro customers." Here are some details from the press release:
Over the next 18 months, the company plans to open 50 cross dock delivery terminals, seven bulk distribution centers and four e-commerce fulfillment centers. This includes 20 cross dock terminals and one West Coast e-commerce fulfillment center in the second half of fiscal 2020. Together, the goal is to provide more same-day and next-day service offerings and enable faster e-commerce shipping across the country.

"Providing customers more ways to shop has never been more important, and today's update on the progress made in our supply chain transformation highlights our ongoing and unyielding commitment to enhancing the customer experience [emphasis mine] in this new era," said Don Frieson, Lowe's executive vice president of supply chain. "Opening these new facilities will allow our stores to operate more efficiently through improved flow management and inventory visibility and improve the customer experience with more predictable deliveries, better in-stock rates and faster fulfillment options."
In research we conducted last year in partnership with the Council of Supply Chain Management Professionals (CSCMP) and BluJay Solutions (a Talking Logistics sponsor), we asked supply chain and logistics professionals "Do you agree or disagree with this statement: Over the next five years, customer experience will overtake price and product as the No. 1 brand differentiator?"
Overall, 61% of the survey respondents Agreed or Strongly Agreed with this assessment. Only 22% Disagreed or Strongly Disagreed, with the rest taking a neutral perspective.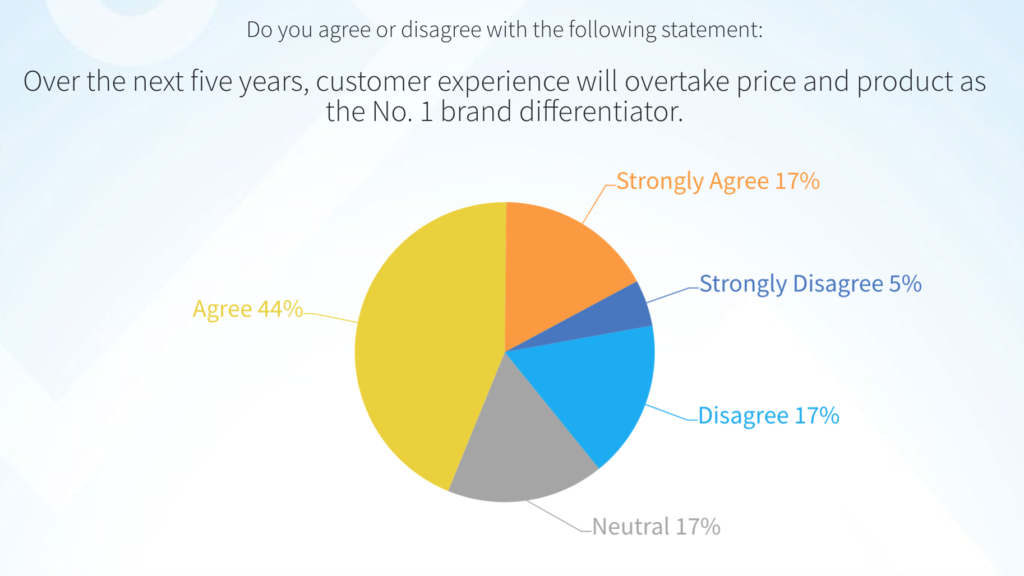 We asked the same question again in this year's survey. The results will be published soon, but based on Mr. Frieson's quote above, you can probably guess the outcome.
Again, there are two sides to the supply chain transformation coin: the digital and the physical. While digital transformation has been getting the lion's share of attention from analysts and technology companies, you cannot overlook the importance of physical transformation — especially if competing on customer experience is a strategic objective.
And with that, have a happy weekend!
Song of the Week: "Thrill" by Future Islands