"Complexity is really a killer," said Roberto Isaias, Mattel's chief supply-chain officer, as quoted in a January 2, 2020 Wall Street Journal article by Paul Ziobro. According to the article:
Mattel has chopped the choices of reds [for its toys] by more than one-third and is doing the same for other colors, part of a broad edict to simplify the company's supply chain…The goal is to improve, modernize and ultimately tame a sprawling supply chain that operates 13 factories, employs as many as 35,000 people during peak periods and delivers toys to 375,000 retail locations world-wide.

"Supply chain had become one of our handicaps," said Chief Executive Ynon Kreiz.
Mattel is not alone in trying to rein back SKU proliferation and the endless aisle. As Suzanne Kapner reported in this weekend's Wall Street Journal:
Retailers ramped up choices in recent decades as the internet created a so-called endless aisle that freed them from the space constraints of physical stores, according to analysts and industry executives…Now, with choices overwhelming shoppers and clogging supply chains, some brands are moving in the opposite direction. They are trimming styles and colors in the hope that by eliminating the decision paralysis that grips customers when they are faced with too many options, they can boost sales and reduce end-of-season markdowns.
The COVID-19 pandemic has also fueled this simplification trend. "Consumer-product companies like PepsiCo Inc. and Procter & Gamble Co. lately have reduced the varieties of toilet paper, soda, packaged foods and other products they sell," Kapner reports. "Those moves largely stemmed from supply shortages during the pandemic, although some companies now plan to make the reductions permanent."
The article about Mattel actually inspired our first Indago survey this year. On January 6th, weeks before the pandemic started affecting supply chains worldwide, we asked our members, "How would you characterize the complexity of your supply chain?"
The vast majority of our respondents (82%) said their supply chains are at least "Moderately" complex, with 42% saying their supply chains are "Very" or "Extremely" complex.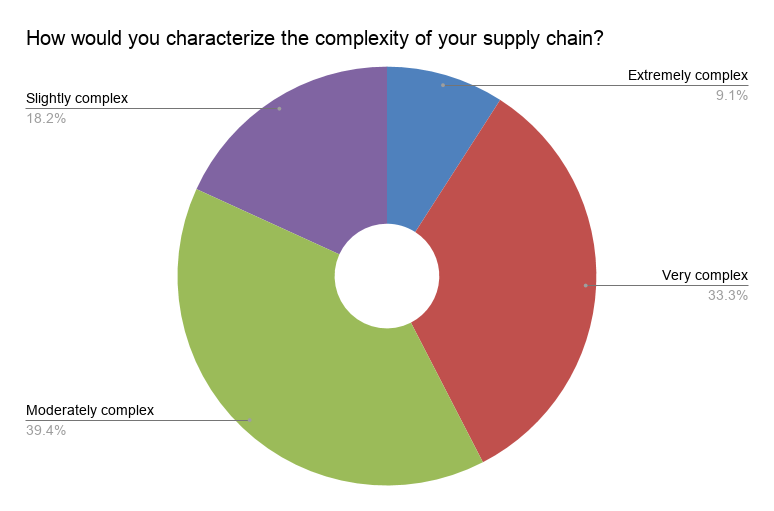 As one respondent put it, "Supply chain complexity is all part of the game. The most simple and uncomplicated supply chain would be one in which uniform grey cubes are manufactured and shipped, which wouldn't be a very effective company. With variety comes complexity; understanding that complexity and reducing ambiguity or logjams should be the goal of the supply chain professional."
We then asked our members, "What are the biggest sources of complexity in your supply chain?" More than half of the respondents (52%) said "Too many products/SKUs" is the biggest source of complexity — hence the reason why Mattel, PepsiCo, P&G, Bed Bath & Beyond, Coach, Kohl's, and others are taking steps to reduce their product offerings.
Finally, we asked our members, "What is the biggest impact of supply chain complexity?" "Inability to respond quickly to problems/changes" received the most votes (48%), followed by "Poor accuracy of demand forecasts" (45%).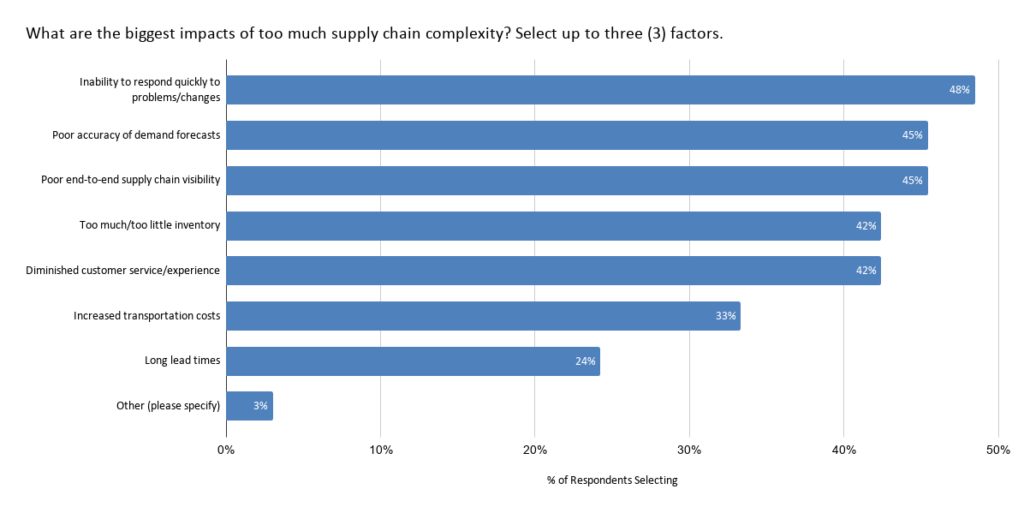 "Our supply chain complexity is more about matching supply and demand in a JIT environment," said one respondent. "In addition, many customers have specific requirements and it can be difficult to implement mass customization without causing waste of perishable products."
Here are some other value-added comments from our Indago members, who are all supply chain and logistics professionals from manufacturing, retail, and distribution companies:
"We have decided to [take] two actions to reduce complexity: reduce the number of SKUs and reduce the number of fulfillment centers. We will [take] these actions in the next months."

"Understanding the true costs of complexity is a key [first step]. Trying to be everything to everyone not only adds costs but also reduces service."

"Our organization is trying to reduce the complexity of our supply chain by implementing a robust PLM [Product Lifecycle Management] system. The complexity we encounter is primarily in the RFQ stage — dealing with multiple suppliers, multiple SKUs for similar products. The goal of the PLM implementation is to easily manage multiple sources of the same product and quotes – and to group multiple similar items under one parent SKU. We began this project mid 2019 and we hope to go live during Q1 2020."

"We used to have numerous suppliers (for similar products) in multiple Asian geographic locations (for the sole purpose of chasing price points). This caused a great deal of logistical, production and quality issues. It was quickly obvious that we needed to be a 'significant' partner with a select few manufacturers (all within a reasonable travel proximity). Also, the decision on factory selection was taken away from merchandising to operations (where it should have been all along)."
What steps (if any) are you taking to simplify your supply chain? Has this become a bigger priority in the aftermath of the COVID-19 pandemic? Post a comment and share your perspective!
Join Indago
Also, If you're a supply chain or logistics practitioner from a manufacturing, retail, or distribution company, I encourage you to learn more about Indago and join our research community. It is confidential, there is no cost to join and the time commitment is minimal (2-5 minutes per week) — plus your participation will help support charitable causes like JDRF, American Logistics Aid Network, American Cancer Society, Feeding America, and Make-A-Wish.
You can also follow us on LinkedIn to stay informed of our latest research results and news.