When your son gets stung on the eyelid by a hornet while mowing the lawn, and then you discover a hornet's nest in your tree, what do you do?
Call The Bee Hunter, of course.
He showed up in a pick-up truck wearing a green t-shirt and camouflage pants. "Once I get started," he warned me, "you'll want to stay away from that tree for at least a day. There's gonna be a lot of angry hornets swarming around because I took away their home."
Then he put on his protective gear and went to work.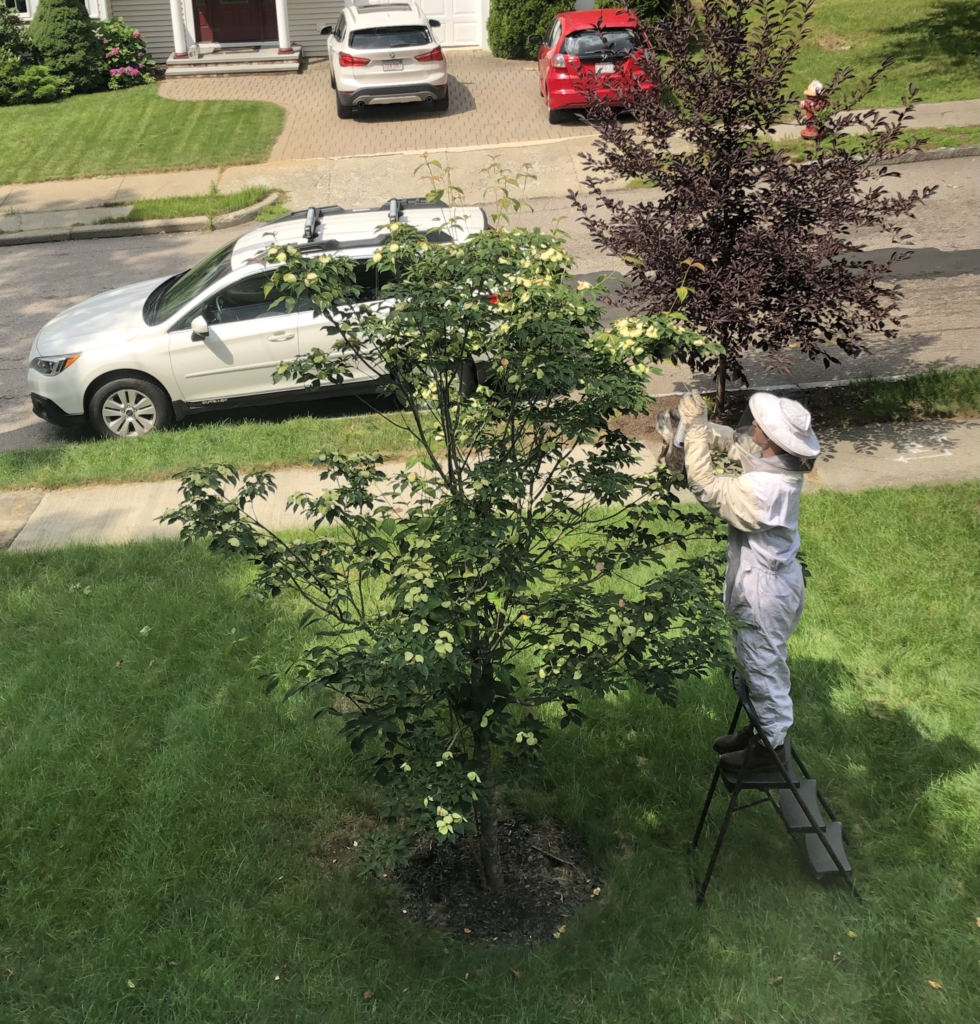 "How do you get into the bee hunting industry?" I asked him afterwards. He was a young man, I'm guessing in his final year of college. "The owner of the company is a family friend," he tells me, "and a few years ago he asked me if I wanted a cool summer job. This is now my fourth summer hunting bees." What does he enjoy the most about the job? "Meeting new people and visiting new places." Sounds like a cool summer job to me.
Time to mow the lawn again.
—
Here's the supply chain and logistics news that caught my attention this week:
"Every Company is a Technology Company"
Back in 2015, Meg Whitman, then the CEO of Hewlett Packard Enterprise, wrote a post on LinkedIn that included the following excerpt:
Every Company is a Technology Company

As I've mentioned in earlier posts, we're now living in an era of disruption, what we call the Idea Economy. Companies today can turn ideas into reality in a fraction of the time it took just five or 10 years ago. And it's no secret that technology is fueling that speed.

Across every industry, IT strategy is now business strategy. Winners and losers are determined by how quickly they can adapt to take advantage of new opportunities or deal with competitive threats.
I have referenced this quote several times over the years (see "Is Every Company a Technology Company?" and here about Google and J.B. Hunt's partnership and here about C.H. Robinson Labs). I come back to it again today in response to a couple of news items.
First, Walmart announced that "it will begin offering several of its own technologies and capabilities to other businesses and brands seeking to better serve customers as they increasingly shop across digital and physical storefronts." Here are more details from the press release:
During the last several years, Walmart has built a world class organization that has developed its own technologies and services to meet the rapidly evolving needs of customers at scale…Through the Adobe Commerce platform, retail businesses will be able to use Walmart's unique cloud-based services to offer seamless pickup and delivery to their customers. Businesses will be able to reach new customers on Walmart's fast-growing Marketplace where they can leverage Walmart's Fulfillment Services to offer 2-day shipping nationwide. The partnership with Adobe to offer these capabilities will help businesses of all sizes improve their customer experience while operating more efficiently.
Yes, Walmart is trying to come up to par with Amazon, but this is also another example of supply chain and logistics technology and managed services coming together.
What is Walmart today? Not just a retailer, but also a "Provider of Cloud-based Software" and a "Provider of E-commerce Fulfillment Services." For software companies and logistics service providers, Walmart your customer is now your competitor too.
The other news comes from C.H. Robinson. I don't normally comment on new hires, but this one caught my attention. The company announced this week that "Arun Rajan will be joining the company as Chief Product Officer, effective September 1, 2021. Rajan will report to Chief Executive Officer Bob Biesterfeld and will lead all global product development and innovation across C.H. Robinson's platforms." According to the press release:
Rajan brings nearly three decades of product and technology experience to the role, and he most recently served as Chief Technology Officer of Whole Foods Market, a subsidiary of Amazon. Prior to joining Whole Foods, Rajan was the Chief Operating Officer and Chief Technology Officer for the pioneering online retailer Zappos during a period when they redefined the customer experience in ecommerce. He was also Co-Founder and CTO at Intent Media, a data science company for the world's preeminent online travel and commerce brands. Rajan earlier served as CTO of One Kings Lane and Travelocity Europe.

"I am thrilled to join C.H. Robinson at this time of significant opportunity," Rajan said. "Robinson is an industry leader with a great culture and a powerful platform for growth. I look forward to working with Bob and the team to lead the company's product innovation and to further develop the product strategy and technology roadmap to deliver industry leading outcomes for our customers and partners and to help lead the company into its next phase of growth [emphasis mine]."
What is C.H. Robinson today? As I commented last week in response to Uber Freight acquiring Transplace, to call the company a "3PL" or "third-party logistics provider" is outdated and myopic. Like some of its innovative peers in the industry, C.H. Robinson is transforming into a new type of provider, one that brings together a large logistics network and a technology platform to enable broader and more powerful network effects. The hiring of Rajan and the emphasis on product innovation, product strategy, and technology roadmap is a clear indication of where C.H. Robinson sees its "next phase of growth" coming from.
Every company is a technology company.
And with that, have a happy weekend!
Song of the Week: "All You Ever Wanted" Rag'n'Bone Man