Editor's Note: The following is an excerpt of a research report published this week, "Transportation Pulse Report 2022 – Building a Better Tomorrow in Transportation: On Trust, Relationships, Networks, & Sustainability." The research, conducted by Adelante SCM and commissioned by Transporeon, is based on a survey of over 280 shippers, carriers, and 3PLs from around the world, including members of our Indago supply chain research community. It also includes insights and advice from interviews conducted with the former CEOs of Schenker and DHL Global Forwarding. Please visit the report page for more information about the research and to download the full report.
If 2020 and the outbreak of the Covid-19 pandemic were like an earthquake, shaking and fracturing the foundations of many supply chains, then 2021 has been like an ocean tsunami that follows an earthquake, causing additional pain and disruption.
A year ago, we couldn't wait to put 2020 behind us and start anew in 2021. Yet, in some ways, this year has proven to be just as challenging as 2020, especially in transportation.
Congestion and delays at ocean ports; trucking capacity constraints and driver shortages; surging transportation costs, especially with ocean and trucking rates; rising fuel prices; and the list goes on.
What have we learned over the past 20 months?
"Everyone has become aware of how vulnerable global supply chains are," says Dr. Thomas Lieb, Chairman of the Supervisory Board of Hellmann Worldwide Logistics and former CEO of Schenker (he is also a member of Transporeon's Advisory Board). "We have also learned the importance of having real-time visibility to what is happening in your supply chain. You cannot avoid disruptions in the supply chain, but when your CEO asks you 'Where is our cargo currently?' you need to have a good answer available."
"Most importantly," Lieb adds, "we have learned that we need to build trustful and reliable relationships with all stakeholders in the supply chain."
For Hermann Ude, former CEO of DHL Global Forwarding and Member of the Board of Deutsche Post AG (and current Chairman of Transporeon's Advisory Board), the biggest lesson learned is that "there are things we should have done earlier, but now it's evident they need to be done." In particular, "logistics needs to become more data-driven" to achieve smarter and more efficient utilization and allocation of capacity, for example.
"The Covid-19 pandemic has been a test scenario for what is coming with climate change," says Ude. "It has been a catalyst for better use of data and digital solutions to make more informed decisions."
This past year has also strengthened the belief among industry stakeholders that very large opportunities for improvement still exist in transportation.
In a survey we conducted in October 2021 with more than 280 shippers, carriers, and logistics service providers from around the world, 73% of the respondents believe there exists a "Very Large" or "Large" room for improvement in the way transportation processes are designed and managed. This is an increase from the 2020 survey where we asked the same question. For example, a greater percentage of respondents this year (25%) believe there exists a "Very Large" room for improvement in the way transportation processes are designed and managed compared to last year's respondents (18%).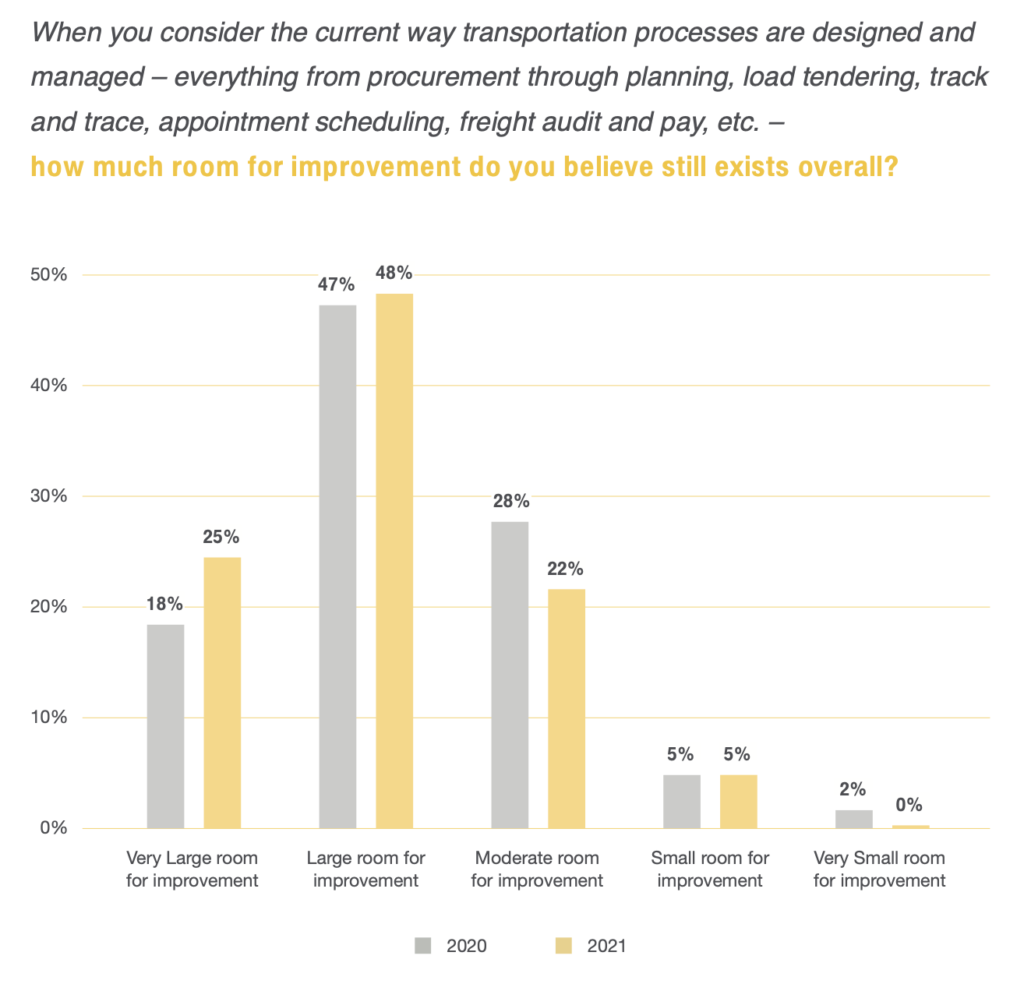 What is the most broken? What needs the most fixing? We asked the survey participants, as well as Dr. Lieb, Mr. Ude, and members of our Indago supply chain research community for their perspective on those questions.
The Physical vs. Digital Supply Chain
There is the Physical Supply Chain consisting of infrastructure, assets, and people (e.g., trucks, trailers, roads, ports, containers, chassis, warehouses, drivers, warehouse workers). There is also the Digital Supply Chain, which involves connecting trading partners electronically to share real-time data, documents, and information with each other and leveraging software applications to enable smarter and more automated transactions and business processes.
If you had to pick one, which supply chain is more broken — the physical one or the digital one? In other words, which one is more to blame for the current issues in the industry?
To learn how the survey participants answered this question, as well as obtain additional data and insights about trust in supply chains, the merging of software with trading partner networks, and sustainability, please download the research report.