Today's post was written by ChatGPT.
Okay, it wasn't. But it could have been. Maybe.
Or maybe not.
But I did ask ChatGPT to write a poem about supply chain management and here's what it wrote in about 6 seconds: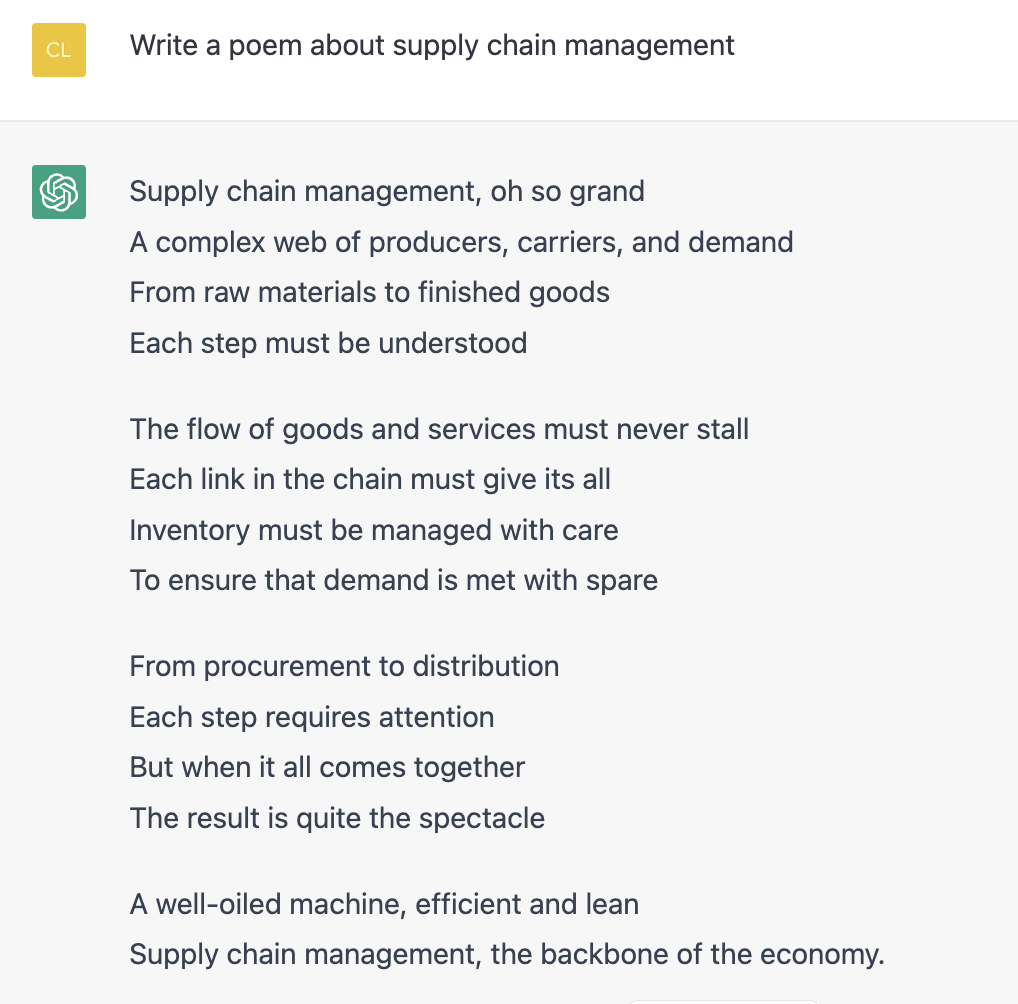 I've moved up in the "Seven Stages of Robot Replacement," which Kevin Kelly wrote about in a WIRED magazine article published in December 2012. I'm somewhere between Stages 2 and 3 now. How about you?
Moving on, here's the supply chain and logistics news that caught my attention this week:
For my commentary on the Convoy, J.B. Hunt, and Uber Freight announcement, please read "Appointment Scheduling API Standard: Will It Work With Paper Calendars?"
Robots-as-a-Service
If it works for software, why not robots?
"Logistics firms looking for extra help during the holidays are leasing temporary package-handling robots, which can be returned to their manufacturers when online shopping orders cool down after the seasonal rush," writes Angus Loten in the Wall Street Journal. "Leased robots, which have grown in popularity across the industry in recent years, can be added to existing fleets of warehouse, distribution and fulfillment center robots at any time to support an anticipated jump in demand, robot vendors say."
According to the article, at least a third of Locus Robotics' customers, for example, are leasing additional robots to handle the surge in order fulfillment during the holidays.
The knock against traditional warehouse automation (think miles of conveyor systems) was that it was a huge capital expense and very inflexible. They are still the right solution for the right type of fulfillment environment (e.g., high-volume, case-level fulfillment), but the wrong solution for many other types of fulfillment operations, including many e-commerce, item-level fulfillment operations. This is where warehouse robots have gained a lot of traction over the past few years.
Just like software-as-a-service lowered the hurdles for many companies (especially small and midsize businesses) to deploy enterprise software solutions by converting a large upfront capital expense into a scalable, recurring operational one, robots-as-a-service is making warehouse automation more affordable and accessible to many more companies today.
Electric Trucks: Pesky Little Details
There was a lot of buzz and media coverage last week when Tesla delivered its first production electric Semi trucks to Pepsi.
However, I haven't seen much discussion or media coverage about a new report published this week by the American Transportation Research Institute (ATRI) that "assesses the infrastructure requirements for converting the U.S. vehicle fleet to battery electric." Here are some excerpts from the press release:
The study found that full electrification of the U.S. vehicle fleet would require a large percentage of the country's present electricity generation. Domestic long-haul trucking would use more than 10 percent of the electricity generated in the country today – while an all-electric U.S. vehicle fleet would use more than 40 percent [emphasis mine]. Some individual states would need to generate as much as 60 percent more electricity than is presently produced.

ATRI's analysis also quantified the tens of millions of tons of cobalt, graphite, lithium and nickel that will be needed to replace the existing U.S. vehicle fleet with battery electric vehicles (BEV), placing high demand on raw materials [emphasis mine]. Depending on the material, electrification of the U.S. vehicle fleet would require 6.3 to 34.9 years of current global production. This is the equivalent of 8.4 to 64.4 percent of global reserves for just the U.S. vehicle fleet.

Finally, it was found that charging the nation's long-haul truck fleet will prove challenging, partially due to the ongoing truck parking crisis. Current technology will necessitate more chargers than there are truck parking spaces in the U.S., with hardware and installation costs of $112,000 per unit, or more than $35 billion system-wide [emphasis mine].
Simply put, it's important to keep in mind that there are many more challenges associated with transitioning to electric trucks than whether these battery-powered trucks can haul a fully loaded trailer very far (compared to diesel trucks). There are two sides to the ledger, and what's credited on one side has to be debited on the other. And sometimes, the unintended consequences on the debit side make it very difficult (if not impossible) to balance the books.
And with that, have a happy weekend!
Song of the Week: "Cracker Island ft. Thundercat" by Gorillaz