What can I say that I haven't said yet? The blinking cursor taunts me.
I'm suffering from a terrible case of writer's block this morning. Maybe it's the cold rain outside, or the sound of water gushing down the gutters that…
[…blink, blink, blink, blink, blink…]
The Greenhouse Gas Import Tax
It's official: As reported by Matthew Dalton and Kim Mackrael in the Wall Street Journal, "The European Union reached an agreement to impose a tax on imports based on the greenhouse gases emitted to make them, inserting climate-change regulation for the first time into the rules of global trade." Here are some excerpts from the article:
The plan, known as the carbon border adjustment mechanism, would be the world's first tax on the carbon content of imported goods. It has rattled supply chains around the globe and angered the EU's trading partners, particularly in the developing world where manufacturers tend to emit relatively large amounts of carbon dioxide. It has also unsettled manufacturers in the U.S. who are concerned the measure would create a new web of red tape to export to Europe.

Europe's border tax has also spurred officials in other countries to consider a similar approach. The U.K. is discussing it, as is Canada. Democrats in Congress have introduced legislation to impose a carbon tax at U.S. borders.
Back in June 2021, when news first came out that Europe was preparing this legislation, we asked members of our Indago supply chain research community (who are all supply chain and logistic professionals from manufacturing, retail, and distribution companies), "How difficult would it be to accurately calculate the carbon emissions of your imported goods?" As I shared in an Indago ResearchCast, 55% of the respondents said that it would be Extremely or Very Difficult.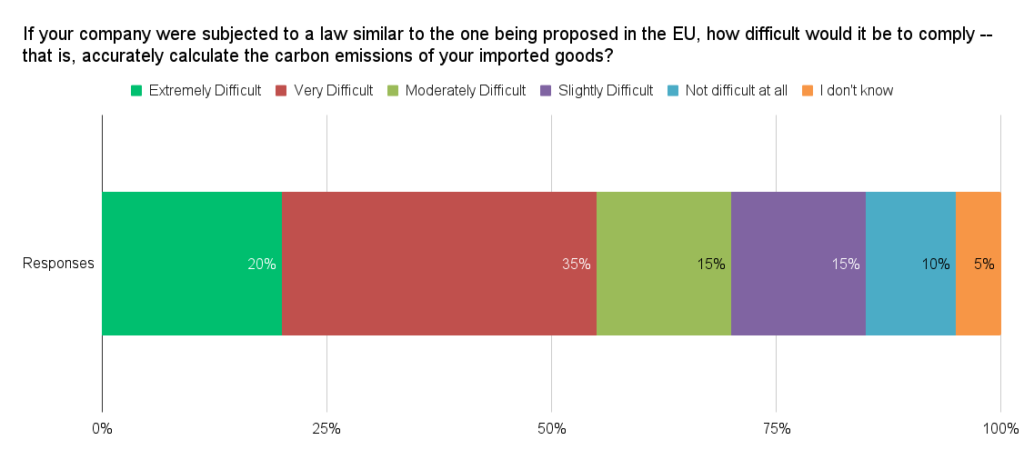 Here's what a couple of Indago supply chain executives said at the time:
"To calculate the carbon footprint of all of our imported items is a nearly impossible task because of the complexity of our supply chain."

"In the white towers of government bodies, this makes complete sense and is viewed as a rational step by lawmakers who live there. In the real world, where suppliers are constantly changing and carbon emissions data is scant, this makes absolutely no sense and is impracticable in every way."
Part of the problem, as I highlighted in "The SEC Climate-Related Disclosures Rule: Another Supply Chain Challenge," is the lack of globally adopted standards for measuring and reporting greenhouse gas emissions. A bigger problem is that companies have many black holes in their supply chains. As I highlighted in a September 2020 post ("Supply Chain Mapping – Insights From Indago"), many companies have very poor visibility beyond their Tier 1 suppliers. "We know precisely where our local suppliers are located and the countries of the next upstream supplier," said one Indago member. "Suppliers further upstream are rarely known with certainty…Unfortunately, most of the supplier locations in our ERP are office addresses and often not the location where product is actually manufactured or sourced."
Simply put, this will be a very bumpy journey.
This is also why I have been arguing that companies (and software vendors) need to expand their definition of end-to-end supply chain visibility. It goes well beyond tracking shipments, orders, inventory, and assets in motion. Supply chain visibility also involves (among other things) knowing the greenhouse gas emissions across your supply chain, including Scope 3 emissions.
A $10 Billion Monday in Supply Chain Technology Realm
Two big announcements this week in the supply chain and logistics technology realm, both on the same day.
First, Coupa Software announced that it has entered into a definitive agreement to be acquired by Thoma Bravo in an all-cash transaction with an enterprise value of $8.0 billion.
Later in the day, Trimble announced that it has agreed to acquire Transporeon (a Talking Logistics sponsor) in an all-cash transaction valued at €1.88 billion ($1.98 billion).
I'm still digesting the news, and I haven't been briefed yet by the companies, so I'll share more thoughts on these announcements in a future post.
For now, I'll just say that's a lot of cash being spent in an environment where interest rates are rising and economic growth is slowing. The bulls continue to outrun the bears in the supply chain market.
And with that, have a happy weekend!
Song of the Week: "Kiss Me" by Dermot Kennedy