It's one of those Fridays, where I'm running short on time, so I'll just jump straight to the supply chain and logistics news that caught my attention this week:
Welcome to the Carbon Tax Trade Wars
Remember the China-US trade war that began in 2018, where the US imposed tariffs on more than $300 billion worth of Chinese goods, which then led China to impose tariffs on about $100 billion of US goods? This trade war is still going on, with varying opinions on how it's actually impacting trade between the two countries (see here and here).
But that is so 2018. A new type of trade war will soon begin, this one based on carbon emissions.
"The European Union's parliament approved legislation to tax imports based on the greenhouse gasses emitted to make them, clearing the final hurdle before the plan becomes law and enshrines climate regulation in the rules of global trade for the first time," report Matthew Dalton and Amrith Ramkumar in the Wall Street Journal. Here are some excerpts from the article:
The tax gives credit to countries that put a price on carbon, allowing importers of goods from those countries to deduct payments made for overseas emissions from the amount owed at the EU's borders.

The tax has raised concerns in the U.S., where companies worry the plan would erect a web of red tape for companies seeking to export to Europe. It has also drawn criticism from China and parts of the developing world, where manufacturers tend to emit more carbon dioxide than their competitors in Europe and rely more on coal-fired electricity.

The EU's legislation will at first cover imports of iron, steel, aluminum, cement, fertilizer, electricity and hydrogen. Companies will have to begin reporting the emissions of their imported goods starting in October, including the indirect emissions released by the electricity generation that powers overseas factories.
Back in June 2021, when news first came out that Europe was preparing this legislation, we asked members of our Indago supply chain research community (who are all supply chain and logistic professionals from manufacturing, retail, and distribution companies), "How difficult would it be to accurately calculate the carbon emissions of your imported goods?" As I shared in an Indago ResearchCast, 55% of the respondents said that it would be Extremely or Very Difficult.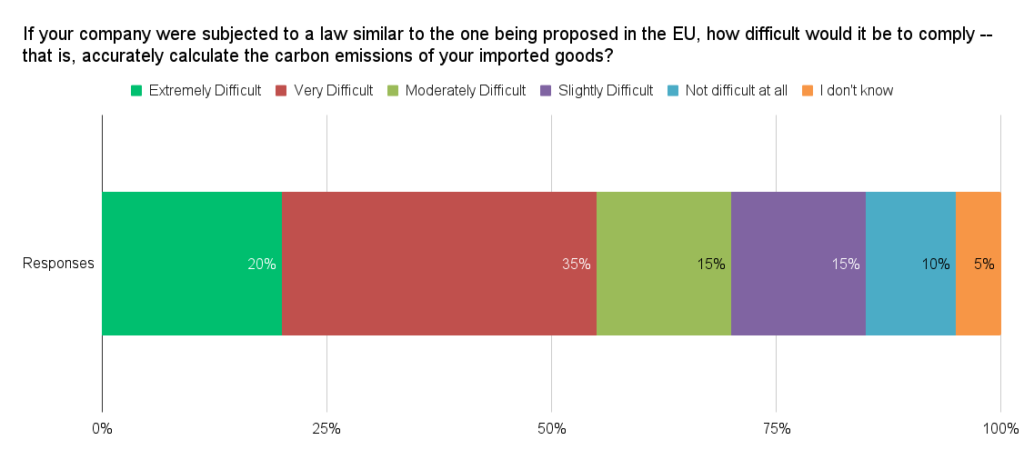 I'll repeat what I've said in previous posts:
Part of the problem, as I highlighted in "The SEC Climate-Related Disclosures Rule: Another Supply Chain Challenge," is the lack of globally adopted standards for measuring and reporting greenhouse gas emissions. A bigger problem is that companies have many black holes in their supply chains. As I highlighted in a September 2020 post ("Supply Chain Mapping – Insights From Indago"), many companies have very poor visibility beyond their Tier 1 suppliers. "We know precisely where our local suppliers are located and the countries of the next upstream supplier," said one Indago member. "Suppliers further upstream are rarely known with certainty…Unfortunately, most of the supplier locations in our ERP are office addresses and often not the location where product is actually manufactured or sourced."
Not surprising, technology companies are stepping in to help. Last month, for example, Transporeon (a Talking Logistics sponsor) announced several enhancements to its transportation management platform, including its Carbon Visibility capabilities. Here are some details from the press release:
Since July 2022, Carbon Visibility has pioneered environmental impact measurement in logistics and transportation. It enables users to precisely measure and report their greenhouse gas emissions using primary data and is fully accredited and compliant with the Global Logistics Emissions Council Framework.

Released today, updates to Carbon Visibility will also enable fleet operators – who previously did not have access – to share transport and telematics data and use the accredited reporting tool for no additional cost. What's more, Transporeon is adding new methodologies of calculation to the solution, based on primary fuel consumption data.
And this week, FourKites announced "several new enhancements to its Sustainability Hub, which are designed to provide customers with greater ability to track, analyze and report on the environmental impact of their supply chain logistics operations."
Global trade management has always been risky and complex. The coming carbon tax trade wars will make it even more challenging.
And with that, have a happy weekend!
Song of the Week: "Toy" by Young Fathers