When it comes to supply chain software selection, there is the classic "Best-of-Breed vs. ERP" debate. There is also, in many cases, tension between what the supply chain organization wants and what corporate IT dictates. To get a pulse on where companies stand on this topic, we asked members of our Indago supply chain research community — who are all supply chain and logistics executives from manufacturing, retail, and distribution companies — "How would you characterize your company's strategy/approach toward selecting a supply chain software solution?"
"Selecting the applications and providers that meet our requirements, regardless of provider type" received the plurality of votes from our Indago member respondents (41%). But a third of the respondents (33%) are looking to "standardize on our ERP provider's supply chain offerings."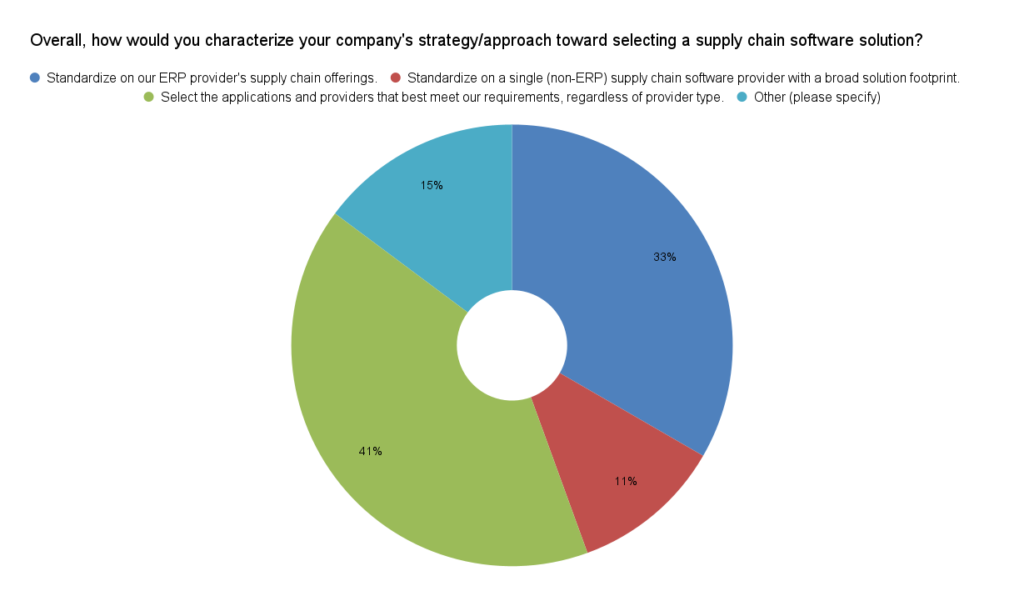 "Our direction is to utilize a vendor that best meets the needs of the business from a functionality and scalability standpoint," said one Indago executive. "We have made a more conscientious effort to avoid customizations wherever possible and try to stick to the base code of the application."
Another executive offered a different perspective: "The main push currently is to use much more of our ERP (single system). In the past we allowed everyone to pick different systems although our ERP [was capable]. Sometimes we think we are much smarter [than we really are] and need more than we really do. It is harder now than if we [had chosen] correctly in the past."
Here are some other value-added comments from our members:
"It's a tedious endeavor trying to determine what software solution will work for you. There are many redundant providers out there, all of whom tell you they are the best of the best."

"There is a move in my organization to standardize applications within a single ERP to create a more cohesive applications environment. Historically we had a number of apps from various vendors integrated together, which seemed to create a tangle of integrations to keep all apps in sync and working together."

"We're pretty behind on supply chain software with each piece being determined by the needs of the business when it becomes critical to implement a software solution. The downfall of this approach is things often don't work together as smoothly as they could, but it provides flexibility to not be tied to one provider."

"Our company went nearly all in on [our ERP vendor]. It's now hard to justify solutions outside the platform. Only a few select applications, like CRM, lie outside the [ERP] ecosystem. I suppose it's the devil we know versus the one we don't."
Among the "Other" approaches is using software provided by third-party logistics providers (3PLs). For example, more than half the respondents (52%) said that they would "Definitely Consider" using a transportation management system (TMS) offered by a 3PL, with another 30% saying they would "Probably Consider" it.
What is your strategy/approach to supply chain software selection? Is there a push to standardize your supply chain applications with a single vendor (either an ERP or SCM suite provider)? What factors underpin your strategy and approach? Post a comment and share your perspective!
(For related commentary, see "3PLs: Best-Of-Breed Or One-Stop-Shop?")
Why Join Indago?
There are many reasons to join Indago, but here is the biggest one that differentiates us from other research organizations: your participation helps to make a difference in people's lives.
To date, we have donated over $17,500 to various charities, including JDRF, American Logistics Aid Network, American Cancer Society, Feeding America, and Make-A-Wish.
That is the meaning behind our tagline: "Be Uncommon. Research with Purpose."
If you're a supply chain or logistics practitioner from a manufacturing, retail, or distribution company — and you're interested in learning from your peers — I encourage you to learn more about Indago and join our research community. It is confidential, there is no cost to join and the time commitment is minimal (2-4 minutes per week) — plus your participation will help support charitable causes that make a difference in people's lives.