Author's Note: At the ProMat conference earlier this year, I delivered a presentation at the Locus Robotics booth titled "Warehouse Robots: What We've Learned So Far" based on research results from our Indago supply chain research community and other sources. Below are some excerpts from the presentation and research. You can download the Indago research report at the Locus Robotics website.
We are now in the 4th Industrial Revolution, defined by a large range of new or improved technologies, like robotics, artificial intelligence, nanotechnology, quantum computing, biotechnology, The Internet of Things (IoT), 3D printing and autonomous vehicles.
Where are we seeing this 4th Industrial Revolution happening in the realm of supply chain and logistics?
In the warehouse, as you can see all around you at this ProMat conference.
In a 2019 Indago survey, we asked our members — who are all supply chain and logistics executives from manufacturing, retail, and distribution companies — "How likely will the following supply chain and logistics jobs or functions be replaced by robots or computers in your lifetime?"
"Warehouse Worker" topped the list, with almost half the respondents (48%) saying it was Very Likely.
Why? The main reasons include:
Warehouse work involves a lot of manual and repetitive activities (e.g., walking, picking, putting away, packing)
You can't cost-effectively scale warehouse operations by adding more labor
Employee safety
"Jobs that require an unwavering safety culture or place employees in positions that could harm them will be the first to be replaced by robots," said one Indago logistics executive. "Employees that perform repetitive functions throughout their day will also be replaced."
The Tipping Point
Despite the strong growth of the robotics market, many warehouses are still not using any automation today.
In a March 2022 robotics survey conducted by Peerless Research Group, only 23% of the 300+ respondents said that they were using robots in their plants and/or warehouses at the time. In another survey conducted by Gatepoint Research in November 2022 with 3PLs, 50% said that they weren't using automation, that they were fully manual. And in a survey we conducted this past February with our Indago members, 67% are not using robotic technology in their warehouses today.
So, why are so many warehouses still not automated? The short answer is that they haven't reached the tipping point yet.
The tipping point to deploy warehouse robots will vary by industry and company, as these Indago respondent comments illustrate:
"Our labor needs were the tipping point for our company to invest in warehouse robots. So far, the experience has been wonderful in two warehouses."

"The tipping point for us was team member turnover in our distribution centers. We required a co-robot/team member solution to maintain velocity of daily picking along with error reductions."

"Without a doubt, the dearth of good labor and the insane increases in labor costs for warehouse associates is what will eventually push us to robots if they're easily integrated."

"Our company would need to find a robotic solution that pairs well with big, bulky, and heavy products that also have some level of high-volume operations / flow to them."

"The decision to adopt robots in the warehouse depends on several factors, such as the size and complexity of warehouse operations, the volume and variability of inventory, the level of automation already in place, and the availability of skilled workers."
Plans to implement warehouse robots in the next three years are highest for companies in industries where the tipping points are most prevalent, such as E-commerce, Retail, Third-Party Logistics, and Pharma/Healthcare. For example, in research conducted by Gatepoint Research in February 2023, 52% of the Healthcare companies surveyed said they expect to automate their warehouses within the next three years. In a similar survey Gatepoint conducted in November 2022 with Third-party Logistics companies, 44% said they plan to automate their warehouses within the next three years.
Building the Business Case
We asked our Indago members what metrics were (or would be) most important in their Return on Investment model. As you can see in the chart below, reducing labor costs and improving labor productivity topped the list. This was true for the respondents who have already gone through the business justification process and are using warehouse robots today, as well as those who aren't yet looking to deploy warehouse robots but might in the future.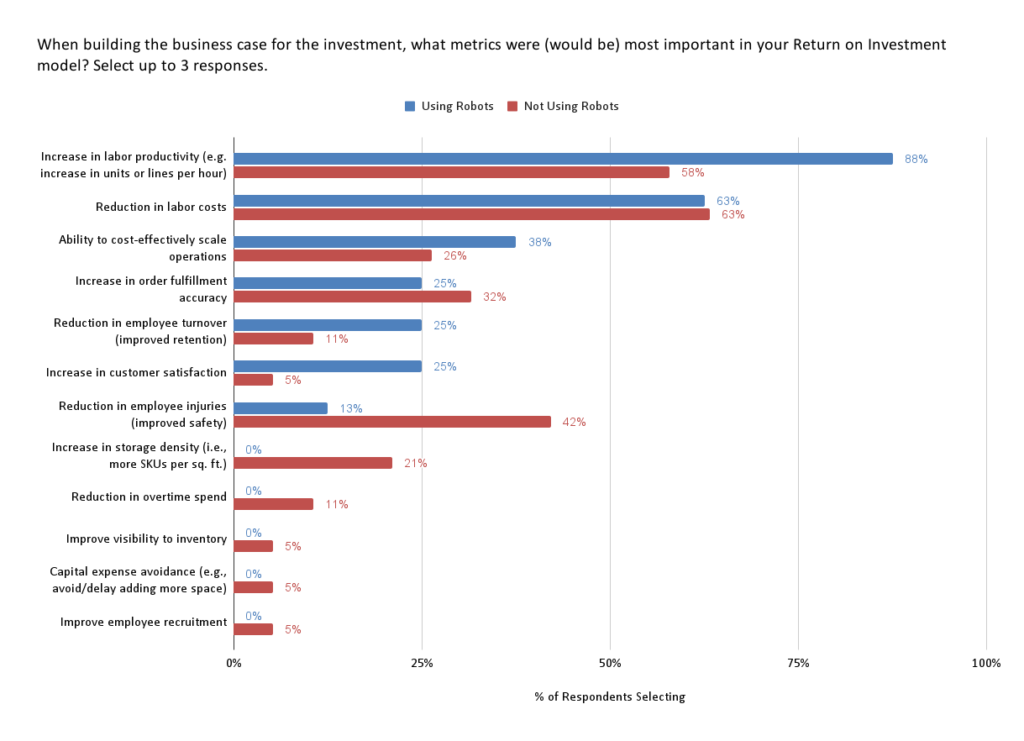 "We purchased [warehouse] robots well over a decade ago to help with our single/case-pick packing needs," said one Indago supply chain executive. "The benefits achieved include reduced labor, increased efficiency, reduced mis-picks, and increased safety by reducing repetitive moves and overuse."
"Labor savings and a 2-year payback will be most important, but the ability to expand our operations without adding headcount will also be a strong consideration," said another executive.
"Robots are beneficial only when the price of labor rises above the price of the robots," is how another executive put it.
Based on various published case studies from different solution providers, you typically see:
2X-4X increase in units picked per hour per worker (for example, from 30 units picked per hour to over 100 – and, in some cases, to over 200 UPH).
As a result of this productivity and throughput improvement, companies save on labor by not needing to hire additional workers and by cutting back or eliminating overtime spend.
Significant improvements in picking accuracy (e.g., a 25%+ reduction in picking errors), which reduces costs associated with returns and improves customer satisfaction too.
What factors are important when evaluating and selecting robot solutions and vendors? How do (or would) your warehouse workers feel about using warehouse robots? For insights on those questions and more, please download the Indago research report.