It was going to rain. Then it wasn't going to rain. Then it rained.
Last Saturday's JDRF Ride in Burlington, VT started out dry and ended wet, as a band of thunderstorms crossed our path about 60 miles into the ride. We rode the final 32 miles in the cold pelting rain (the organizers cut out an 8-mile section of the course when the rains came to get everyone back safely).
Yet, as you can see from the photos below, we crossed the finished line smiling.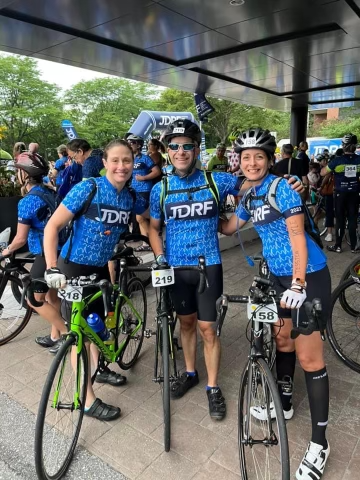 We're smiling because despite the wind, rain, and steep hills, it was a fun and meaningful ride through scenic Vermont roads.
We're smiling because we met some great people along the way.
And we're smiling because our Logistics Leaders for T1D Cure team raised $32,000 for JDRF to help find a cure for type 1 diabetes. This earned us the Top Corporate Team award at the ride, an honor that was made possible by the many friends, family members, and clients who have supported us with donations, including our team sponsor TranzAct Technologies. Since 2016, we have now raised over $364,000 for JDRF! Again, a big thank you to everyone!
This was my 10th JDRF Ride, but until we find a cure for T1D, it won't be my last.
My goal for next year is to recruit more team members and sponsors, so if you're interested in joining the fun and supporting the cause, please contact me.
Moving on, here's the supply chain and logistics news that caught my attention this week:
Speaking of weather, I'm a bit under it today, so I'll share my commentary next week.
Song of the Week: "Don't Blame Me" by Taylor Swift