With supply chains experiencing ongoing risks and disruptions, keeping your CEO and CFO informed of what is happening is more important than ever. How frequently do you update your CEO/CFO on supply chain performance and developments? What information are they most interested in?
We asked members of our Indago supply chain research community — who are all supply chain and logistics executives from manufacturing, retail, and distribution companies — those questions in a July 2022 survey.
Almost half the respondents (48%) said that they update their CEO/CFO or other high-level executive leaders weekly about supply chain performance or developments. Most of the other respondents (38%) update them monthly.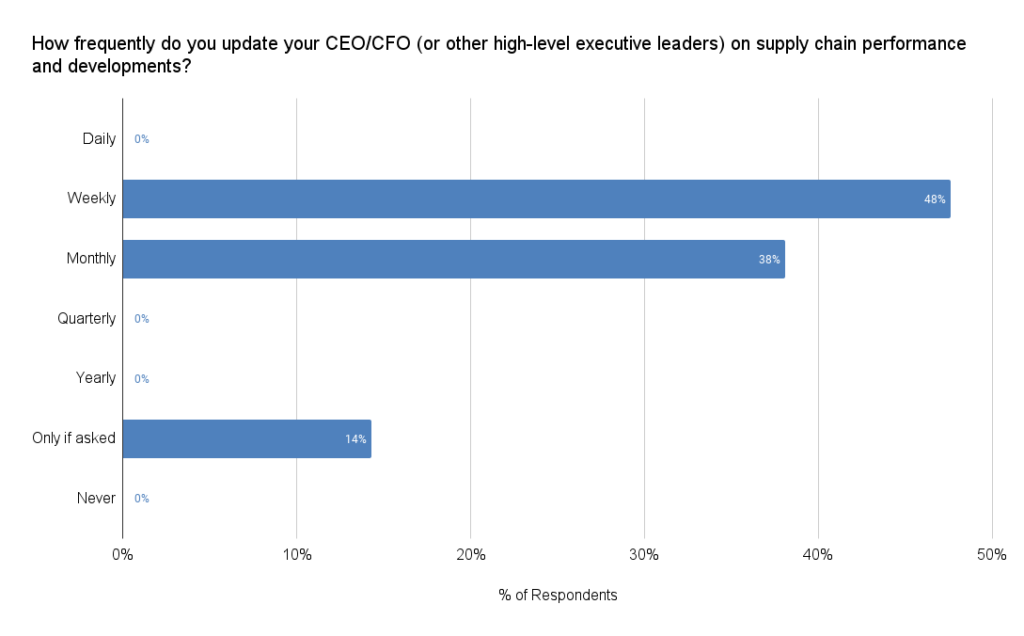 "We send a weekly email report to management on key topics, which may include port issues, rates, Covid impacts, delays, strikes, weather, ILWU, cyber security breaches, and bankruptcies," said one supply chain executive.
Not surprising, CEOs/CFOs are most interested in getting updates about the impact of supply chain developments on costs. It received the most votes overall and the greatest percentage of #1 votes (48%). Rounding out the top three were the impact on service levels (33%) and revenues (14%). It is also worth noting that sustainability did not receive any votes.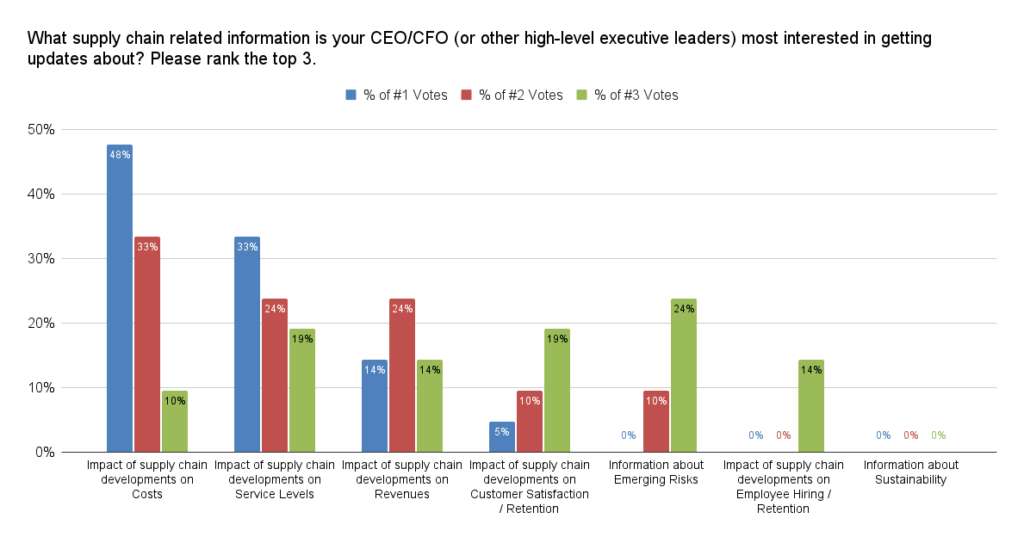 "Despite the somewhat unique supply chain challenges of the past couple years, my senior leadership still focuses on pretty much the same things as before – i.e., Cost and Service," said one executive. "I communicate via weekly 'live' discussions (either in-person or Microsoft Teams call). I also publish to the entire Executive Team, a couple of times per month, other KPIs that I think they need to have on their radar (e.g., how full is the DC, how much weight we are shipping, the TL-to-LTL weight ratio)."
Here are some other comments posted by Indago executives:
"Our CEO and CFO are very aware of the impacts of supply chain and logistics factors on our business and have been actively reviewing data and performance of our supply chain. They have also been ingesting market updates, news and other factors within the supply chain and global business impacts to make decisions about our business strategically. We utilize several reports and data provided by our suppliers and service providers to inform our leadership team via in-person calls, email messages and direct messaging services to keep them informed on a regular basis."

"The velocity of information that is provided to the C-Suite has increased over the years. Status of financial plans, service levels, and financial forecasts are updated. Information on industry trends, government data or possible regulations that affect our business is also provided."
Yet, as the following comment illustrates, there are some leaders that still take the "ignorance is bliss" approach:
"Our CEO and CFO don't seem too interested in SCM issues until they impact the organization."
What sources of data/information do you rely on to help educate senior leadership on what is happening in the supply chain? How do you communicate this information to them (e.g., in-person meetings, emails, online dashboards)? Post a comment and share your perspective!
Be Uncommon. Research with Purpose.
If you're a supply chain or logistics practitioner from a manufacturing, retail, or distribution company — and you're interested in learning from your peers — I encourage you to learn more about Indago and join our research community. It is confidential, there is no cost to join and the time commitment is minimal (2-4 minutes per week) — plus your participation will help support charitable causes like JDRF, American Logistics Aid Network, American Cancer Society, Feeding America, and Make-A-Wish.