It's that time of the year again: when we move our kids back to college.
This year I will have two kids in college again: my oldest son who will begin his senior year at Cornell (Computer Science Engineering with a minor in Math; if anyone has a job opportunity for him to consider, feel free to contact him), and my youngest son who will begin his freshman year at the University of Maryland (also studying Engineering).
Counting this year, with a daughter still in high school, I will only have 9 more college tuition payments to make, which means that unless I win the lottery (or our extremely broken education system is fixed), I will be lucky to retire by age 98.
Can I continue doing this gig for another 45 years? Something for me to think about during the 6-hour drive to Cornell.
In the meantime, here's the supply chain and logistics news that caught my attention this week:
Packaging? We Don't Need No Stinkin' Packaging!
Like peanut butter and jelly, transportation and packaging go together.
As I wrote in April in "Where To Find Significant Transportation Cost Savings":
Transportation executives are always looking for ways to reduce costs. A common approach is via mode conversion, such as using rail instead of trucks for long-haul moves, or combining multiple less-than-truckload shipments into a single truckload. There are also cost savings available via procurement, such as ensuring compliance with routing guide, or in this "softer" market environment, leveraging the spot market or real-time procurement capabilities in select lanes to secure lower rates.

Those are the "low-hanging fruit" opportunities. Further up the tree, where many shippers fail to look or reach, is enabling greater collaboration between their transportation and product/packaging design teams.
The post highlights how IKEA and Sealed Air Corporation have achieved significant transportation benefits (and in the process, sustainability benefits too) by redesigning some of their products and packaging to save on material and shipping costs.
Amazon is trying to take it a step further: get rid of additional packaging all together.
As Sebastian Herrera reports in the Wall Street Journal, "Millions of Amazon orders are arriving on doorsteps across the U.S. without any extra packaging." Here are some excerpts from the article:
The company in the past year revamped its logistics network, enabling faster and more efficient deliveries. Eliminating or reducing packaging has become increasingly important for the company to maintain its dominance, reduce costs and reach its goals related to its climate impact.

About 11% of items that the company delivers now arrive without extra packaging, or what the company calls "ships in own container," Amazon said. Customers typically are able to choose at checkout if they want extra packaging or prefer their order without it.
How often does your transportation team collaborate with your product and packaging designers to factor in transportation considerations into their designs?
We asked our Indago supply chain research community that question in May 2020. Less than a quarter of our member respondents (22%) said that their transportation team "Always" or "Very Often" collaborates with their product and packaging designers to factor transportation considerations into their designs. Almost 40% said that they "Rarely" or "Never" collaborate.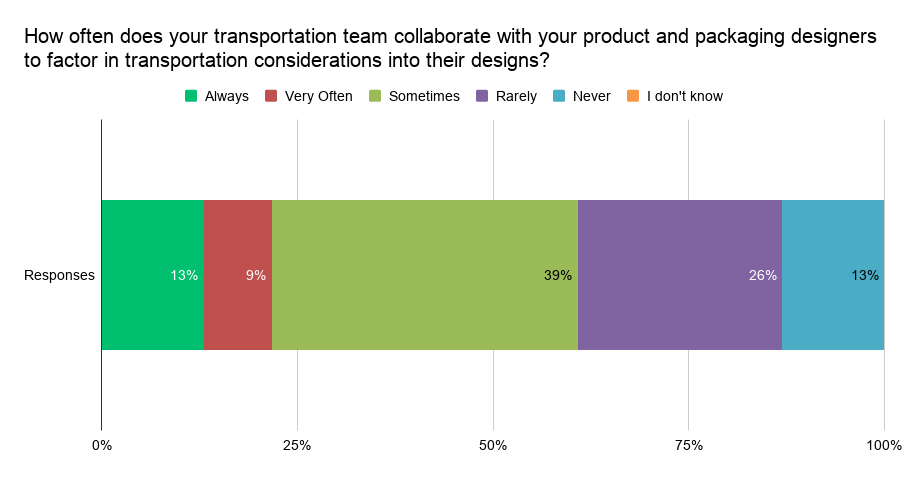 As one supply chain executive commented, "I believe the hurdle is that one is a creative/design functional group whereas transportation is operational. Typically, these two groups do not collaborate. I've seen no collaboration between the two groups."
Or as this respondent commented: "Our company has a number of high priority issues, which means improving packaging for better utilization is way down on the list of projects."
(For additional insights from the research, please read "Transportation Benefits Via Smarter Packaging/Product Design (Insights From Indago Members)").
With the transportation market favoring shippers at the moment, there's arguably less pressure to go beyond the "low-hanging-fruit" opportunities to find cost savings and other benefits. But when capacity tightens again (which it will) and rates shoot up again (which they will), there are significant benefits waiting for you if you're willing to climb up the tree a little further and start collaborating with your product and packaging design teams.
And with that, it's time to hit the road. Have a happy weekend!
Song of the Week: "Summertime Sadness" by Lana Del Rey