Over the past few years, due to the challenges created by the COVID-19 pandemic and other factors, companies have started to question or rethink certain supply chain practices. Do you believe the time has come to rethink or refine certain supply chain practices?
We asked members of our Indago supply chain research community — who are all supply chain and logistics executives from manufacturing, retail, and distribution companies — that question in an April 2022 survey.
"Sourcing Decisions Driven Primarily by Low-Cost Labor" received the most "Definitely" votes (42%), followed by "SKU Proliferation" (38%). The order was flipped, however, if you look at the total number of "Definitely/Very Probably" votes, with "SKU Proliferation" receiving 81% combined votes and "Sourcing Decisions Driven Primarily by Low-Cost Labor" receiving 77% combined votes.
At the other end of the spectrum, "Outsourcing Logistics to Third Parties" received the lowest percentage of "Definitely" votes (8%) and combined "Definitely/Very Probably" votes (31%).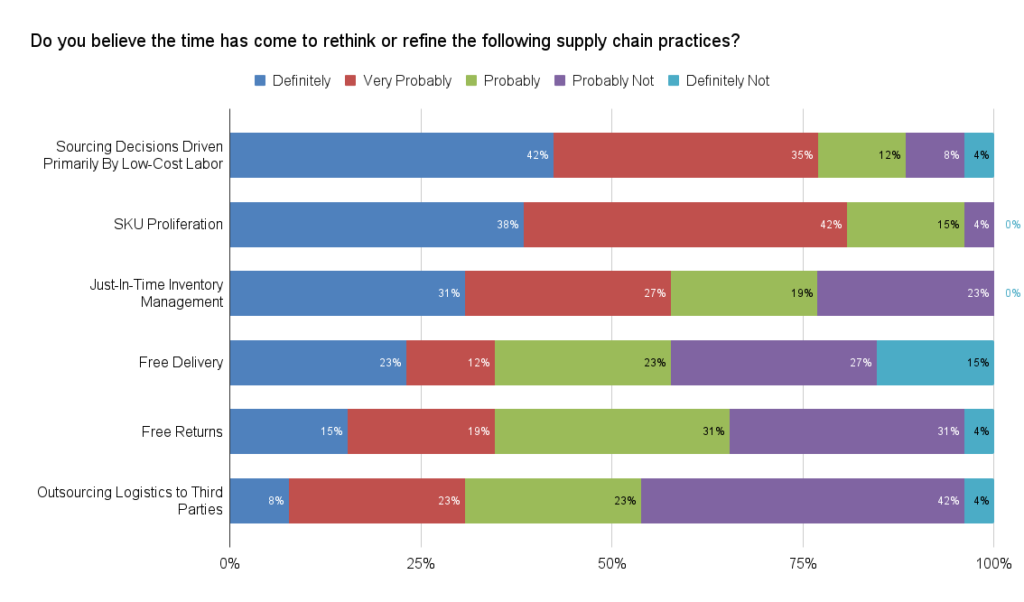 "We have already gone through a SKU rationalization project, removing the smaller volume products to gain efficiencies in production," said one Indago executive member. "We took customers below a defined dollar threshold and converted them to a different label and offering."
Here are some other comments posted by our members:
"Given rising costs and constrained capacity in logistics and warehousing operations, we have been rethinking offerings like Free Delivery/Shipping and Free Returns given the costs and complexity we are dealing with."

"The industry needs a change in culture to improve processes and integration. It's no longer about a lack of good software or applications."

"If anything 'good' has come from the supply chain disruptions of the past couple of years, it's how it has shined a very bright light on the weak points of the supply chain. For my company (industrial manufacturer), it has led to a whole raft of efforts. We are starting to source more intelligently and basing those decisions on more 3-dimensional thinking (not just production cost at the origin). We have started to rethink our product catalog to identify where we have unnecessary redundancy (i.e., products that are very similar, and in some cases nearly identical). Lastly, we have taken a fresh look at our customer segmentation and are now making very different choices about pricing/margin, about what we are willing to 'give away' as part of the sale, and so on."

"I believe that adding redundancy in the supply network is a critical practice that must be explored further going forward. Additionally, I agree that inventory management (i.e., increasing safety stocks) is an important component to reevaluate."
For additional insights from the research, Indago members can download the report from our website.
Is your company rethinking or refining any of the practices listed above? Any other supply chain practices you would rethink/refine/eliminate, and if so, why? Post a comment and share your perspective!
Be Uncommon. Research with Purpose.
If you're a supply chain or logistics practitioner from a manufacturing, retail, or distribution company — and you're interested in learning from your peers — I encourage you to learn more about Indago and join our research community. It is confidential, there is no cost to join and the time commitment is minimal (2-4 minutes per week) — plus your participation will help support charitable causes like JDRF, American Logistics Aid Network, American Cancer Society, Feeding America, and Make-A-Wish.