Today is September 11. I never forget.
Here's what I wrote back on this date in 2009, as I recalled the events of that tragic day eight years earlier: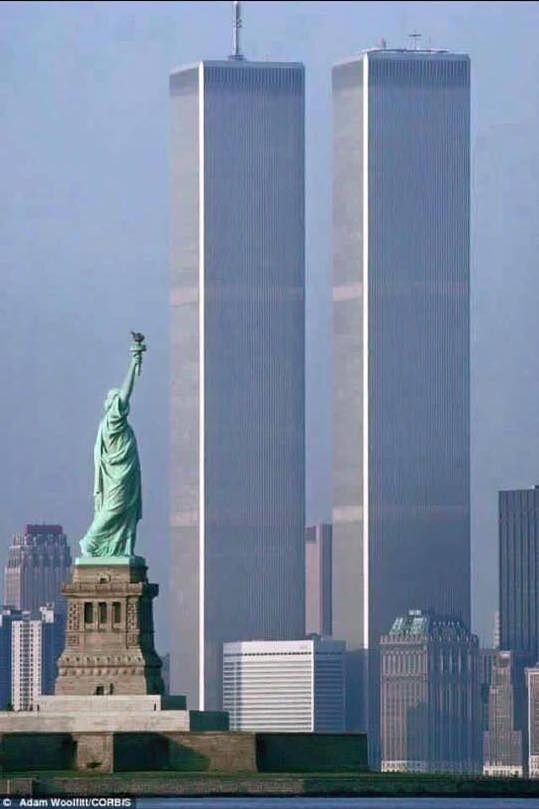 I grew up in Brooklyn, New York, near Red Hook and the docks. My father and uncles owned a bodega on Columbia Street, and we lived upstairs in a small apartment. From my bedroom window, I could see pigeons lining the rooftops, longshoremen walking to work, and further out, the river and the Manhattan skyline. When I think of the Twin Towers, I think of my childhood, hot summer days looking out the window, car horns and city sounds, the color of the sky at sunset and the glitter of office lights, thousands and thousands of them.
Where were you on September 11, 2001 when the planes hit the towers?
I was in a meeting with folks from Manugistics (now part of JDA) getting an update on the company and its transportation management system. A knock on the door and our office manager walked in: "Two planes have crashed into the World Trade Center, other planes might be hijacked, all the airports are closed, and you're the only ones still here in the office." The meeting ended in disbelief and confusion. The folks from Manugistics left not knowing how they would get back home to Maryland, and I joined my colleagues next door at the Hilton to watch the events on TV.
That was eight years ago.
I was going to write something else today, but I changed my mind. Remembering 9/11 seems more important to me, even if it doesn't directly relate to supply chain and logistics.
Then again, the terrorist attacks have had a lasting impact on the industry. Trade security became a priority and various initiatives were launched in the months and years that followed, including Customs-Trade Partnership Against Terrorism (C-TPAT), the Container Security Initiative (CSI), the Advanced Manifest Rule (AMR), Smart and Secure Trade Lanes (SST), and most recently, the Importer Security Filing (aka "10+2").
Shortly after the attacks, Robert Bonner, U.S. Customs Commissioner at the time, gave a speech where he said: "We must reaffirm the importance of knowing your customer and consider the overall 'air-tightness' of your supply chain, from factory floor, to loading dock, to transportation to our border. Every single link in that chain must be made more secure against the terrorist threat."
Have we succeeded in creating 'air-tight' supply chains? I don't think so. We may have prevented dirty bombs from entering the country, but not lead-tainted toys and food contaminated with melamine (among many other examples). The fact of the matter is that most companies still have a poor understanding of their end-to-end supply chain processes, including shipment flows and the identity of all the parties involved. They also lack process controls and metrics. And despite all the advances in technology, supply chains are still plagued by incomplete, inaccurate, and late information.
Some things never change.
Sometime after the attacks, my father told me how he remembered seeing the towers being built. He had just arrived from Cuba, and having grown up on a farm, seeing those tall buildings rise from the ground was simply amazing. "Never would I have imagined seeing those towers come down," he told me. Neither could I.
My father passed away last year, and there's still a hole in the ground where the towers stood and in my heart. Life goes on, as it should, but I sometimes wish I could go back to my childhood window, just one more time, and watch the sun rise, and the pigeons take flight.
Moving on to this week's supply chain and logistics news…
It's only been a couple of weeks since I wrote that convergence in the 3PL industry is accelerating, pointing to the number of large M&A deals announced in recent weeks, including UPS buying Coyote Logistics and Geodis Group acquiring Ozburn-Hessey Logistics. Well, another blockbuster deal was announced this week: XPO Logistics is acquiring Con-way for approximately $3 billion. Here are some comments from Bradley Jacobs, chairman and chief executive officer of XPO Logistics, from the press release:
"Our opportunistic acquisition of Con-way will make XPO the second largest provider of less-than-truckload transportation in North America, a $35 billion market. LTL is a non-commoditized, high-value-add business that's used by nearly all of our customers. Con-way is a premier platform that we will run with a fresh set of eyes as part of our broader offering. Importantly, we'll gain strategic ownership of assets that will benefit our company and our customers during periods of tight capacity.

"Another crown jewel in this transaction is Con-way's subsidiary, Menlo Logistics, an asset-light top 30 global contract logistics provider with additional lines of business in freight brokerage and managed transportation. Menlo serves blue chip contract logistics customers in verticals such as high tech, healthcare and retail, which complement the verticals we serve at XPO."
XPO has barely started chewing its $3.5 billion acquisition of Norbert Dentressangle SA from earlier this year, and it has now taken another big bite. Just like a kid taking too many bites from a large hamburger without chewing, will XPO be able to swallow and digest these big acquisitions or will it cough them up?
Based on XPO's share price (down 40% from their May 2015 high, including an 11% drop on Thursday) and news that Moody's Investor Service might downgrade the company's credit rating (which is already classified as high risk), it seems like investors are concerned not only about the size and pace of these large acquisitions, but also in the company's strategy shift from an asset-light model to an "asset heavier" one.
I believe the shift in strategy is correct, if executed well. As I argued back in April 2013 in In Logistics, Somebody Has to Own the Assets, it's time for investors to stop viewing 3PLs with assets like "an overweight runner, wearing a lead track suit and cement sneakers, in a field of sprinters" and embrace a better definition of an asset: "something useful in an effort to foil or defeat an enemy."
But the roll-up strategy XPO and other 3PLs are taking today is similar to what has occurred in the software industry, and the lessons learned are clear. While the financial and strategic justifications look pretty on paper, the ugliness shows up when trying to integrate IT systems, cross-train sales people, and in creating a unified and positive company culture, especially across geographic regions. The resignation last week of Hervé Montjotin, Norbert's former CEO who was serving as chief executive officer of XPO's European business and president of the parent company, only complicates matters.
Another lessoned learned is that most customers don't want to put all of their logistics eggs in one basket — whether it's a single software vendor or 3PL. And while there are advantages to providing customers with a broad solution footprint and value proposition, the reality is that no single software vendor or 3PL is best-in-class across the board, which is why best-of-breed software vendors, for example, still exist and compete effectively with the giants.
Several years ago, I conducted a think tank session with supply chain and logistics executives focused on logistics outsourcing, and one of the key takeaways was summed up perfectly by this comment: "My best 3PL in the United States is my worst one in Europe," due in large part to differences in on-the-ground domain expertise, talent (both frontline and management), and IT capabilities by country, which is why companies often opt to work with different providers in different countries.
All that said, XPO is following my advice to be bold and different. Here in Boston, fans of the New England Patriots have a saying: "In Bill we trust," meaning that we trust Bill Belichick, the head coach of the team, knows what he's doing when he makes decisions we don't always understand or agree with. The question for investors and customers of XPO Logistics moving forward is "In Bradley Jacobs we trust?" Time will tell.
And with that, have a happy weekend!
Song of the Week: "Walk On" by U2 from 9/11 Tribute