What if you could develop eyes like photographic negatives, see what images from your life remain scrap-booked inside when there is no more light or darkness, no more day or night, nothing more to see?
Eight years ago today, I closed my father's eyes and kissed him for the last time. I sometimes wonder what the last thing he saw was, if it was real or imagined, color or black and white, past or present.
If we could develop eyes, it would be like walking through the quiet halls of an art museum at night, after all the crowds are gone and the lights are dimmed, except for the small lamps above each frame, casting soft light on memories (some vivid, some faded).
In my father's eyes, however, the museum is a small bodega in Brooklyn, the narrow aisles crowded with people from the barrio—a voice calling out "¿Que numero salio?"—as they slowly make their way to the vianda aisle where my father spent long hours stacking platanos, malanga, and batata into wooden bins, or weighing them on a hanging scale, all eyes on the spinning needle. This is where his Mona Lisa now hangs,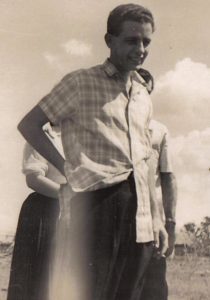 a picture of my father as a young man in Cuba, a Sunday afternoon on the farm, the sugarcane cut and railed away. What draws the crowd is not the contrast of light and shadow on his shirt, or the way the man and woman stand behind him like mourners at a grave, or the rolled cigarette between his fingers that hid a time bomb in his lung. What draws the crowd is his smile,
so pure and simple, triggered by who-knows-what, because my father was known as a serious man–un hombre serio–so whenever you saw him smile, it was a pleasant surprise, even heart warming, like a child seeing the moon in daylight for the first time.
If you could develop eyes like photographic negatives, what would you see in mine when the gaslight of my soul burns out? You won't find portraits of me in front of a computer, replying to emails or posting to Facebook, or me in a meeting with people whose faces and names I've long forgotten, or me killing time at the airport until my delayed flight takes off. But you might see me today,
buried neck-deep in hot sand, eyes closed facing the sun, as my wife and kids sculpt a new body for me, bodybuilder or mermaid, and their laughter brings a smile to my face, just as an ocean wave washes over me, the cold Atlantic where my father's ashes are buried, soaking through the sand to soothe my burning skin.