This past April 1st, it snowed over 6 inches here in Boston. It was a cruel April Fools' joke, but not as cruel as April 1, 1997 when a blizzard dumped more than 21 inches of snow here. It was my first winter back in the Northeast after living in the desert (Tempe, AZ) for more than 5 years. Up until that day, it had been a relatively mild and snowless winter, which is why when I woke up that morning and saw my car buried beneath a mountain of snow, I had no idea how I would get it out. I didn't own a shovel because I had no reason to buy one earlier. So I looked around the apartment and found the next best thing: a dustpan.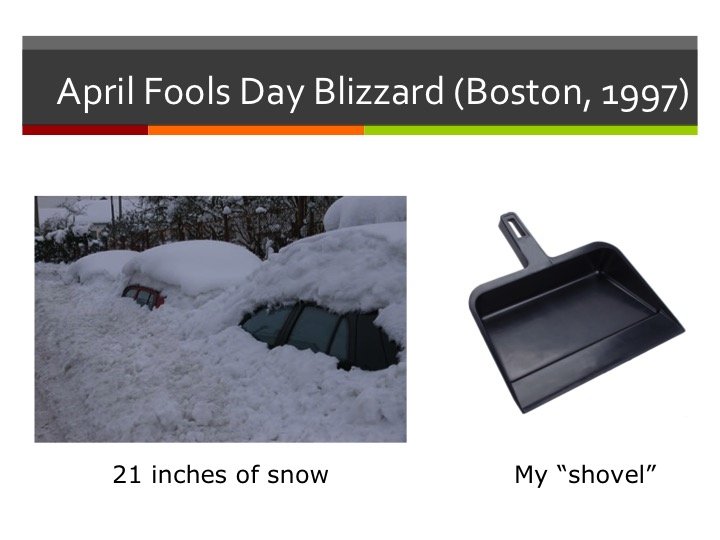 Have you ever tried shoveling almost 3 feet of snow with a dustpan? Let me tell you, it isn't easy. After 45 minutes of mostly moving snow around, one of my neighbors — probably after watching me from his window, drinking a hot cup of coffee and laughing his head off — came outside and offered me his shovel. An hour or so later, my car was free and I was able to drive to work the next day.
As I prepared my keynote presentation for the BluJay Solutions' SOAR 2017 conference, I recalled this experience and saw it as a good metaphor for the difficulties many companies are having today responding effectively to the blizzard of supply chain management.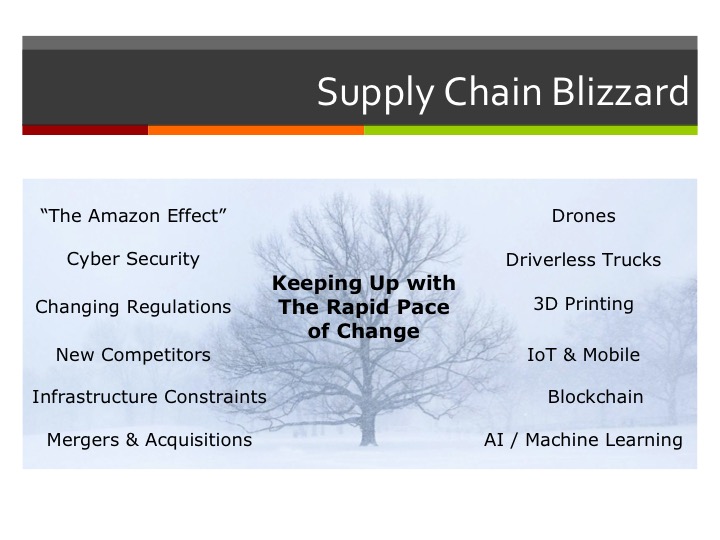 A dustpan kind of looks like a shovel, but it's the wrong form factor to clear out 21 inches of snow. Similarly, a lot of existing IT systems and supply chain processes might look the part for addressing today's challenges and opportunities, but they are also the wrong design and form factor to get the job done effectively. They were designed for yesterday, when companies were more vertically integrated and the pace of change was easier to keep up with. Supply chains today, however, are much more distributed, global, dynamic, and complex — and the pace of change continues to accelerate.
Like me trying to shovel snow with a dustpan, companies are finding that managing supply chains "the way we've always done it" is taking significantly more time and effort, with less effectiveness, than ever before. And compared to the more modern apps in the consumer realm, their enterprise systems are far from user friendly.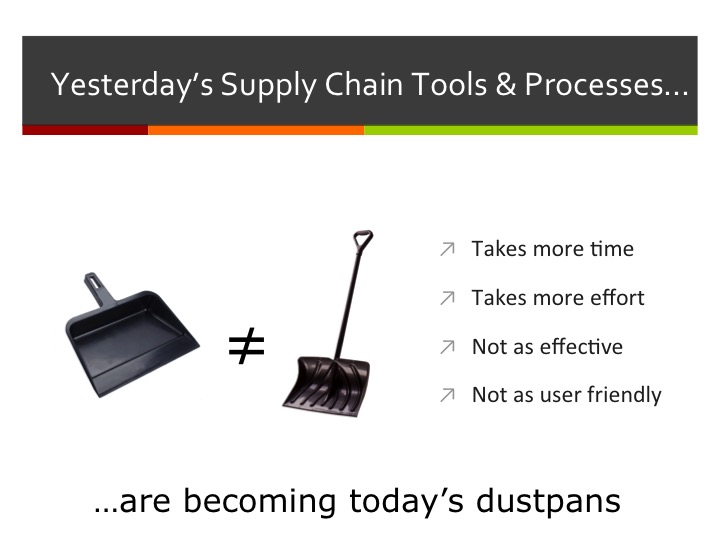 So, what attributes will define successful companies of tomorrow? Here's a short list that I shared with the attendees:
They will have more accurate, timely, and complete supply chain visibility than competitors – move from being

reactive

to being

predictive and prescriptive

;

They will make risk management part of their corporate DNA;

They will hire, train, and retain the best talent;

They will move away from "What's in it for me?" business relationships to "What's in it for WE?"
Or to put it more succinctly, successful companies of tomorrow will make smarter decisions faster and they will enable change (new processes, technologies, business models) quicker.
What does this mean from a technology standpoint? I believe that companies will find the next wave of supply chain innovation at the intersection of software, B2B connectivity, and social networking — that is, by leveraging Supply Chain Operating Networks, the business equivalent of Facebook and LinkedIn.
(I've written extensively over the past few years on this topic, so rather than repeat myself here, please read the posts linked at the bottom for more details, which formed the basis for the rest of my presentation).
When it comes to addressing the supply chain challenges and opportunities of today and tomorrow, are you still using a dustpan? I encouraged the audience to ask themselves that question and provided them with this comparison of companies of yesterday versus companies of tomorrow.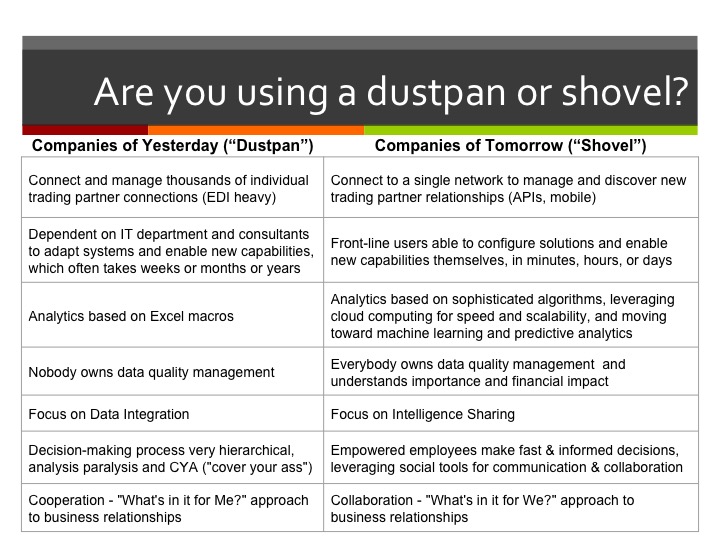 So, that was a quick overview of my keynote presentation, which echoed some of the points that Doug Braun, the CEO of BluJay Solutions, made in his opening presentation (BluJay is a Talking Logistics sponsor). "We're not just a supply chain execution or supply chain management software company," said Braun, "we're a Global Trade Network."
What that means and getting there will be a journey, explained Braun. BluJay currently has 40,000+ members worldwide on its Global Trade Network — including shippers, carriers, forwarders (6,500 in 189 countries), suppliers (more than 10,000), and third-party logistics providers (3PLs) — and it has set an aggressive goal of adding another 50,000 members as quickly as possible.
BluJay's solution footprint is relatively broad, comprised of warehousing, transportation, commerce, and compliance applications, and following its acquisition of Blackbay last month, the company now has a suite of mobile applications (and a mobile development platform) too.
With regards to BluJay's GTN vision and strategy, I'll repeat what I said last month: While I am a big proponent of Supply Chain Operating Networks, the reality is that most companies today don't send out request for proposals (RFPs) for "networks effects" solutions; they issue RFPs for transportation management systems, warehouse management systems, trade compliance solutions, commerce solutions, demand planning applications, and other supply chain solutions that address a specific business process or pain point. Therefore, BluJay Solutions, like its peers in the industry, still need to compete as best-of-breed providers of these distinct applications. But once they get their foot in the door, they can then leverage the power of the network and its unique value proposition to try and tip the scales in their favor.
Growing through acquisition, in a relatively short period of time, has its challenges. BluJay has invested a lot of time and energy putting in place the foundation to create a globally unified company, not only from a technology standpoint, but from a cultural one too, which was part of the driving force behind its recent rebranding.
With regards to technology, BluJay now has product roadmaps for each of its application segments, with consistent release schedules across its portfolio. The company is also focused on three high-level objectives: creating a unified user experience, expanding its GTN Service Library, and providing holistic business intelligence across its suite of solutions.
The GTN Service Library is a set of engines and content that can be called by BluJay apps as well as third-party applications as part of a workflow. The library currently includes services such as Rating, Fuel Index, Denied Party Screening, Currency Conversion, Duty Calculation, License Determination, and other services related to transportation and global trade management. As others in the industry have done, I expect BluJay to expand this service library via partnerships and acquisitions in the months ahead.
On the BI front, the goal is to go beyond the operational reporting that each application provides and enable users to see the end-to-end lifecycle of an order in a consolidated manner. Think of it as a Control Tower layer that spans across the different applications and leverages a consolidated data warehouse fed by the applications.
In short, with the vision and foundation in place, BluJay is now focused on execution, and as Braun emphasized several times during his talk, "going live" with a customer (on-time and within budget) is not success. The true measure of success will be whether they can consistently deliver economic value to clients, and to that point, BluJay has set another bold goal for itself: achieve 100 percent customer satisfaction.
How well and how quickly BluJay achieves its objectives remains to be seen. Financially, the company is doing well. BluJay's revenues grew 10 percent in its last fiscal year (which ended in March), and it plans to grow 11 percent this fiscal year with 30 percent EBITDA. The company invests 17 percent of its revenues in R&D, which is a reasonable amount considering its solution roadmap, and consistent with investor interest in this space, I expect BluJay to make more acquisitions moving forward.
I'm out of space and time, but a final note about the conference overall: it was a great learning and networking event, with almost 500 people from 10 countries in attendance, and a great lineup of speakers, including two-time gold medalist and FIFA World Cup winner Mia Hamm, Bill Driegert (Director of Uber Freight), and Greg Lehmkuhl (President & CEO of Lineage Logistics). I'll share my takeaways from their presentations in future posts.
For related commentary, please read: