My son's baseball season, which began last November with indoor training, finally ended last night. His U11 Little League team lost their final game of the tournament, but as the team manager said afterwards, "they made a lot of noise and raised a lot of eyebrows" throughout the tournament and they finished in 4th place out of 7 teams.
What now? For my son, it's on to swimming, where he competes in the butterfly and IM, with his first meets next week. For me, it's finally mowing the lawn and doing all the other things around the house I've been ignoring for months.
But before I bring out the lawn mower and tool box, here's the supply chain and logistics news that caught my attention this week:
In their June 2005 paper titled, "The Effect of Supply Chain Disruptions on Long-term Shareholder Value, Profitability, and Share Price Volatility," Kevin Hendricks and Vinod Singhal report the following findings from their research:
Disruptions have a negative across the board effect on stock price, profitability, and share price volatility. It does not matter who caused the disruption, what was the reason for disruption, what industry a firm belongs to, or when the disruption happened — disruptions devastate corporate performance.
I'm guessing the researchers didn't came across many examples of supply chain disruptions caused by cyberattacks in 2005, but based on the recent WannaCry and Petya cyberattacks, their findings seem to hold true today. As reported by the Wall Street Journal:
Mondelez International Inc.'s sales in the most-recent quarter took a hit from a cyberattack that wreaked havoc across Europe and the U.S. last week, the company said Thursday. While the full impact has yet to be assessed, Mondelez estimates its second-quarter growth rate would be lowered by at least 300 basis points and warned it would book "incremental one-time costs" in the second and third quarters related to the attack.
FedEx, which was also affected by the cyberattack, also warned last week that the incident will have a "material" impact on its financial performance.
If the news from Mondelez and FedEx, as well as the findings from the Hendricks-Singhal report, don't grab the attention of your CEO and CFO and cause them to think differently about supply chain risk management, then I don't know what will.
Nobody knows better than Amazon the critical link between delivery performance and brand reputation, which is why the company has invested heavily in developing its own delivery network. But it seems like customers in Japan, where Amazon relies heavily on third parties for deliveries, aren't too happy. As reported by Nikkei Asian Review:
The problem involves only a tiny fraction of the total volume, but Amazon's delivery services, famed for reliability, are being tarnished on Twitter and elsewhere, where customers have complained of goods not arriving on the promised date and of not getting contacted for redelivery.

Yamato Transport, the Yamato Holdings unit that handles the bulk of Amazon deliveries, is no longer willing to offer same-day delivery, and in some regions it has also narrowed the hours when it will make home deliveries.

In Japan, parcels must be delivered to a person at home and cannot be dropped at the door [emphasis mine].

"It does not matter how fast you deliver the parcel if no one is there to receive it," noted an executive of one online retailer.
Requiring someone to be at home to receive a delivery adds another layer of complexity to route scheduling and optimization. Technology exists to help with this challenge, such as Descartes' Reservations solution and Paragon's HDX Customer Self-Service module, but I'm sure there are more factors at play too. The bottom line is that the operational realities of home delivery are different in every country; there is no one-size-fits-all solution or approach. My guess is that Amazon will ultimately say "If you want something done right, you just have to do it yourself" and it will take more direct control of its delivery operations in Japan.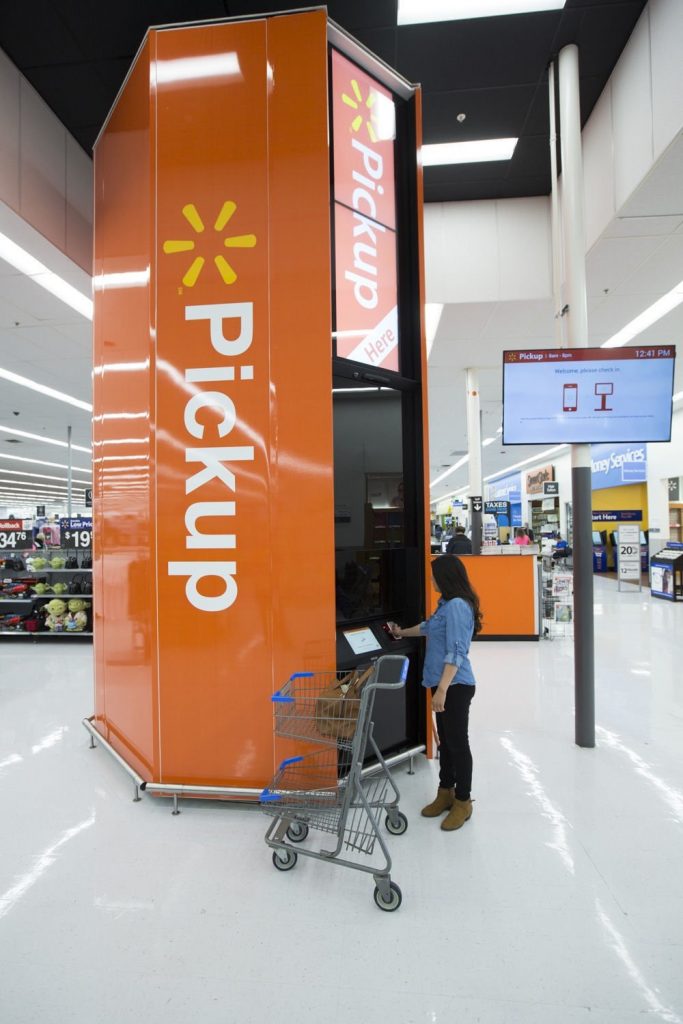 Moving on to Walmart, as reported by Business Insider, the company is "building giant self-service kiosks in its stores that retrieve customers' online orders."  According to the article:
The kiosks, which Walmart calls Pickup Towers, are massive — standing at least 16 feet tall and about 8 feet wide — and are typically near store entrances.

To use the tower, customers scan a barcode on their purchase receipt. Within 45 seconds, a door on the machine opens, and the items appear on a conveyer belt.

The machine is giant because it holds tons of packages inside, but it's more versatile than pickup lockers — which Walmart has also tested — because it can adjust the size of the compartments where packages are kept.

A customer of the Gilbert, Arizona, Walmart told Business Insider that the service was a vast improvement from the retailer's regular in-store pickup process.

"Compared to the normal pickup of going to the back of the store, waiting for an employee to see you, then waiting for them to go in the back, this really sped things up," the customer said.
Sounds like a great idea to me, assuming your order has been placed in the tower before you get to the store, that the tower is functioning when you get to the store, and that it truly only takes 45 seconds to retrieve your order. Otherwise, you'll end up with a huge line of frustrated people waiting, and waiting is something we no longer have the patience to do.
And with that, my lawn mower is calling. Have a happy weekend!
Song of the Week: "Spirit" by Future Islands