Many transportation and logistics software companies were launched in the late 1990s and early 2000s, during the height of the dotcom era, but very few of them survive today — they either went bankrupt or were acquired by others. A notable exception is MercuryGate (a Talking Logistics sponsor), which was founded 17 years ago and recently held its annual user conference in Las Vegas.
As an industry analyst covering the transportation management systems (TMS) space for over 18 years, I've had the opportunity to follow MercuryGate's evolution in the market and attend/speak at many of its user conferences over the years. While the company has grown significantly since its inception, along with its solution footprint, the conference remains relatively low-key compared to other conferences — no big lights, thundering music, and flashy videos to kick things off; no famous athletes or celebrities giving motivational speeches; no Grammy award winning bands performing at night. The focus of the conference is first and foremost on providing customers — who attend for free, which is also unique — with updates on all of MercuryGate's existing and new solutions. Think of it as a two-day, high-level training program where customers learn about the solutions and network with each other and MercuryGate's developers, product managers, and leadership team.
(That said, it's not all work and no play — there are always some fun activities mixed in, such as golf and a desert jeep tour the day before, and nice dinners each night).
The theme of this year's conference was "The Future of Delivery," which I love because it raises a lot of questions and possibilities (see my recent post on the topic). In my keynote presentation, I made the case that the future of delivery will not only be defined by new technologies and business models, but also by new ways of thinking about and leveraging logistics. That is, by viewing logistics not as a cost center, which has been the norm for decades, but as a competitive weapon to drive sales, increase market share, and enhance customer loyalty.
Are we there yet? Not quite.
Prior to the conference, I set up a series of poll questions, which MercuryGate sent to its shipper and logistics service provider clients, many of whom attended the conference. While the sample size was not large, the results at least reflected the perspectives and opinions of this particular community.
When asked, "How is transportation viewed by upper management at your company?" 57 percent of the shipper respondents said '"as a cost center."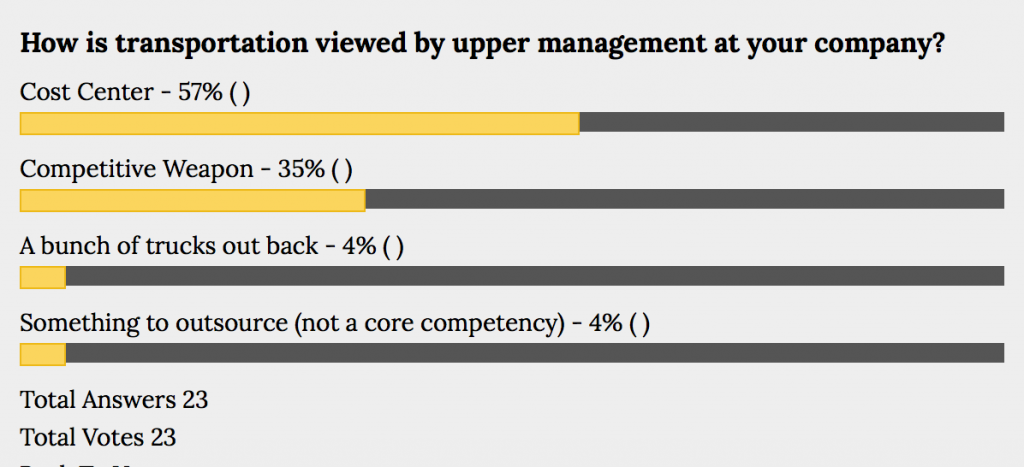 The good news, however, is that 35 percent said transportation is viewed "as a competitive weapon," a much higher percentage than I had expected. If I had asked that question 5-10 years ago, the percentage would certainly have been much lower, so we're making progress (thanks, in large part I believe, to the Amazon Effect).
Leveraging logistics as a competitive weapon also requires more effective collaboration between Logistics/Transportation and the Sales organization. The progress here is also mixed: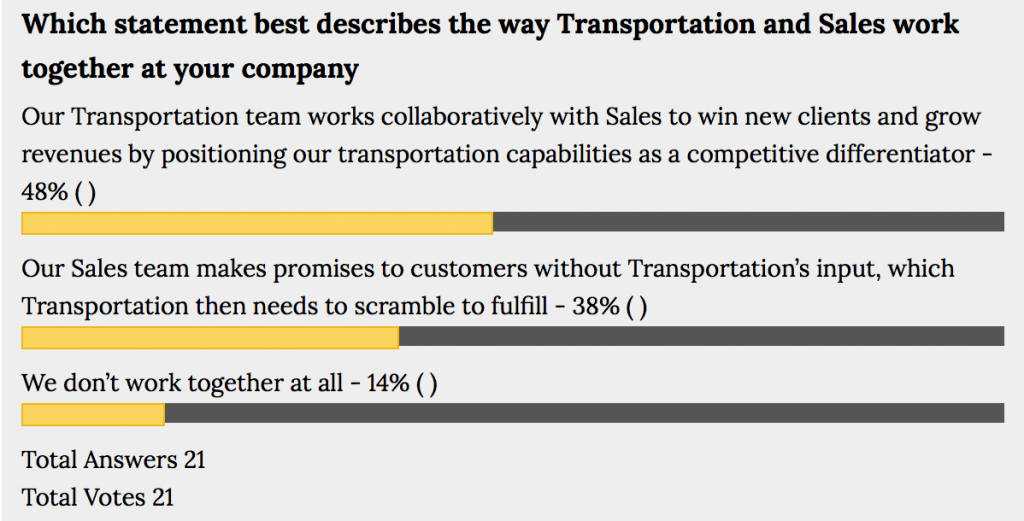 Just under half of the shipper respondents said that their "Transportation team works collaboratively with Sales to win new clients and grow revenues by positioning our transportation capabilities as a competitive differentiator." That is very positive and encouraging news, but a small majority said that Transportation and Sales don't work together at all or "the Sales team makes promises to customers without Transportation's input, which Transportation then needs to scramble to fulfill."
Simply put, many shippers are "walking the talk" on collaboration between Transportation and Sales, but just as many are not.
The results are similar to how shippers and logistics service providers view their relationships. 55 percent of the shippers polled said that they view the LSPs they work with as "providers of transportation and/or warehousing services," while the other 45 percent view them as "partners to help us win and retain more clients, earn more revenues, increase market share, and reduce supply chain risk."

Interestingly, when asked the same question, logistics service providers (which had a much larger sample size) reported the opposite results: 55 percent of them said that their shipper clients viewed them as "partners to help them win and retain more clients, earn more revenues, increase market share, and reduce supply chain risk."

Not surprising, when asked what is the biggest limiting factor in positioning yourself as a strategic partner for shippers, the number one response was "Getting shippers to change their perspective of LSPs."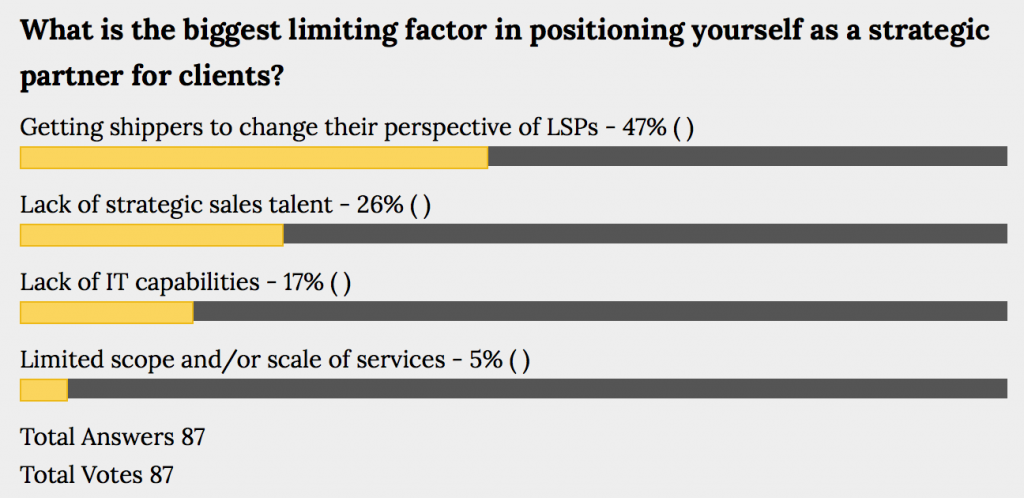 The bottom line is that while technology will certainly play a key role in defining and shaping the future of delivery, the benefits and possibilities will be limited unless companies also change their perspective of transportation and logistics, change their perspective and approach to working with logistics service providers, and enable greater internal and external collaboration.
Back to the rest of the conference, MercuryGate's CEO Monica Wooden kicked things off by highlighting the diversity of the 120 companies represented in the audience — "Shippers, logistics service providers, brokers, freight forwarders, and private fleet operators, all using the same software, the same base code," Wooden said to illustrate the flexibility and configurability of the solution's architecture.
And the conference agenda reflected that diversity as well, with sessions focused on many different solutions by customer segment. Instead of summarizing all of the sessions I attended, I'll wrap up by sharing with you three solution highlights:
New Business Intelligence Solution: The biggest announcement at the conference was the launch of MercuryMaestro, a new business intelligence (BI) solution. As described in the press release, "The new BI solution will enable logistics professionals to perform advanced analytics of their transportation business and get answers to the most complex of questions in a single easy-to-use platform. The new platform also makes it easy to identify data relationships, trends, and search out exceptions allowing the ability to easily perform functions that previously required extensive data extractions and time-consuming spreadsheets."
In my words, MercuryMaestro is like a "Tableau for TMS" solution, providing users with an easy to use, very graphical, and dashboard-driven approach to analyzing transportation data. The dashboards are a combination of graphs, indicators, and filters used to summarize a set of specific metrics. There are currently 19 dashboards available, with a "designer package" option to be released soon that will allow users to create their own dashboards.
Just like there are some people that still use flip phones, there are some people that will continue to use Excel tables and printouts to review what's happening in their transportation operations. They will ultimately be less productive and effective than those who adopt more modern and powerful BI tools.
Enhanced User Interface/Experience: Earlier this year MercuryGate announced the launch of ezVision, "a new user experience for the MercuryGate TMS solutions designed to make transportation management easier, faster, and more dynamic by providing customers with quick access to the most critical and frequent functions done on a day-to-day basis." This video provides an overview of the new user experience. While not all customers are using ezVision today, it's clear from the conference that ezVision will be the UI of choice moving forward. For related commentary, see my post from April 2013, Will Supply Chain Software Vendors Start Competing on Design?
Integrated Fleet Management: MercuryGate recently announced the launch of MercuryFleet, a new product that combines fleet and freight management for all modes of transportation in one platform. According to the press release, "the technology makes it easy to proactively manage drivers, equipment, and operations with one tool, enabling more informed decisions, streamlining processes, and ensuring compliance with regulatory requirements." There were several well-attended sessions at the conference focused on fleet management.
This is yet another example of how some TMS vendors continue to expand the scope and features of their solutions (multi-mode, multi-geography, complex optimization). For related commentary, see my April 2016 post, The Transportation Management System Barbell, and my recent Talking Logistics conversation with Todd Bucher, Vice President on Fleet Management at MercuryGate.