"Your JetBlue flight has been CANCELLED."
I received that text during lunch on Tuesday at the Descartes Evolution 2018 User Conference, which immediately ruined my appetite. My flight was scheduled for Wednesday evening, but due to the nor'easter forecasted to hit Boston, JetBlue proactively cancelled my flight.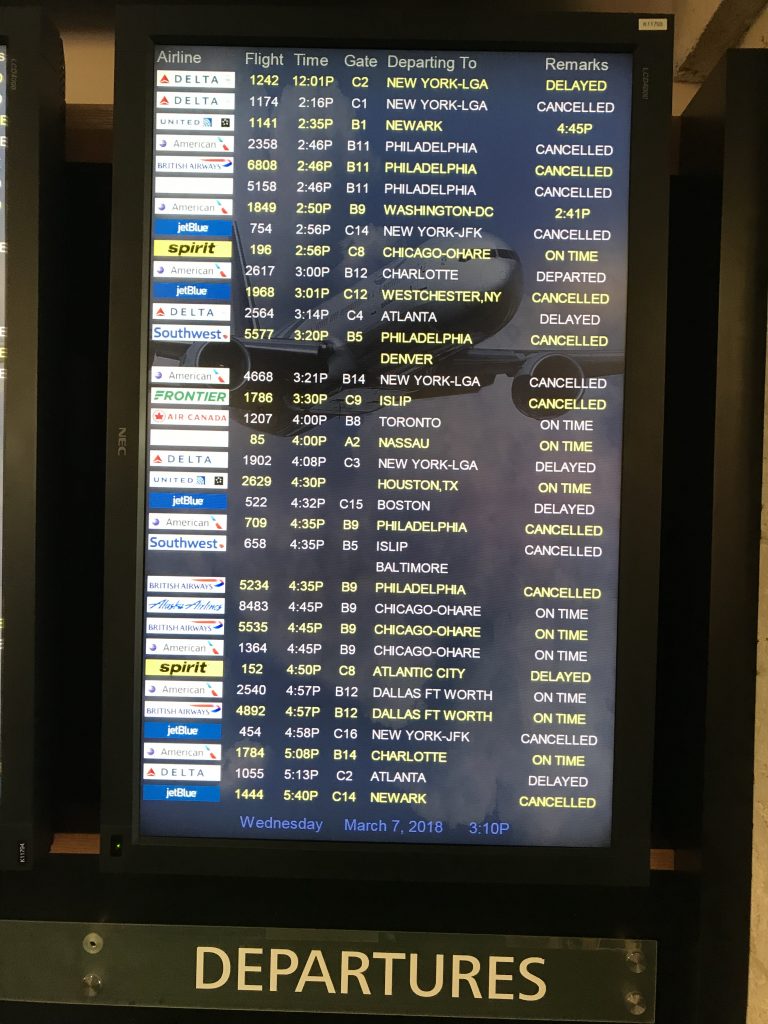 Luckily, I was able to rebook onto an earlier flight on Wednesday, but when I arrived at the airport, virtually all other flights were cancelled or delayed.
I stared at the Departures board waiting for my flight to join the others in the cancelled group, but against all odds, it actually took off with minimal delay and I arrived at home before the snow started to fall.
Miracle or luck? I don't know, but I hope I find it again next week with another nor'easter in the forecast.
Moving on to this week's supply chain and logistics news…
Trump Tariffs Move Forward
Updates on a couple of stories I commented on last week: First, President Trump moved forward with import tariffs of 25 percent on steel and 10 percent for aluminum, which are set to begin in 15 days, but he did exempt Canada and Mexico from the tariffs — for now.
As reported by Reuters:
Canada, the largest supplier of both steel and aluminum to the United States, welcomed the news it would not immediately be subject to the tariffs, but vowed to keep pressing Washington until the threat of tariffs had disappeared. Trump offered relief from steel and aluminum tariffs to countries that "treat us fairly on trade," a gesture aimed at putting pressure on Canada and Mexico to give ground in separate talks on renegotiating the North American Free Trade Agreement.

Mexican Economy Minister Ildefonso Guajardo said NAFTA talks were "independent" of Trump's tariff actions and should not be subject to outside pressure.
The next act of this drama will unfold soon, with China and the EU already promising retaliatory tariffs on U.S. products.
(Interestingly, as a counterpoint to protectionism, on the same day that Trump made the tariffs official, Japan, Canada, Mexico and eight other Pacific nations signed a new version of the Trans-Pacific Partnership (TPP), which the U.S. pulled out of a year ago.)
As I wrote last week, supply chain professionals will be busy in the weeks and months ahead determining what changes to make in their sourcing and manufacturing practices and networks. Companies that have already modeled and simulated these risks and scenarios, months or even years ago as part of their ongoing supply chain design and risk management activities, will be able to respond faster and more intelligently to these changes than their competitors.
KFC Goes Back to Bidvest
The second update is about KFC and its logistics outsourcing fiasco. After several weeks of disruptions, KFC is going back to its original logistics service provider, Bidvest. As reported by The Guardian:
"Our focus remains on ensuring our customers can enjoy our chicken without further disruption," said a KFC spokesman. "With that in mind, the decision has been taken in conjunction with QSL and DHL [the service providers that had replaced Bidvest] to revert the distribution contract for up to 350 of our restaurants in the north of the UK back to Bidvest Logistics.
KFC's brand and customer loyalty suffered great harm because the company approached the procurement of logistics services as if it were buying paperclips. I'll say it again: if you view logistics services as a commodity, with the lowest bidder getting your business, prepare to suffer the consequences.
In Technology News: Descartes, CommerceHub, and project44
Moving on to technology news: Descartes announced several product innovations at its user conference this week (see press release linked above). I'll share my takeaways and comments in an upcoming post, including details of a new "capacity matching" solution not mentioned in the press release and insights from a video interview I conducted with executives from BASF highlighting their successful implementation of Descartes MacroPoint's real-time freight visibility solution. Stay tuned.
Last year, in a post titled Drop Shipping: A Perfect Fit for Supply Chain Operating Networks, I wrote the following:
One of my predictions for [2017] is that investors will continue to see opportunities in Supply Chain Operating Networks, driven in part by the convergence of commerce, logistics, and technology. Many of today's Supply Chain Operating Networks are focused on other business processes — such as transportation management, procurement, collaborative planning, and global trade — but it wouldn't surprise me if drop shipping, in light of its growing role and importance in commerce, becomes the next value-added service they plug into their networks.
The news this week that private-equity firms GTCR LLC and Sycamore Partners are acquiring CommerceHub for $1.1 billion is another example of this trend. If you're not familiar with CommerceHub, here's how the company describes itself:
CommerceHub is a distributed commerce network connecting supply, demand and delivery that helps retailers and brands increase sales by expanding product assortments, promoting products on the channels that perform, and enabling rapid, on-time customer delivery. With its robust platform and proven scalability, CommerceHub helped over 11,500 retailers, brands, and distributors achieve an estimated $16 billion in Gross Merchandise Value in 2017.
Put differently, CommerceHub connects retailers and suppliers to enable "endless aisle" commerce and drop-shipping.
The convergence of commerce, logistics, and technology continues.
In other technology news, GE Transportation and project44 announced "the planned integration of project44's modern SaaS platform to augment and link GE Transportation's Railroad and Shipper product suites." Here are some details from the press release:
"True port-to-door visibility goes beyond just tracking," says Jennifer Schopfer, Vice President and General Manager of GE Transportation Transport Logistics. "The smartest and most efficient supply chains have full transparency across modes and nodes into pricing, routes, pickups, tracking, documents and payments – and that is exactly what project44 is helping us to achieve. This integration allows users to make critical transportation decisions faster, because they have access to the right information, at the right time regardless of where the data originates."
An article in the Wall Street Journal by Erica E. Phillips provides additional information:
GE Transportation, a division of General Electric Co., said this week it will work with California's Port of Long Beach, the nation's second largest container port, to collect information on inbound cargo and share it with transport and logistics operators that now have only a murky view of when shipments will land at docks and distribution centers.

GE Transportation's Port Optimizer software brings together data from shipping companies, port terminal operators, freight railroads and other supply chain players into a single portal, and makes the information available two weeks before a cargo ship arrives. GE Transportation also said it's now working with software provider project44 to make all the data available in real time.
The ports, along with customs clearance, remain one of the biggest black holes in supply chain management. It's also where synchronization between different parties, including transportation and logistics service providers, is most critical. Achieving true end-to-end supply chain visibility has remained an elusive goal, but the quest to achieve it continues, with new approaches and technologies improving upon the old.
And with that, have a happy weekend!
Song of the Week: "Against All Odds" by Phil Collins