I'm in beautiful Santa Fe, New Mexico this morning. As you read this, I'll be doing a short tune-up ride in preparation for tomorrow's JDRF Ride to Cure cycling event.
Santa Fe is at an elevation of 7,200 feet. The hotel has this helpful (yet freaking me out) notice about "altitude awareness":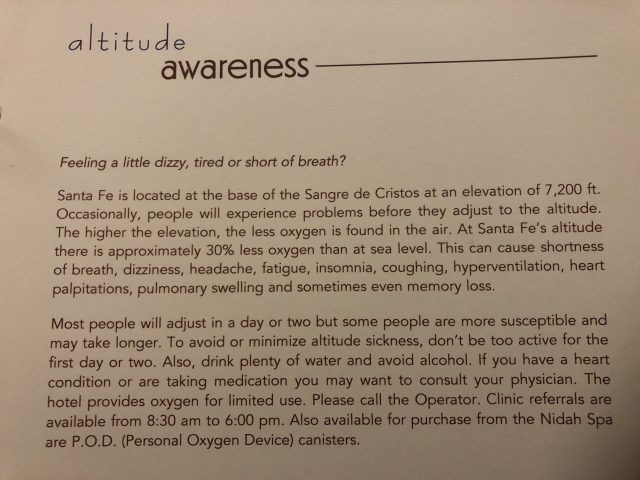 "At Santa Fe's altitude there is approximately 30% less oxygen than at sea level. This can cause shortness of breath, dizziness, headache, fatigue, insomnia, coughing, hyperventilation, heart palpitations, pulmonary swelling and sometimes even memory loss…To avoid or minimize altitude sickness, don't be too active for the first day or two."
Is cycling 100 miles in cold temperatures considered being too active?
I'll share some photos and highlights next week, either of the ride or my new Personal Oxygen Device. In the meantime, here's the supply chain and logistics news that caught my attention this week, dominated by delivery and robots:
Deliv Raises $40 Million: The Big Bets in Delivery Continue
Over the past few weeks, we've seen investors plow more money into delivery-centric startups. Here's a sampling:
Deliv is the latest delivery company to get millions of dollars from investors. According to the press release, Deliv raised $40 million in a new round of funding from investors "including Google, Clayton Venture Partners, the venture capital arm of Enterprise Holdings, a world leading automotive manufacturer [and] existing strategic and financial Deliv investors, including UPS, General Catalyst Partners, The Macerich Company, PivotNorth Capital, RPM Ventures, and Upfront Ventures."
As reported by the Wall Street Journal, this funding round "values the company at less than $500 million, according to a person familiar with the matter…[Deliv] operates in 1,400 cities and isn't profitable."
Who will win this battle for market share and dominance in local delivery? Will retailers or established logistics service providers ultimately acquire some of these startups (see Target's acquisition of Shipt)?
Time will tell, but one thing is certain: ultimately, profitability will become important.
Robots and AI in the Warehouse
"A Chinese logistics firm majority-owned by Alibaba [Cainiao] has opened a warehouse with over 700 robots working in it to deal with the demand from Singles Day, the huge annual shopping festival run by the e-commerce giant," reported CNBC this week.
"Grocers are stocking their warehouses with robots and artificial intelligence to increase efficiency as competition for consumer spending on food picks up," reported the Wall Street Journal.
"Through the deal with its largest partner, Ocado will ratchet up its delivery business by building robotically operated warehouses for Kroger in the United States, raising the stakes in the battle with Amazon.com Inc.," reported Reuters.
It looks like deploying robots in the warehouse is gaining momentum, driven by labor constraints, e-commerce growth, and other factors. This trend aligns with our research findings from earlier this year (see "Competing on Customer Experience: The Driving Force Behind Supply Chain Innovation," produced by Adelante SCM and presented by BluJay Solutions.) We asked supply chain and logistics professionals "In five years, which technologies will have delivered the most supply chain innovation benefits?"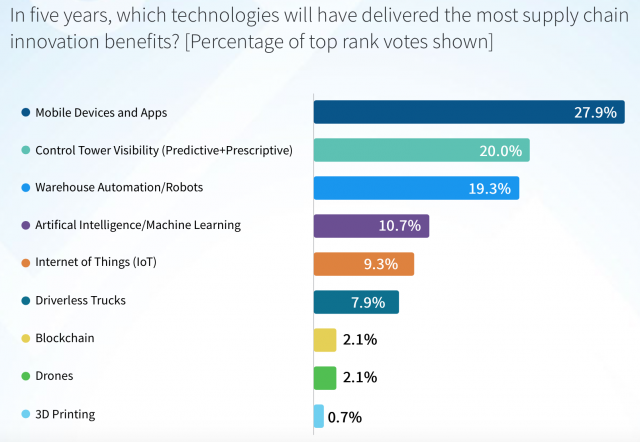 Mobile Devices and Apps received the most total votes and highest percentage of top rank votes (27.9%). Control Tower Visibility (20.0%) and Warehouse Automation/Robots (19.3%) ranked second and third, respectively. It is interesting to note, however, that Warehouse Automation/Robots received the highest top rank percentage from Innovator/Early Majority companies (26.5%), while Mobile Devices and Apps ranked third for them (14.3%). This suggests that for these companies, Warehouse Automation/Robots is higher up on the innovation scale than mobile technology and control tower visibility.
And with that, I'm out of time and breath. Have a happy weekend!
Song of the Week: "Breathe In Breathe Out" by Mat Kearney