Did you make any New Year's Resolutions for 2019? Are you're still looking for a personal challenge this year?

Then how about joining our Logistics Leaders for T1D Cure cycling team and help us raise money for JDRF in our quest to create a world without type 1 diabetes!

There are five rides you can choose from this year:

La Crosse, WI: August 8 – 11, 2019
Sonoma, CA: August 22 – 25, 2019
Saratoga Springs, NY: September 12 – 15, 2019
Amelia Island, FL: October 3 – 6, 2019
Death Valley, CA: October 17 – 20, 2019
Check out the highlights and photos from our 2016, 2017, and 2018 rides. If this sounds like it would be a fun and meaningful personal challenge for you (with the added benefits of meeting other supply chain and logistics professionals and raising money for a good cause), then sign up to join our Logistics Leaders for T1D Cure team!

Follow these four easy steps:

Contact me to let me know that you're interested in joining the team. I'd be happy to provide additional information and answer any questions that you might have.
Register for the ride of your choice: registration opens next Wednesday, January 16, 2019 at 12:00 pm EST. Click here to be notified about registration. Please note: there is a $2,000 fundraising minimum to participate in a ride, with a $100 initial deposit. All donations are tax-deductible.
See if your employer will sponsor you! Most of our team riders are sponsored by their employers, which facilitates the fundraising effort.
Recruit a friend or co-worker to join the team too! The only thing better than going through this experience yourself is sharing it with a friend. Having someone to ride with in the weeks and months ahead as you train for the ride makes it more fun and meaningful at the end. (Note: JDRF has many local chapter teams that organize weekend training rides, so you never have to train alone.)
If you're a supply chain technology company or a logistics service provider and would like to sponsor our LL4T1DCure team, which includes sponsoring one of your employees or clients to participate in the ride with travel expenses included, please contact me for details. Our generous team sponsors last year were BluJay Solutions, C.H. Robinson, Descartes Systems Group, and MercuryGate.

Our team raised $59,231 for JDRF last year — a new record! — bringing our three year total to over $150,000! Our goal is to raise at least $80K this year and have 10+ riders. I hope you'll be one of them!

Moving on, here's the supply chain and logistics news that caught my attention this week:

Robots in the Warehouse
In five years, which technologies will have delivered the most supply chain innovation benefits? In a research study we conducted last year (commissioned and published by BluJay Solutions), we asked supply chain and logistics professionals that question and "Warehouse Automation/Robotics" ranked in the top three, behind "Mobile Devices and Apps" and "Control Tower Visibility."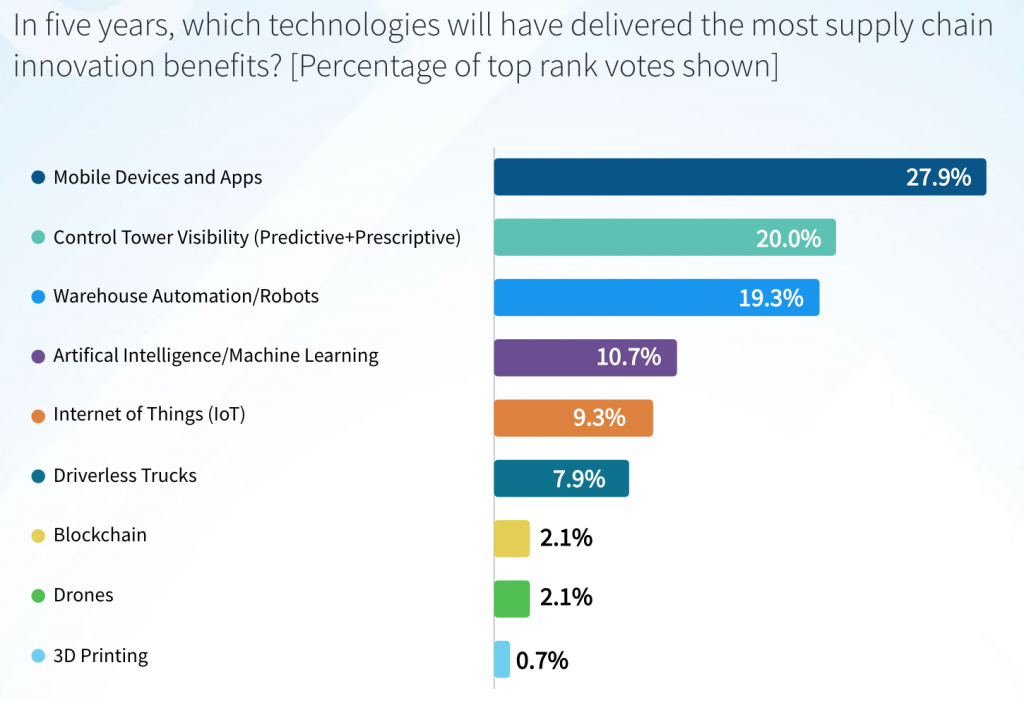 Therefore, it's not surprising to see the continued investments and developments in this area.

Amazon made a smart bet years ago when it bought Kiva Systems, and the company is placing another bet in BALYO, a warehouse robotics firm that "transforms standard forklift trucks into standalone intelligent robots thanks to its breakthrough proprietary Driven by Balyo™ technology."

As reported by Reuters, "Amazon could build a stake of almost a third in warehouse robotics firm Balyo in the next seven years…Under the terms of the deal, Amazon will receive free stock warrants representing up to 29 percent of Balyo's capital which it can exercise depending on orders of the company's products. The full 29 percent would be exercised if Amazon orders up to 300 million euros ($346 million) of Balyo's enabled products."

Would it surprise anyone if Amazon ultimately acquires BALYO outright? Existing customers and partners of BALYO should think through that scenario (ask Kiva's customers and partners for their advice and lessons learned).

In related news, Jennifer Smith at the Wall Street Journal reports that "logistics providers and retailers are using mobile robots to cut down on the number of steps workers take and are deploying AI-aided mechanical arms for more nuanced tasks long deemed possible only for human hands, from sorting apparel to learning how to pick up a range of objects." Here are some excerpts from the article:

XPO Logistics Inc. is rolling out 5,000 AI-equipped robots that bring shelves full of products to workers. Rakuten Super Logistics, a division of Japanese online retailer Rakuten Inc., is deploying robots to retrieve bins filled with apparel, electronics and other products from shelves and deliver them to workers who pick individual items. Gap Inc. is using AI-aided mechanical arms to help sort clothing orders.


"The big efficiencies come from machine learning," Bradley Jacobs, XPO's chief executive, said in an interview last year when the company announced it was deploying AI-equipped robots from Singapore-based robotics company GreyOrange Ltd. across its North American operations. "The robots do their job automatically without supervision and roll up to the charging station before they run out of juice."


Even though the robots are being phased in still, they have produced a fourfold increase in productivity where they are in use, said Mario Harik, chief information officer for XPO, whose clients include IKEA and Industria de Diseño Textil SA's fast-fashion retailer Zara.

Bottom line: while many companies are taking a "wait and see" approach to some emerging technologies, like blockchain and drones, they are charging ahead with more mature and proven technologies, like robots in the warehouse.
New in Transportation Management Systems (TMS)
As I wrote last October, when it comes to TMS, there is always something new to talk about. This week, for example, MercuryGate (a Talking Logistics sponsor) announced "the availability of a new Customer Portal that offers greater visibility on freight movements to all users." Here is an excerpt from the press release:

Powered by MercuryGate TMS, the new MercuryGate Customer Portal provides customers and stakeholders with an easily accessible gateway to monitor shipping with a graphical control tower view; track load activities, milestones, and related metrics via a visual dashboard and easily book a new shipping order via the Quick Add Quote functionality. With the MercuryGate Customer Portal, shippers can keep all of their stores, distribution centers, and other internal stakeholders updated. Moreover, logistics service providers (LSPs) can give their shipper customers a clear view of the location of their freight.

This is another example of how the line between TMS and control tower solutions has started to blur. As I commented in my Supply Chain Quarterly article last October, leading solutions go beyond providing visibility to shipments and assets. They also enable visibility to orders and stock-keeping units, and they incorporate optimization capabilities (to replan when exceptions occur) and collaboration capabilities (to facilitate communication and the exchange of data and information between trading partners). Leading solutions are also starting to embed machine-learning capabilities and leverage a broader set of data sources — including weather, traffic, location, and social media — to enable predictive capabilities, especially around determining more accurate estimated times of arrival (ETAs).

In other TMS news, BlueGrace Logistics announced a new release of its BlueShip® Transportation Management System (TMS) software. According to the press release, "BlueShip 4.0 offers new tools [including] the newly integrated LTL Volume solution [that] allows users the ability to see real-time capacity and spot rates for their volume shipments. Customers will be especially impressed with the new user experience, which is completely modernized and has integrated, predictive search, giving them a single source tool for quoting, tracking, addressing, and product listing."

This is another example of how the line between TMS provider and logistics service provider continues to blur too.

And with that, have a happy weekend!

Song of the Week: "Make It Up As I Go [feat. K.Flay]" by Mike Shinoda