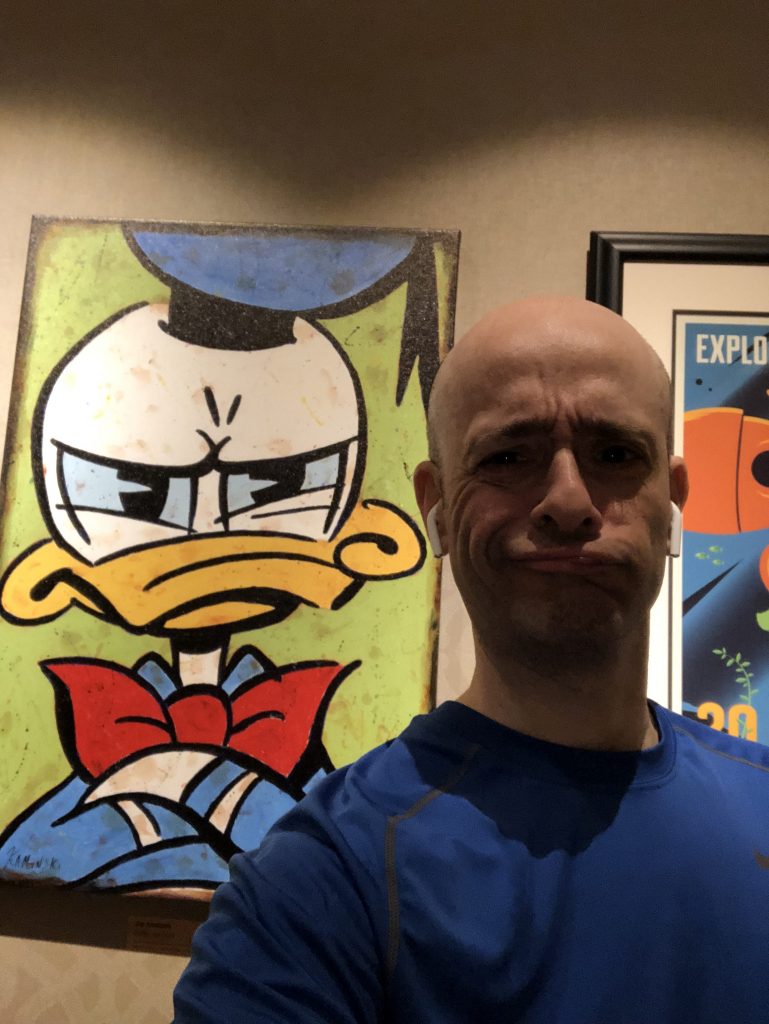 I was in Orlando, Florida this week moderating workshops for a logistics service provider client. I was hoping for 70F+ weather, but even Florida fell victim to the Polar Vortex, with temperatures only in the 50s (which felt tropical, nonetheless, compared to Chicago and Boston).

I woke up at 2:15 am on Wednesday and couldn't fall back to sleep. After reading and working for a bit, I went down to the hotel's fitness center and worked out. I don't know what I did, but on my way out, I somehow managed to get the duck mad.
I'm still catching up on sleep, so while I'm still awake and coherent, here's the supply chain and logistics news that caught my attention this week:

Uber Freight: Transportation Facility Brand Managers
Whenever I shop online for a product (mostly on Amazon), I always look at the ratings and comments from other buyers. The information certainly influences my buying decision.

It looks like carriers and drivers will now have similar information at their fingertips when deciding whether to take a load. As reported by Transport Topics, "Truck drivers using the Uber Freight load-booking app can now rate shippers' and receivers' facilities and share feedback on factors such as wait times and amenities." Here are some details from the article:

After completing a load, carriers receive a prompt within the app to rate the facility and have up to seven days to provide feedback.


Carriers and their drivers can rate facilities on a scale of one to five stars, much like the ratings system in Uber's ride-hailing app for car passengers. They also have the option of posting a written review.


The facility ratings are visible to all drivers, who can consider this information as they are deciding which load to take next.


The same ratings and reviews also are available to shippers within Uber Freight's shipper platform.

Jennifer Smith at the Wall Street Journal reports that "several [other] digital brokerages collect driver feedback on conditions at the loading dock," including Convoy that "is rolling out a feature that shows drivers typical wait times and highlights facilities with the most attractive windows."

What does this mean for shippers and receivers? It means that carriers and drivers are more empowered today thanks to technology and data transparency. As a result, shippers and receivers will have to actually "walk the talk" on becoming more carrier and driver friendly. It also means that they will have to devote resources, just like brands do on Amazon, to monitor these driver/carrier ratings and comments and respond to them appropriately. A single bad review from a disgruntled driver or carrier, even if it arose from an isolated incident, can damage that shipping or receiving location's "brand" and make it difficult to get loads covered or delivered. In short, this trend could give rise to a new transportation role: "Transportation Facility Brand Manager."

For related commentary, see What Carriers Look For in Shippers.
Transplace Launches Weekly On Time, In Full (OTIF) Performance Report
Having greater access to data, particularly benchmarking data, is also empowering shippers. This week, for example, Transplace (a Talking Logistics sponsor) launched its Weekly Supplier Performance Benchmarking Report "to help shippers meet the delivery requirements set by major retailers." Here are some details from the press release:

The report, which currently includes data gathered from 28 suppliers of major retailers, identifies delivery performance statistics such as late, early and in full shipment percentages, all anonymously compared to other shippers participating in the program.


"The Weekly Supplier Performance Benchmarking Report helps CPG companies better understand how their delivery performance compares to industry peers and allows them to use timely market data to drive improvement within their own supply chains," said Mark McEntire, senior vice president of operations, Transplace. "Access to weekly market data around critical key metrics gives shippers the ability to address performance gaps in their delivery operations or records when supplying to large retailers. This data has proven to be valuable when companies meet with their retail customers or make strategic decisions regarding their supply chain operations. It has also allowed for increased collaboration with peers through the sharing of best practices."

As W. Edwards Deming famously said, "In God we trust, all others must bring data." That is the reality today in transportation management, and it applies to shippers, carriers, receivers, and other logistics partners.
Descartes Acquires Visual Compliance
The rollups continue in the global trade management (GTM) solutions market, and not surprising, Descartes (a Talking Logistics sponsor) is once again involved. The company announced this week that it has acquired Visual Compliance, a Canadian-based company that "provides software solutions and services to automate customs, trade and fiscal compliance processes, with a focus on denied and restricted party screening processes and export licensing." Here are some details from the press release:

Visual Compliance…serves over 2,000 customers with over 67,500 subscribers operating in over 100 countries.


"The penalties for doing business with sanctioned parties can be far reaching and severe," said Ken Wood, EVP Product Management at Descartes. "By adding Visual Compliance's solutions and domain expertise to our existing Descartes MK Data denied parties screening business and Global Logistics Network, we're in an even stronger position to help our customers navigate the trade compliance landscape while managing the full lifecycle of their shipments."


Descartes has agreed to acquire Visual Compliance for approximately CAD $330 million (approximately US $250 million), including working capital acquired.

The growing uncertainty and risks in global trade management (e.g., tariffs, Brexit, USMCA) is generally a negative for most companies, except for providers of GTM solutions. The more uncertainty, risk, and complexity in global trade processes, the more demand for their solutions.

And with that, have a happy weekend!

Song of the Week: "Fast Talk" by Houses