We didn't think he would visit us this year, but then came the snow storm early Monday morning, and with schools closed, Billy Bob Joe V finally showed up.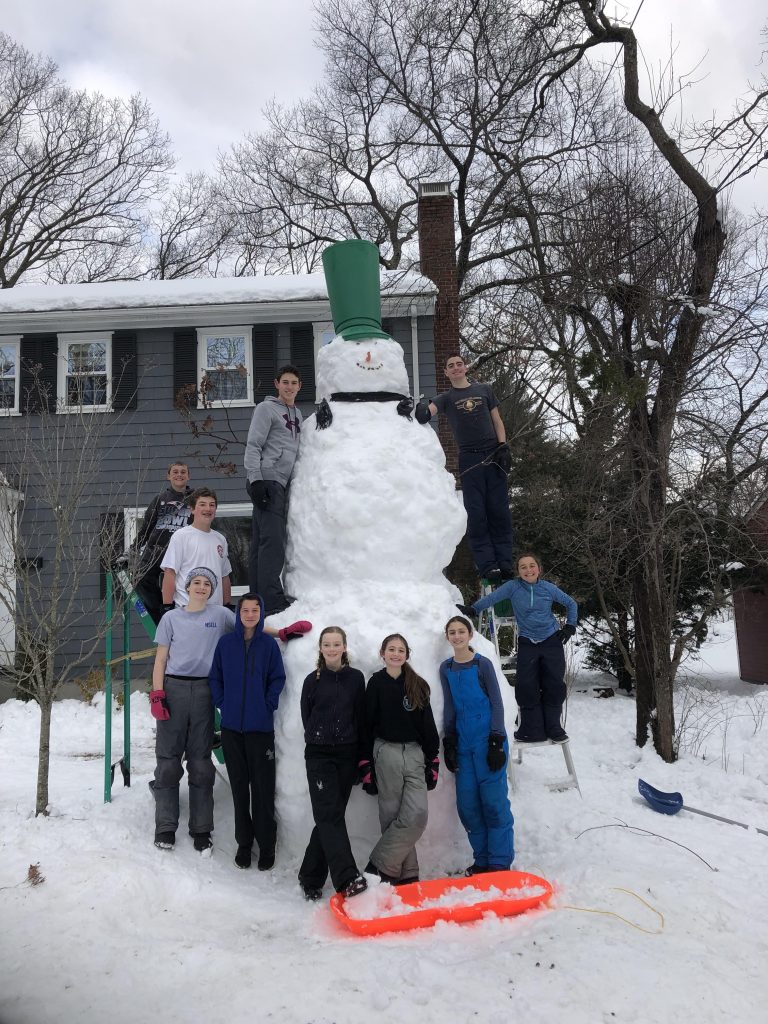 My kids, with the help of neighborhood friends, used their muscles and brains (and ladders and shovels) to build the 13 ft. 3 in. snowman (over 15 ft. with the hat). The hours-long construction project involved shoveling the driveway and sidewalk for raw materials, so by the time I got outside to help shovel, all of the work had already been done.

Billy Bob is still here, but with temperatures climbing into the 40s this weekend, and some rain on the way, we'll be saying goodbye soon. And as much as we enjoy his visits, considering we're almost in mid March, we hope he doesn't come back until next winter.

And with that, here's the supply chain and logistics news that caught my attention this week:

Walmart 'Tightens the Vice' on On-Time In-Full (OTIF) Requirements
The thing that makes supply chain and logistics so exciting and frustrating and challenging is that just when you think you've figured something out or have it under control, the world changes on you. The latest example is Walmart "raising its delivery goal posts for suppliers, asking them to deliver more goods on time," as reported by Jennifer Smith and Sarah Nassauer in the Wall Street Journal. Here are some excerpts from the article:

The retailer wants suppliers that ship full trucks of products to deliver orders within a specified two-day window 87% of the time, up from an 85% rate it targeted previously. Suppliers that fill part of a truck with their goods must hit a 70% on-time threshold, a significant jump from the previous target of 50%.


Walmart also is changing how it penalizes suppliers when they make partial deliveries […] Under the new rules, suppliers face a fine of 3% of the cost of the goods sold for each case that fails to meet Walmart's "on time, in full" requirements…For example, a milk delivery containing 19 of the 20 cases ordered would get a 95% in full rating, below Walmart's 97.5% threshold for food consumables. That supplier would incur a 3% fine on the missing case. But a partial shipment that arrived two days late would incur a 3% fine on all the cases, not just the missing ones.

Who is cheering this news? Providers of real-time freight visibility solutions. Back in July 2017, I interviewed Bennett Adelson, the former CEO of MacroPoint (which was later acquired by Descartes Systems Group, a Talking Logistics sponsor) about OTIF and how it is driving demand for visibility solutions. Here's an excerpt from the post I wrote:

"The reason real-time freight visibility is a hot topic now is that with today's technology it's no longer accepted as a black hole," said Adelson. "The market is now at the point where providing real-time visibility to your customers, whether you're a shipper, freight broker, or 3PL, is now table stakes to be in this industry."


The ability to provide real-time freight visibility is showing up more and more in request for proposals (RFPs) and supplier agreements. "We've seen a 300 percent increase [over the past 3 years] in the demand for real-time freight visibility as a hard requirement in the RFPs received by our customers," said Adelson.


What's driving this demand? More stringent customer delivery requirements is certainly one factor, with On-Time In-Full (OTIF) becoming a more critical metric.

Simply put, OTIF spells OPPORTUNITY for transportation technology providers.
project44 Adds Ocean Visibility to Platform
Speaking of freight visibility, project44 announced this week "the availability of ocean visibility on [its] Advanced Visibility Platform [that] enables shippers, including beneficial cargo owners (BCOs), freight forwarders (FFWs) and third-party logistics firms (3PLs), to track North American-bound container shipments as they arrive in port for shipment, travel across the ocean and are discharged from vessels to be moved onto rail or trucks." Here are some excerpts from the press release:

Most delays to ocean shipments happen in port or directly after, but other visibility solutions only focus on satellite data on a vessel's location while it is in transit. The project44 Advanced Visibility Platform enables the collection and analysis of a wider range of real-time and historical vessel, container, port, weather and other ocean shipment data. This data allows project44 to deliver predictive insights enabling users to eliminate costs related to demurrage fees as well as reduce inventory stock outs and manual workload.


"True ocean visibility is multi-modal, encompassing port operations on either end that include truck and rail," said Jett McCandless, CEO and founder of project44. "By tapping into ocean carriers' and shipping terminals' treasure trove of vessel and port data, project44 is helping organizations understand the entire ocean leg of a shipment."

This is just another example of how the leading providers of freight visibility solutions are racing to expand both their solution footprints and their geographical presence. It's just a question of time before they add drones and delivery robots to the list of modes they track.
P&G and Wayfair: More Shippers Taking Direct Control of Logistics Operations
Last month in Logistics Outsourcing: Is It Still a One-Way Street?, I highlighted how Walmart is bringing operations at two California warehouses, which it had outsourced to Schneider Logistics for the past 13 years, back in-house. I then raised the question:

As manufacturers and retailers start to view logistics as a core strategic function (instead of a cost center, which has been the traditional view), will their desire to take more direct control of their operations increase? Moving forward, will a 3PL's biggest competitor be its own customers?

Two more data points emerged this week. First, as reported by The Press-Enterprise:

For the third time in less than a month, a major global corporation is poised to take over an Inland Empire distribution center that had been contracted to a third-party operator.


Proctor & Gamble, with products in medicine cabinets and laundry rooms all over the world, will begin operating its major West Coast distribution facility May 1 in Moreno Valley. The company had been the customer of DB Schenker, which provides a variety of logistics services globally.

Second, as reported by Supply Chain Dive:

Wayfair will bring more of its supply chain logistics in house in an effort to cut costs, deliver on fulfillment promises and streamline the supplier experience, CEO Niraj Shah said on the company's fourth-quarter earnings call.


He explained to analysts that taking greater control of the company's supply chain, especially the "middle mile" is leading to a more favorable experience for Wayfair suppliers and a situation where both parties feel comfortable lowering prices.

Are these still isolated cases or a growing trend? Post a comment and let me know what you think.

And with that, have a happy weekend!

Song of the Week: "Pay for the Weekend" by KONGOS