Since we launched Indago back in March, we have conducted 19 weekly surveys on a wide range of supply chain and logistics topics. We send out a survey question every Monday, which takes our members 2-5 minutes to answer, and we send them the results every Friday. Here are the 19 questions we have asked to date:

How have the China tariffs currently in place impacted your overall supply chain costs?
If you're currently working with digital freight brokers or forwarders, how would you characterize the value they provide relative to traditional providers?
Other factors aside, what impact will the ability for trucking companies to find and retain qualified drivers have on your transportation operations in the years ahead?
Do you have a penalty program in place for your suppliers when they do not meet requested due dates? (See results below)
If your company is a member of C-TPAT, how would you characterize the benefits of membership?
Which transportation metrics do you use to compare performance across the globe?
Are your truckload carriers sharing data/information with you about your performance as a shipper?
Over the next 5 years, which emerging supply chain technologies do you believe will have delivered the most supply chain benefits?
How often is your freight reweighed by carriers? In general, are the weights reported by carriers correct?
What time of the year do you normally conduct a transportation procurement event?
What are the main causes of poor inventory accuracy across your supply chain network?
Which factors are the most important to ensure a successful TMS implementation?
Which risks do you believe supply chain professionals need to plan for more effectively moving forward?
When evaluating potential third-party logistics providers, how important are the following set of factors in the selection process?
Which sources of knowledge do you use the most to stay informed of supply chain industry trends?
What skills and attributes will be the most important for supply chain young professionals to succeed moving forward?
What are the main factors that make obtaining end-to-end supply chain visibility a challenge at your company?
What factor would be the overriding reason you would bring an outsourced logistics operation back in-house?
What is the primary focus of your company's supply chain innovation efforts today?
It's a win-win value proposition: our members receive valuable market research that helps them make smarter business decisions, while our charity partners receive valuable donations (over $2,100 as of this week) that help them make an extraordinary difference in lives every day.
If you are a supply chain and logistics practitioner from a manufacturing, retail, or distribution company, I invite you to learn more about Indago and join our research community. It is confidential, there is no cost to join and the time commitment is minimal (2-5 minutes per week) — plus your participation will help support charitable causes like JDRF, American Logistics Aid Network, American Cancer Society, Feeding America, and Make-A-Wish.

Below are highlights from the survey we conducted about supplier penalties, which was a question submitted by one of our practitioner members. It's part of our uncommon approach to supply chain market research: Indago members can submit their own questions on topics they would like to see answered by their peers in the community.

—
Do you have a penalty program in place for your suppliers when they do not meet requested due dates?
We asked members of our Indago research community that question in July 2019. Twenty high-level leaders from a diverse set of companies and industries responded to the survey (45% Director-level and above, 45% from $1B+ companies in Food & Beverage, Retail, Consumer Goods, Automotive, etc.)

Here are the results from the survey: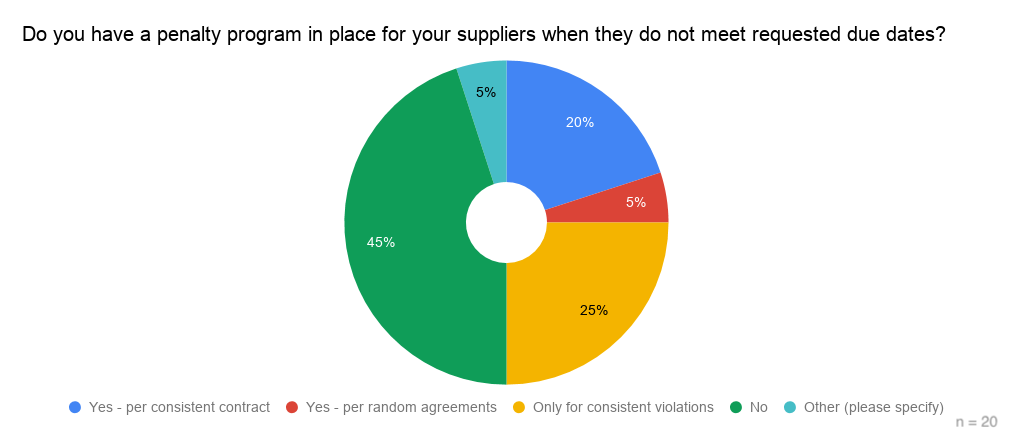 And here are some comments from the respondents, which provide some valuable insights and advice:

"I work in an industry with a small network of suppliers. I find strategic supplier relationship management to be the most effective means of improving performance. Most importantly, short weekly supply meetings where we go through open orders in detail. These meetings provide an opportunity to gain valuable info about constraints, challenges and other information that can help improve performance but can also be leveraged during negotiations or supplier selection."


"Even though we have a chargeback program in place for late shipments, I do not find that really drives improvement in this area. The main component that drives improvement is better communication with our suppliers and clearly communicating our timelines and motivation we have to hit a specific deadline. When there's more communication right at the onset of production and a clear understanding usually we'll hit our milestones especially with a supplier who considers themselves a partner with us and is invested in us succeeding on the front end."


"I have been with very large companies where penalties/charge backs were a common practice, I have witnessed it becoming a profit center. Although I do believe there is a time/place for penalties, I think the best and first approach is an open and honest conversation."