The verdict is in: I will spend this year behind bars.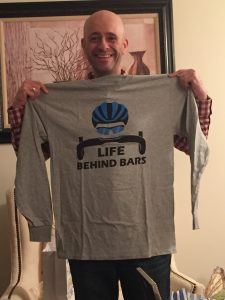 2019 was a record-setting year for our Logistics Leaders for T1D Cure Team, in terms of dollars raised for JDRF International and number of team members. Our Indago members also donated an additional $1,125 to JDRF last year by participating in our research community. Now that's Research with Purpose!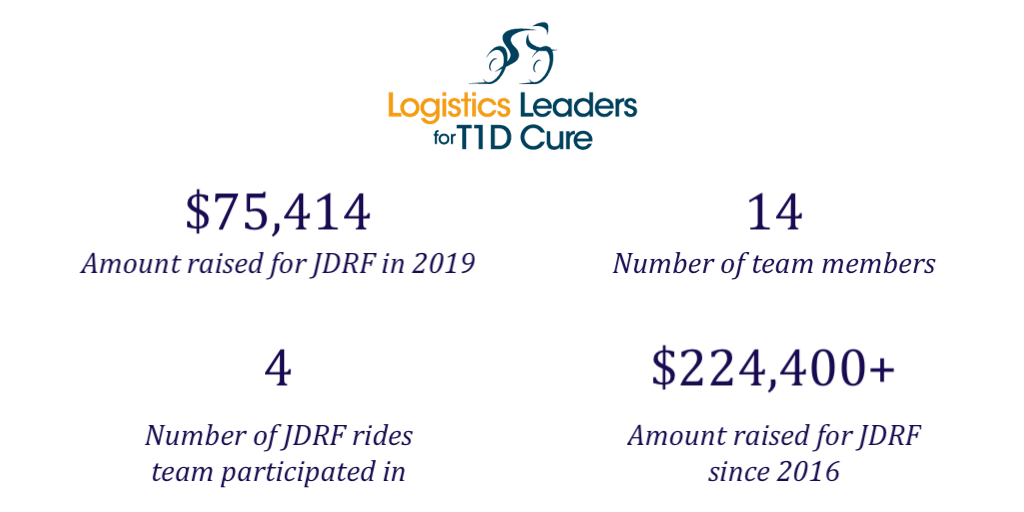 Our team is raising the bar again in 2020! Registration for the JDRF Ride to Cure rides opens next Wednesday (Jan. 15 at 12 pm ET). Are you interested in riding with us this year? Want to sponsor our team? Contact me for details!

I know there are a lot of cyclists (of all abilities) in the supply chain and logistics community. Get a group of your work colleagues and cycling friends to join our team like BluJay Solutions did last year (they had 5 employees on our team). Ride 10 miles or 100 miles, whatever distance is meaningful for you. Every mile, every dollar goes toward creating a world without type 1 diabetes! I look forward to riding with you this year.

Moving on, here is the supply chain and logistics news that caught my attention this week:

Trimble to Acquire Kuebix: What is a TMS?
Further proof that there is always something new to talk about with transportation management systems, Trimble announced yesterday that it is acquiring Kuebix (a Talking Logistics sponsor) for an undisclosed amount. Here are some details from the press release:

This acquisition will enable Trimble to bring together its network of private fleet and commercial carrier customers, which collectively represent more than 1.3 million commercial trucks in North America, with Kuebix's extensive community of more than 21,000 shipping companies, creating a powerful new platform for planning, execution and freight demand-capacity matching.


Today, shippers, carriers and intermediaries operate with fragmented TMS software. The Kuebix acquisition will allow Trimble to break down technology barriers, enable actionable visibility and improve collaboration by delivering a single logistics platform for all participants in the supply chain. This Software-as-a-Service (SaaS), multi-tenant, cloud platform will optimize the entire logistics process from order management to financial settlement, improving efficiency and asset utilization for carriers and giving shippers access to expanded capacity and reduced costs.

I'm still digesting the news, but here is my main takeaway:
What is a TMS? The definition continues to evolve.
If you're a shipper, a TMS is a software application that you use to plan and execute your transportation operations and exchange data and information with carriers and other external trading partners. If you're a carrier, a TMS is a software application (like an ERP for shippers) that you use to manage your dispatch operations, drivers, and assets.

In short, TMS has become a term used by shippers, carriers, and third-party logistics providers (3PLs) to describe the software they use to manage their part of the end-to-end transportation process. But the features and functions of a "Shipper TMS" are different than the features and functions of a "Carrier TMS" — except there is one area of overlap: connectivity. That is, both types of solutions need to exchange data and information with each other.

And that is where a different definition (or perspective) of TMS comes in. As I wrote last May in Putting Community In TMS: Enabling The Network Effect In Transportation Management:

Transportation management is inherently a network-based business process. It involves an ecosystem of different parties — a community, if you will, of shippers, carriers, consignees, brokers, and others that need to communicate and collaborate with each other in order to transport products and utilize assets and labor as efficiently as possible.


This transportation community is analogous to the connections and relationships enabled by social networks like Facebook and LinkedIn…This growing need in the market for better matching of supply and demand, coupled with the rise of cloud computing, software-as-a-service (SaaS), application programming interfaces (APIs), and other emerging technologies, is driving the next evolution of transportation management systems.


Simply put, transportation management systems are transitioning from being "inside the four walls" applications to becoming operating systems that power transportation communities and enable network effects.

The vision behind this acquisition, as executives from both companies discussed in a press conference yesterday, is essentially driven by this "network effects" perspective. It is about streamlining and automating the data exchange and workflows that take place outside the four walls of shippers, carriers, and 3PLs — the transactions and opportunities that exist between Shipper TMS and Carrier TMS applications.

It will take some time for Trimble to fully execute on this vision (they didn't offer any timelines yesterday), but considering the size of its carrier client base (85% of top 200 trucking companies use Trimble technology, with over 2 million assets managed with Trimble solutions) and Kuebix's community of more than 21,000 shipping companies, the company has a strong foundation to get started.
FourKites Introduces Partner Hub
Speaking of transportation management systems, there are a variety of other technology solutions that are on the edge of TMS — meaning, they either extend or enhance the capabilities of TMS applications. One of the hottest segments of the TMS ecosystem is real-time freight visibility. As noted above, this is another example of how technology is facilitating the exchange of data and information between carriers and shippers.

The latest innovation in this segment comes from FourKites. The company introduced this week Partner Hub, "a secure and scalable GPS onboarding solution, purpose-built to help brokers and carriers get up and running with electronic logging devices (ELDs)." Here are some details from the press release:

Industry adoption of government-mandated ELDs is in full force due to their many benefits, including superior accuracy compared to other tracking technologies and their potential to reduce driver fatigue, improve customer service, lower shipping costs, and facilitate more efficient supply chain planning. Nonetheless, many carriers and drivers are concerned about security and control of their data, as well as the value they receive in exchange for providing it.


Partner Hub includes individual onboarding tools tailored for brokers, carriers and shippers. Carriers can see, in detail, how their data is being shared and with whom. Every carrier retains total control over their data and can choose to turn off data sharing completely. FourKites, in turn, never exposes a carrier's ELD credentials to either brokers or shippers. FourKites tracks shipments – not trucks – and focuses narrowly on defined origins, appointment times and delivery times.

Data security and control is certainly a concern in the industry, which Partner Hub aims to address. When it comes to real-time freight visibility, there is no one-size-fits-all approach in the industry. As we move forward, we'll continue to see innovation in this space to meet the diverse needs and requirements of shippers and carriers of all sizes, from the largest among them to the very small.

And with that, have a happy weekend!

Song of the Week: "Tumba La Caña, Jibarito" by Celia Cruz & Sonora Matancera