"You can't run a business in 2020 like it's still 1999."
That was my favorite quote from Billy Beane's keynote presentation at the 65th Annual Food Shippers of America Conference earlier this week in Orlando, Florida. Beane is the Executive VP of Baseball Operations for the Oakland A's, but he's best known for Moneyball, the book by Michael Lewis about Beane and his analytics team at the Oakland A's (the book was also made into a movie, where Beane was played by Brad Pitt). 
"Data provides you with transparency," Beane added. "You can't hide behind 'that's not the way we do it around here' anymore."
I had the honor of presenting after Billy Beane, where I talked about the what, why, and how of digital transformation. Beane's quotes above set me up perfectly.
The Food Industry in 2020: You Can't Operate Like It's 1999
There are a lot of forces of disruption impacting the food industry. You have activist investors, for example, looking to drive change — see "Activist Investor Daniel Loeb Intensifies Pressure on Nestlé to Reorganize" and "Pinnacle Foods targeted by activist investor Jana Partners." 
You also have an explosion of startups and smaller brands that are taking market share away from the big brands. According to BCG, between 2012 and 2017, small CPG companies grabbed about $15 billion in sales from their larger counterparts. And like in all industries, e-commerce and more demanding customer expectations (like On-Time In-Full) are also disrupting the status quo.
In a survey we conducted with the attendees prior to the conference, we asked them "Which trends/factors are causing the most disruption (and thus the most need for transformation) in the food industry?" The number one response: More demanding customer requirements.

It's also clear that operational excellence is no longer enough to succeed. Speed and agility are becoming critical success factors too.
Consider the trend in new product formulations. In response to consumer demands for healthier diets and lifestyles, it's not uncommon for up to a quarter of a company's product portfolio to be reformulated within 18 months.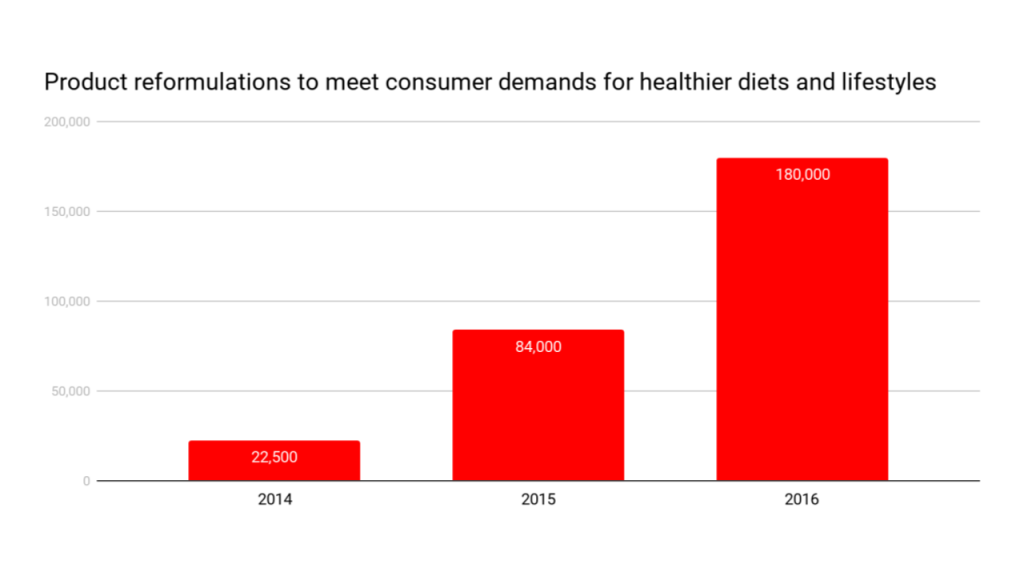 Food companies are becoming a little like high-tech companies, where introducing new products, quickly and regularly, is becoming the norm. According to a report by McKinsey & Company (emphasis mine):
To survive and thrive in the coming decades, FMCG companies will need a new model for value creation…

It will require a new operating model that abandons the historic synergy focus for a truly agile approach…

Local relevance, consumer closeness, and speed will become more important than consistent execution as a driver of competitive advantage. 
So, why is digital transformation important for companies in the food industry? Because the rules for success in 2020 are very different than they were in 1999. Yet, many companies are still operating in the past, constrained with outdated processes and IT systems. It will become increasingly difficult — and ultimately impossible — for these companies to succeed and drive profitable growth moving forward.
The Biggest Source of Waste
I shared with the audience my practical definition of digital transformation, which is taking action to:
Eliminate waste from the value chain, which includes eliminating manual and paper-based business processes;
Break down the silos between functional groups and IT systems and enable true collaboration and intelligence sharing between them;
Integrate electronically with all trading partners, preferably in a cloud- and network-based platform, using modern technologies such as APIs and web services;
Treat data as an asset and develop processes and a governance structure to manage data quality;
Leverage network-based business intelligence, optimization, and analytics tools to convert data into actionable intelligence.
While I addressed all of these topics in my presentation, in the interest of space and time, I'll just focus on the first one here. In the survey we conducted, we asked the attendees "Which forms of waste are most prevalent in your organization?" The top response by a wide margin: Waiting.

A perfect example of waiting is dwell time, which is a growing issue for carriers (affects driver satisfaction and retention) and shippers (results in detention charges).
As I wrote about last December, more than half of our Indago member respondents (57%) have experienced a moderate to significant increase over the past three years in the number of times they are getting charged detention fees by carriers. There are many reasons why truck drivers get detained at facilities, but the top three cited by the respondents are product not being ready to ship (43%), poor integration/synchronization of processes (43%), and understaffing at facilities (38%).
In short, one of the key messages I hope the attendees received is that digital transformation is much more than technology. Yes, moving up the technology maturity curve is an important part of the journey, but it is not enough; companies also have to finally "walk the talk" on addressing issues that have existed for decades, such as eliminating waste from processes, breaking down functional silos, and improving data quality management.
Conference Highlights
There were more than 1,200 attendees at the conference, with over 300 people on the waiting list. Yes, this was a hot ticket! If I had posted my badge on eBay, I'm sure I would have triggered a bidding war.
Other highlights from the first day of the conference:
Shipper, Receiver, and Carrier Relationships: Can't This Just Be Done Digitally? Not!
Rick Blasgen (President and CEO of CSCMP) moderated a panel discussion with Dean Hill (Global Logistics Manager – Fresh Foods at Meijer), Steven Stein (Senior Transportation Manager at Danone North America), and Russ Gottemoeller (President at Continental Express). They covered a lot of ground in their conversation, but as the title suggests, the main focus was on the continued importance of building trusted relationships in the industry. "Building and managing a relationship is more than just sending a text or email — personal interaction is important," stated one of the panelists.
Hill and Stein also talked about their preference for building relationships directly with asset-based carriers. While they have partnerships with brokers, they use them for a smaller percentage of their volume and spend (less than 20% in Meijer's case).
Blockchain Goes Global
Dale Chrystie, Corporate Strategist at FedEx Corporation and current chairman of BiTA (Blockchain in Transporta Alliance), provided a well-grounded presentation on blockchain and its potential applications in global clearance, food safety, transportation, and other areas. While acknowledging that more work is required to drive adoption, especially on the standards front, Chrystie was bullish on blockchain's long-term potential to drive value in the industry. At a minimum, he urged the attendees to continue learning about blockchain and begin conversations about it, not only internally with executive leaders but with peers in the industry too. It's through coopetition — defined by Oxford as "collaboration between business competitors, in the hope of mutually beneficial results" — that we will see the biggest and fastest gains moving forward.
—
The Food Shippers of America Conference is a great learning and networking event, with many leading companies across the industry — shippers, receivers, logistics service providers, and technology providers — in attendance. If you're involved in the food industry in any way, mark your calendars for next year. And register early, otherwise you'll be standing on the sidelines like so many this year, searching eBay for a badge to get in.