Transportation professionals are used to dealing with exceptions, as well as navigating the ebbs and flows of the transportation market. But the current COVID-19 crisis, to borrow a phrase from the movie Spinal Tap, turns the dial to 11. How are shippers weathering this current crisis? How are they using transportation management systems and market intelligence data to respond effectively to the challenges they're facing? Those are the main questions I discussed with Bryant Smith, Global Product Manager at BluJay Solutions, during a recent episode of Talking Logistics.
Different than planned
There is no question that the marketplace looks much different today than when shippers were putting their plans and budgets together last October and November. Therefore, I began our discussion by asking Bryant how the COVID-19 crisis has been impacting shippers.
Bryant says, "It is putting a lot of pressure on all facets of the supply chain, but I look at it through the lens of different verticals, which are experiencing different challenges. For example, the automotive industry is seeing a decline in production and distribution. Consumers are not buying cars right now; factory workers are being furloughed; dealerships are closed. The just-in-time (JIT) model we typically see in the automotive industry is allowing companies to flex their inventory levels up and down fairly rapidly.
"On the other end of the spectrum, consumer goods manufacturers are struggling to keep up with demand. They're running production around the clock, expanding their carrier networks, holding procurement events to add capacity and extending shipping and receiving hours, even adding drop-lot programs so that they can continue to move their products.
"The most successful customers are the ones who are being creative and agile. For example, we have a client, an office furniture manufacturer, that is repurposing its equipment to produce hospital furniture."
How a TMS can help
During times of crisis, technology can be a huge help. Bryan explained how a transportation management system (TMS) can help during COVID-19. "The three areas where our customers are currently taking advantage of the TMS are for visibility, automation and networking.
"Concerning visibility, we have a feature for shippers who are looking for capacity to move their freight. They can enter a point of interest and time where they need the freight to be picked up and the solution will provide insights on where capacity may exist within a specified radius. This gives shippers visibility to capacity they may not have had access to before. We're also seeing customers use visibility to track when inbound shipments will arrive and for outbound shipments to let customers know the status of their shipments.
"We're also seeing a big uptick in automation as customers attempt to handle the surge in demand with existing labor. They're using automated appointment scheduling, advanced optimization and consolidation opportunities to better leverage resources and keep costs low.
"The final area is networking. We've always worked with our customers on ways they can be shippers of choice. When capacity is tight, having those relationships and a trusted network can be critical for securing needed capacity."
Role of market intelligence
I next asked Bryant what role market intelligence and benchmarking data can play in staying informed on market conditions and responding effectively to changes. Bryant points out that as a single-instance, multi-tenant TMS provider, they have a lot of transactions passing through their ecosystem every day. They aggregate and analyze this data to provide market insights to shippers.
"For example, [based on our Freight Market Index April 2020 report], we've seen spot market rates increase 17% over last month and 22% year-over-year [see note below]. So it's a very important time to secure capacity at the right rate. Beyond securing capacity, network benchmarking data allows shippers to gauge their performance against the rest of the market—are the rates from their carriers too high or too low?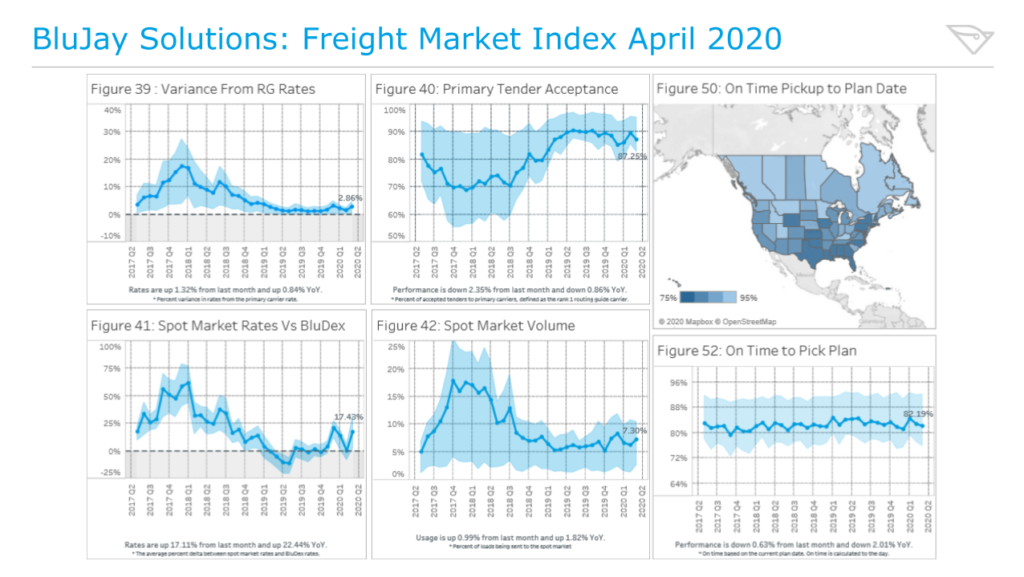 "Coupled with that, a lot of companies are adding new suppliers, so they also need to add new lanes and carriers. These tools and data sets help shippers understand if the rates, carriers, and capacity they are adding are in line with the market. It's the same thing on the outbound side where companies are bypassing distribution centers and shipping directly to retailers in order to get products on the shelf faster. By shipping directly to retailers, they now have to service new lanes, which means finding new carriers and rates."
Making the best decisions
As a way to wrap up, I asked Bryant what advice he has for companies trying to navigate the current crisis situation. He shared a lot of good ideas on how companies can leverage data and technology to make the best decisions. Therefore, I encourage you to watch the full episode for all of Bryant's insights and advice. Then keep the conversation going by posting your own recommendations on how to best weather the COVID-19 crisis.
Note: In the video, Bryant mistakenly says spot market usage has increased by the percentages mentioned above. He meant to say spot market rates, as the chart from the Freight Market Index April 2020 report shows.