Does your warehouse management system (WMS) have contact tracing capabilities?
It's a question that will likely appear in vendor inquiries moving forward, not just for WMS applications but also manufacturing, packaging, retail, construction, and other enterprise software systems.
What is contact tracing? The Centers for Disease Control (CDC) provides several core principles, including:
In contact tracing, public health staff work with a patient to help them recall everyone with whom they have had close contact during the timeframe while they may have been infectious.

Public health staff then warn these exposed individuals (contacts) of their potential exposure as rapidly and sensitively as possible.

To protect patient privacy, contacts are only informed that they may have been exposed to a patient with the infection. They are not told the identity of the patient who may have exposed them.
Governments around the world are setting up contact tracing processes as a way to slow the spread of COVID-19. It's a challenging and labor-intensive task, which is why technology companies are developing solutions to help. Last month, for example, Apple and Google announced "a joint effort to enable the use of Bluetooth technology to help governments and health agencies reduce the spread of the virus, with user privacy and security central to the design." The details are still being worked out, with privacy and security being major concerns, but here is how the solution is envisioned to work: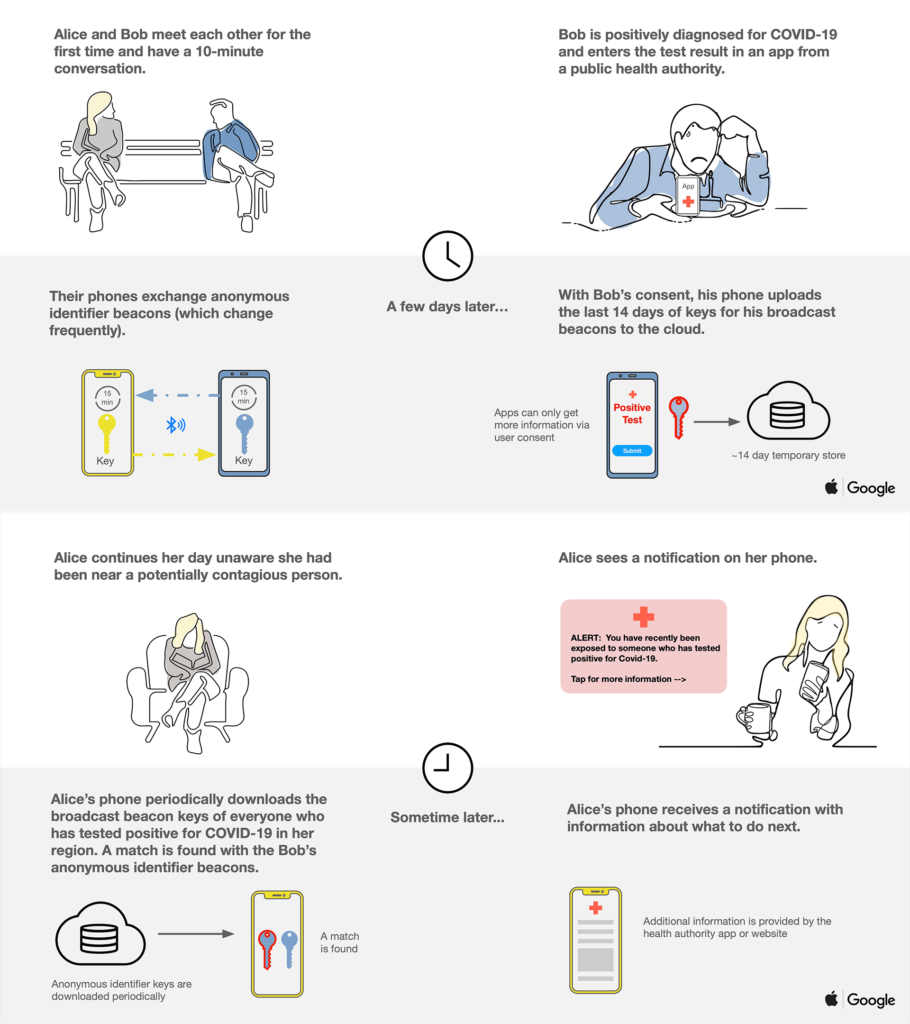 Contact tracing is also becoming important for logistics, manufacturing, retail, and other operations where many people work together and move around facilities. The goal is similar: the ability to inform employees if they have been in close contact with a co-worker who has tested positive for COVID-19. 
Several enterprise software vendors have announced contact tracing solutions in recent weeks. For example, Körber announced the availability of Körber InSight Contact Tracer "to mitigate and handle the impact of coronavirus in distribution operations." Here are some details from the press release:
Contact Tracer tracks the locations of people, devices, orders and the corresponding use of equipment throughout the warehouse – protecting workers and operations.

Contact Tracer uniquely works with data from the warehouse management system (WMS) to monitor the potential movement of coronavirus. This can be adjusted per each company's unique needs. Examples include tracking the cycle of events and locations of an employee, devices (headsets, scanners, radios), equipment (pallet jacks, clamp truck, forklifts, carts) and inbound and outbound orders throughout the warehouse – narrowed to a specific timeframe. Additionally, companies have the insights to inform customers about any possible exposure to the contents of their orders.
And last week Nulogy announced "the expansion of its cloud-based platform with Rapid Contact Tracing, a new set of capabilities for contract packagers and manufacturers to protect employee health and safety while maintaining resilient business operations." According to the press release:
Nulogy's Rapid Contact Tracing enables suppliers to track labor across the shop floor in real time and prepare for the potential event of a COVID-19 infection within a facility. Users are able to generate reports by shift, time period, and production line number to quickly identify and isolate areas of risk without the need to shut down an entire plant. In addition, contacts are tracked while preserving employee privacy.
ADS and Kiana Analytics also announced "the availability of Contact Tracing Platform to reduce COVID-19 exposure, curb spread and get America back to work."
We are still in the very early stages of contact tracing in the workplace — from a technology, business process, human resources, safety, legal, and many other perspectives. Are you currently looking to implement contact tracing in your logistics, manufacturing, or retail operations? What are your main concerns? Will contact tracing become an ongoing requirement or just a temporary one until COVID-19 is eradicated?
We're exploring those questions with our Indago members this week. If you're a supply chain or logistics practitioner from a manufacturing, retail, or distribution company, join our research community to take the survey and receive the results this Friday.