"It's hot in here, isn't it?" I asked my wife.
I walked over to the thermostat and although the air conditioning was running, the house temp was over 80 degrees.
"I think something's wrong with the AC," I said.
I called our service contractor, the same company that installed our system less than four years ago, and they sent a technician to our house that afternoon. After about an hour of checking different things, the technician found the problem: "Your AC coil is leaking; we're gonna need to replace it."
"Okay, when will you be able to do it?"
"It depends if we have the part in stock or not," the technician replied. "I'll send the info to our parts department and someone from the office will follow up with you to schedule a service appointment."
After not hearing back for a few days, I called the service contractor again.
"Well, we're having a hard time procuring the part," the customer service representative tells me. "Our distributor can't order just one of those parts from the manufacturer, they have to order in quantities of four and they're not going to order four."
"So you mean I have to wait until three other people need this part for me to get my air conditioning fixed? Does that make any sense to you?!"
"It doesn't, I know," she replied, "but that's what they're telling us. We're still working on it and looking at other options. I'll let you know as soon as I hear back."
At this point, I took matters into my own hands. I searched for the part online and came across a distributor that had the coil listed on its website. I called them to see if they had it in stock. It turns out this was the same distributor my service contractor had contacted. "I'm sorry sir, but the manufacturer makes us order in quantities of four and we're not going to order four."
"So what am I supposed to do? Wait a few months, a few years, until you can order four? I'm being held hostage here by you and the manufacturer!"
"I'm sorry sir, but you'll need to follow up with your service contractor."
I found another distributor out west that had 25 of these AC coils in stock according to its website, but as I learned, distributors don't sell directly to consumers and I get the sense that the supply chains in this industry are highly regionalized and dictated by exclusive relationships between authorized distributors and service contractors.
After three weeks with no air conditioning, the system was finally repaired this past Friday. The service contractor used an AC coil from a different manufacturer, which required additional work to install because the dimensions were different.
As I told my service contractor, we were both held hostage and hurt by this minimum order quantity policy. "It's your company brand and reputation that took a hit here. I don't care about the distributor or the manufacturer. I'm your customer, not theirs. You're the one I pay money to. You're the one I had to keep calling. You're the one that made me wait three weeks to get my AC fixed."
Why couldn't the distributor order just one replacement part? Why couldn't the service contractor order the part online directly from the manufacturer or from another distributor in the United States?
There is clearly a misalignment between the business-to-business (B2B) realm, which is where the manufacturer, distributor, and service contractor operate, and the business-to-consumer (B2C) realm, which is where my relationship with the service contractor resides. The net result is a poor end-customer experience.
As our research from last year showed, customer experience is becoming the #1 brand differentiator. Overall, 61% of the supply chain professionals we surveyed Agreed or Strongly Agreed that "Over the next five years, customer experience will overtake price and product as the No. 1 brand differentiator."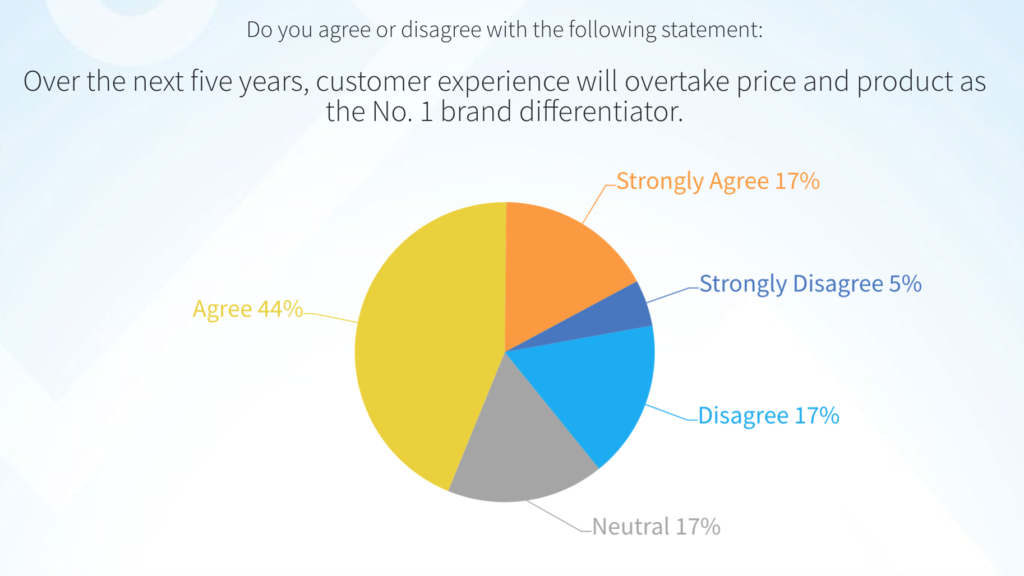 Prior to this experience, I would have highly recommended my service contractor to anyone looking to install an AC system. Today, I'm not so sure because when they installed my system just four years ago, they used a part that was effectively irreplaceable (even though the part is still manufactured and available from other distributors) because of a minimum order quantity policy. They can blame the manufacturer, they can blame the distributor, but the buck ultimately stops with them.