My wife's bike got a flat tire yesterday.
I removed the wheel from the bike, pulled the tube 
from the tire, put a patch on it, and got it all 
back together again. I pumped air into the tire. Fixed.
The tire was flat again this morning,
no air, no pressure,
I'm deflated too.
—
In this week's supply chain and logistics news…
Amazon: Parcel Carrier & Enabling Social Distancing in Warehouses
If you're a parcel shippier in the UK, you have another carrier you can add to your routing guide: Amazon. Check out the Amazon Shipping website: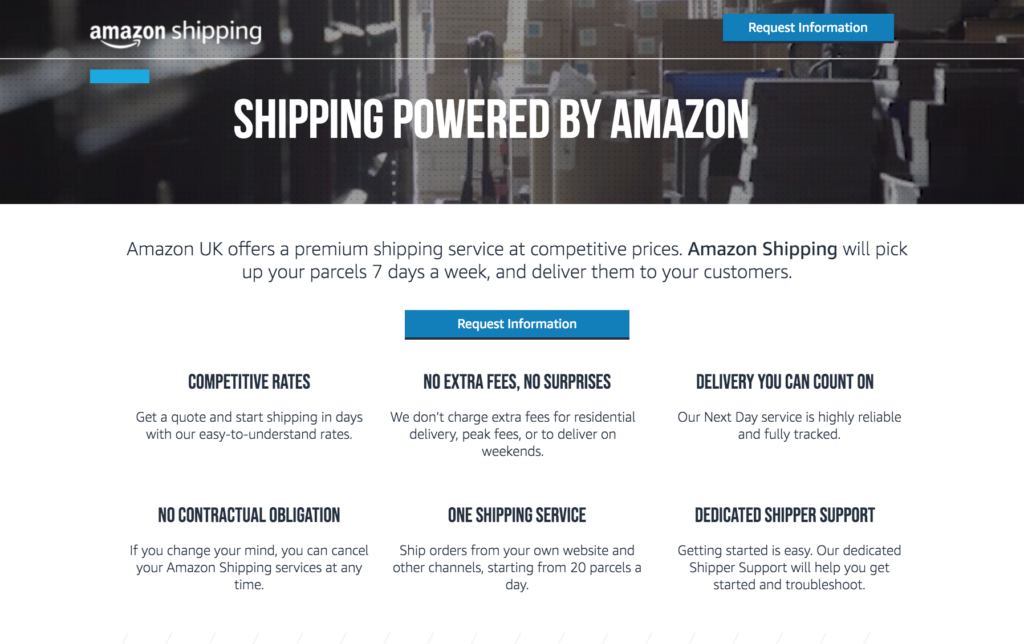 According to the website, Amazon Shipping already has several Order Management and Carrier Management Systems partners, which should help users of those systems to quickly add Amazon as a carrier. "Amazon Shipping is a cost effective next day parcel solution with superb coverage across the UK," says one customer using the service, an online home and garden retailer.
This is just another turn of the knob for Amazon as it continues to increase the pressure on competitors (including those who were former partners).
Also this week, Amazon introduced Distance Assistant, "the company's latest innovation that provides real-time social distancing feedback" to workers in its fulfillment centers. Here are some details from Amazon's announcement:
Working backwards from a concept of immediate visual feedback, and inspired by existing examples like radar speed check signs, our 'Distance Assistant' provides employees with live feedback on social distancing via a 50 inch monitor, a camera, and a local computing device. The standalone unit uses machine learning models to differentiate people from their surroundings. Combined with depth sensors, it creates an accurate distance measurement between associates.

As people walk past the camera, a monitor displays live video with visual overlays to show if associates are within 6 feet of one another. Individuals remaining 6 feet apart are highlighted with green circles, while those who are closer together are highlighted with red circles.
Here's a video demonstrating the system:
On the one hand, it's a cool application of technology. On the other hand, is it really adding much value beyond what floor markings, signs, and employee training are already accomplishing?
A couple of years ago, Amazon received patents for "wristbands that track warehouse employees' hands in real time." Will they file a new patent for wristbands that zap employees if they get too close to other employees?
PINC Receives Investment From Accel-KKR
What is the weakest link in your supply chain? For many companies, it's the link between their transportation and warehousing operations — that is, yard management.
Over the past few years, there's been a lot of focus on real-time freight visibility, for example. But what good is real-time freight visibility if once a truck arrives at a facility and enters a yard, you lose that visibility and everything that happens next is processed manually, using paper documents and spreadsheets? The net result is often truck drivers getting detained and shippers incurring detention charges, which increases their overall transportation spend.
Simply put, the time has come for companies to move their yard operations up the digital transformation curve, which is why investors are starting to focus on this segment of the supply chain software market.
PINC (a Talking Logistics sponsor) announced this week that it has secured "a significant growth equity investment from Accel-KKR, a leading technology-focused private equity firm. The investment will fuel PINC's momentum in becoming a global category leader in supply chain management software through strategic acquisitions and a focused organic growth plan." Here's a quote from Matt Yearling, CEO of PINC, from the press release:
"As global trade and consumer demands drive more complexity, effective yard management has quickly become pivotal in robust supply chain management practices. The linkage between transportation and warehousing needs to be more seamless when complexity increases, and strong digital yard management can be a major operational cost driver in improving inventory management, labor costs, asset utilization, sustainability and facility costs."
Stay tuned for some upcoming research on the enterprise benefits of yard management systems and why now is the time to rethink the role and value of this critical link in the supply chain.
And with that, have a happy weekend.
Song of the Week: "Lay Your Hands on Me" by Thompson Twins