We often talk about the end-to-end supply chain, and each segment of it certainly has its role and importance, but the spotlight today for many companies is focused on last-mile delivery. Why is that?
I believe this comment from a supply chain executive gets to the heart of it. The comment is from a survey we conducted in February with our Indago supply chain research community and Omnitracs customers.
"Last-mile delivery is finally getting the attention it deserves. Since the delivery driver is the last person who touches the shipment before it reaches your customer it is important that they're representing your company in the same way your retail employees would. A bad delivery experience can sour a customer's perception of your brand."
Delivery, in other words, has become a new moment of truth.
If you've been in the industry for a while, you probably remember "the moments of truth" that former P&G President and CEO A.G. Lafley defined back in 2005. The first moment of truth is when a customer first confronts a product, either online or at a store; it is when "a consumer chooses a product over the other competitors offerings."
A similar thing can happen with delivery. Everything can go perfect on the front end of the sales process, you can succeed in meeting those moments of truth that Lafley talked about, but a poor delivery experience can quickly negate it all.
Delivery, therefore, is tightly linked with customer experience, which is why when we asked our survey participants, "What is the primary factor driving innovation in last-mile delivery at your company today?" the number one response – by a wide margin – was "To deliver an enhanced customer experience."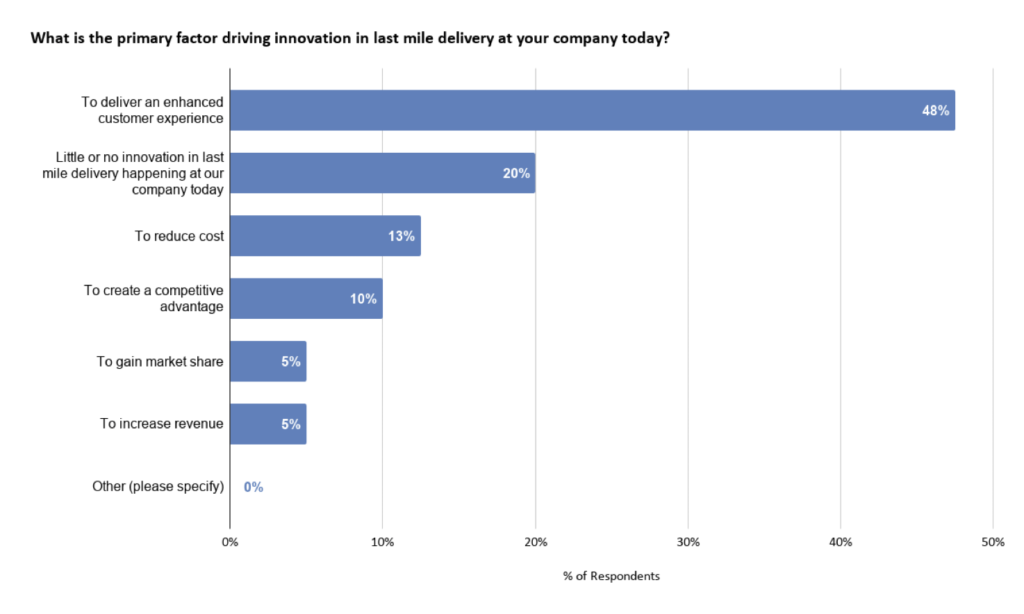 This coincides with other research we have done the past few years showing customer experience being the main driver of innovation efforts across the supply chain. This wasn't always the case, however. When I started as an industry analyst more than 22 years ago, cost reduction always topped the list. In this survey it ranked third, behind "Little or no innovation in last mile delivery is happening at our company today." More research, with a larger sample size, is required to better understand why little or no innovation in last mile delivery is happening at some companies today, but the main takeaway is that customer experience is king today.
All that said, cost remains important.
In fact, last-mile delivery is the biggest cost driver in the supply chain, representing 41% of supply chain costs according to a Capgemini study.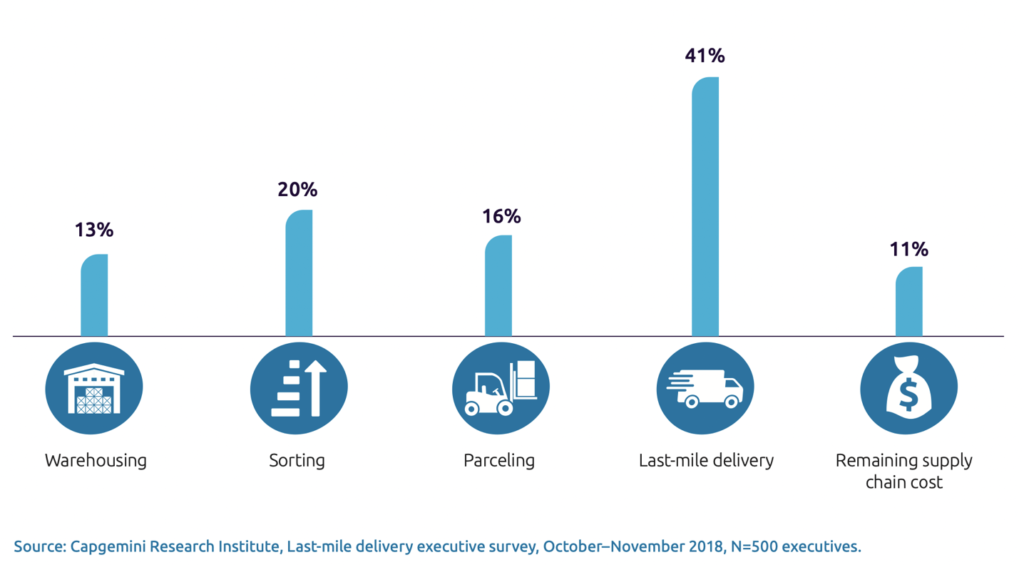 There are various factors that contribute to last-mile delivery costs: driver salaries, vehicle maintenance costs, fuel, insurance, and so on. And many of these cost factors continue to rise.
So, while customer experience might be king, you can't afford to ignore the cost dimension of last-mile delivery.
We all know that there is no such thing as "free delivery." It's actually a costly operation. Therefore, the winners will be those that not only find a way to deliver an enhanced customer experience but do so profitably.
What else will separate the leaders from the laggards in last-mile delivery?
That was the main question we explored in a recent webcast hosted by Omnitracs titled, "Last-Mile Delivery: What Will Separate the Leaders from the Laggards?" I was joined on the virtual stage by Cyndi Brandt, VP of Product Marketing at Omnitracs. I've known Cyndi for a long time and she has a wealth of knowledge and experience on this topic. She and I engaged in a "fireside chat" about the Indago survey results, as well as these questions:
What's different about last-mile delivery today compared with 10 years ago?
What questions should companies ask themselves to assess if they're a leader or a laggard?
How should companies go about developing their last-mile technology strategy and determining where to begin?
What is the biggest mistake companies can make today regarding their approach to last-mile delivery? What are some lessons learned from the leaders?
It's impossible for me to adequately recap the entire conversation here, so I encourage you to watch the recording for all of the great insights and advice Cyndi shared.
What are the main challenges today with achieving last-mile delivery excellence? What capabilities/attributes do you believe will separate the leaders from the laggards moving forward? Post a comment and share your perspective!